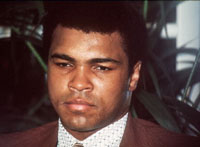 By Ronnie Nathanielsz: Five days before the "Thrilla in Manila" against Joe Frazier, Muhammad Ali had to appeal to a large crowd of Muslims, who thronged to the Islamic Cultural Center in downtown Manila, to let him leave without being hurt after participating in the Jummah prayers.

Security men had to push back the surging crowd to make way for Ali and his party after the prayers and rites at the center. The champion got a nick in the face as a result of the crowds and bled a little. It was considered very minor.

Ali appealed to the crowd to let him leave after joining in the prayers and making a brief address in which he said: "I am a Muslim. I am your brother. I took time to come to see you, so let me see you act intelligent and civilized and let me leave without any trouble. If you want me to win, to fight in the name of Allah, to fight for the Muslims, let me see you behave."

Ali added: "I cannot shake everybody's hand, cannot kiss everybody because there are too many Muslims in the world. I know we are all equal, but because I am a champion you must give me the respect and let me leave."

Ali was visibly concerned that he could be injured during the pushing and shoving. He said he was "tired" and wanted to rest because he had to be in good condition to fight Frazier.

Earlier, the Muslims who had gathered at the center to pray, asked Allah to bless the champion and make him win. Ali himself was exhorted to train hard and to try his best in the "fight of a lifetime".

The previous evening Ali received the First International Award of the Christian-Muslim Brotherhood Congress. Some eight thousand people packed the Ortanez University auditorium and campus with hundreds of others climbing on rooftops to get a glimpse of Ali.

Several thousands more lined the streets of Quezon City where the fight was to be held and cheered as the champion's motorcade drove through the center of the city where in some places the crowd was six deep.

The champion responded by leaning out of his limousine and waving to the crowd. He turned to me and said: "Isn't this something. Isn't it beautiful to see all my brothers and sisters?"

An aide of Ali commented: "This is the right thing to psyche him up for the fight." Ali himself said: "How can I let these people down? Everytime I throw a punch I'll think of them. There is no way Frazier can win. Allah is on my side."