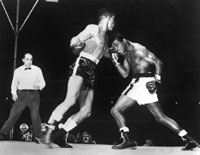 By Joe Queijo
Carmen Basilio beat Tony DeMarco in June 1955 for the world welterweight crown with a punishing 12th round kayo in a brutal fight before his hometown of Syracuse, New York. Basilio was one of the strongest welterweights ever, who used strength, stamina, an iron chin and indomitable will to rebound from early career loses to become a world champion in two weight classes.

Known as the "Syracuse Onion Farmer," Basilio had lost 10 decisions when he first faced slick 147lbs champion Kid Gavilan. The Cuban was a superb fighter who had beaten the likes of Johnny Bratton, Gil Turner and Ike Williams as well giving a peak Sugar Ray Robinson (pictured right) two tough fights. The champ was expected to handle Basilio with ease. Yet Basilio floored Gavilan in the second with a thunderous left hook and proceeded to give the champion hell for 15 rounds.

The split decision gave the nod to the champion, but the challenger's performance earned him a second shot at new champ DeMarco, whom he had lost to earlier in the year.

"The Boston Bomber" DeMarco was an out and out slugger who ripped vicious punches in as if in a berserker frenzy. His big punches had stopped contenders George Araujo and Chris Christensen as well as beating former lightweight champion Paddy DeMarco.

A rousing draw with reigning lightweight champ Jimmy Carter got Tony DeMarco a title fight with slick Johnny Saxton, who had just beaten Gavilan. Saxton was a fine boxer, but could not keep the rampaging DeMarco off as the challenger scored a 14th round stoppage.

The Boston Bomber came out firing on all cylinders with brutal power punches against first challenger Basilio, who was forced back and had to absorb everything he fired at him. Carmen then tried to fight on the inside, but was outpunched over the first six rounds. He gamely tried to reverse the tide in the seventh, but was nailed with a fierce right and a crippling left hook which sent him reeling across the ring on rubbery legs.

DeMarco, sensing victor was near, fired an avalanche of blows at his hurt foe, but Basilio somehow survived long enough to be rescued by the bell.

When the action resumed for the eighth, the champion nailed Basilio with a vicious right and continued to pound away, but, just when the fight was becoming completely one-sided, he was nailed himself with a short left at the round's end. Badly hurt, DeMarco was forced to hold.

Greatly encouraged, Carmen came out with renewed vigour in the ninth and his short hooks to the body began to take their desired effect on DeMarco, who was now looking very tired.

Basilio's work-rate alone took the 10th and 11th rounds and, in the 12th, he clearly looked in better condition than his fading opponent. Desperate, DeMarco tried to land some of his vaunted hooks, but he was made to miss and caught with a cracking right, which visibly stunned him.

Basilio pounced on his chance and poured the punches in, culminating in a fierce right which dropped the champion flat on the canvas. DeMarco barely got up at eight, but he was soon caught with two fierce rights. Dropped heavily again, the champion was stopped.

DeMarco would carry on slugging for pay, but two late round kayo defeats to future welterweight champ Virgil Atkins scuppered any chances of another title shot. A two round kayo of future welterweight champ Don Jordan (who beat Atkins twice) was his final career highlight before DeMarco retired with a win over Stefan Riedl.

Basilio would controversially lose his crown to mob-controlled Johnny Saxton, but kayo him in nine in a return before flattening him in two in the rubber match. He then went to middleweight to challenge the great Sugar Ray Robinson. In the greatest fight of his life, he outpunched the champion with blistering combinations to take the decision.

The obligatory rematch was another classic with a brave Basilio fighting from the sixth round on with one eye, only to lose a split decision. Carmen would then lose middleweight fights to Gene Fullmer and Paul Pender before retiring.

Carmen Basilio w rsf 12 Tony DeMarco, November 30, 1955, Boston, Massachusetts.
World welterweight title.