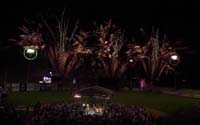 By Joe Queijo
Masao Ohba was one of the finest fighters ever produced by Japan. His exciting reign as WBA flyweight champion was unfortunately short-lived, yet he demonstrated to the world an immaculate left jab, coupled with a warrior attitude that clearly places him within the Top 10 flyweights of all-time.

Panama's Orlando Amores carried into the ring a impressive record of 25-1 (18) including a ninth round kayo of future bantamweight champion Enrique Pintor, but he was not expected to trouble the skilful champion.

Orlando came out swinging in the first and landed a scorching left hook, which sent Ohba reeling to the deck. The champion got up shakily and was quickly nailed by a fierce three-punch combination. The bustling Panamanian repeatedly ripped in his hurtful hooks as Masao tried to survive until the sound of the bell.

Amores came out slugging in the second, but met a recovered champion whose pumping left jab was now working overtime. The challenger's head was repeatedly rocked back by Ohba's left hand before a straight right dropped Amores. He quickly got up, but was punished with fast two-handed combinations until the end of the round.

The champion dominated a slow third with his fabulous left as Amores was made to miss with his vaunted hooks. Yet the Panamanian came out full of energy in the fourth and cracked Masao with a hard right and, as fierce-looking left hooks landed on target, the champion was forced back and looked unsettled by his foe's determined attack. A concerned looking Ohba returned to his corner at the end of the fourth.

The challenger looked to capitalise on his strong fourth round, but was caught again and again with fierce straight lefts in the fifth. Suddenly, Ohba backed the challenger to the ropes and landed a cracking right, which stunned Amores. The champion took complete control as he let loose a fierce bombardment of 20 non-stop punches, culminating in two fierce rights, which dropped the semi-conscious challenger for the full count.

Amores quickly re-established himself with a points win over featherweight contender Octavio Gomez, but was then surprisingly kayoed by Valentin Martinez. He later fought future bantamweight great Carlos Zarate, who would kayo Orlando in three one-sided rounds thus effectively finishing his career.

Ohba made five defenses of his world title. Three of his victims would go on to become champions in their own right, demonstrating Ohba´s immense quality.

Twenty-two days after his last title defense, Masao died in a car crash at the age of 23, bringing a sad end to the reign of one of the most exciting flyweights ever.

Classic bout: Masao Ohba w ko 5 Orlando Amores: 20 June, 1972, Tokyo, Japan.