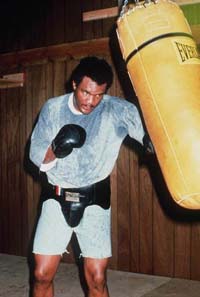 By Anthony Evans
George Foreman surely ranks among the most intimidating fighters of all time - he didn't just make his opponents feel afraid, he made they feel like victims. While it is difficult for those who only know the modern, jovial TV personality to imagine the fear the huge Texan struck into the bellies of his opponents, Ken Norton – not a man easily put in awe – can give testament to Foreman's vast powers of intimidation.

Fifteen months before facing Norton, Foreman, a slight betting underdog, had reduced Joe Frazier into a cruel, pathetic caricature of a world heavyweight champion by dominating him so utterly and completely that their clash in Kingston, Jamaica, had resembled an obscene mismatch. The images of the awesome Foreman lifting the dwarfed Smokin' Joe off the canvas with a right uppercut still send shivers down the spine to this day, but when they were first broadcast around the world they chilled the hearts of every heavyweight contender.

After blasting aside the overmatched Jose Roman in Tokyo, Japan, in September 1973, Foreman was matched with the heavily muscled, almost Herculean Ken Norton, who had previously broken the jaw and outpointed Muhammad Ali. While cast squarely as the opponent, Norton was given some chance of beating the force of nature when they signed to meet in the Poliedro Arena in Caracas, Venezuela, on March 26, 1974. It was the first world heavyweight championship match to be held on the South American continent.

Years later Foreman, long since reinvented as that cuddly, hotdog munching "Big George" character, admitted he was "kinda afraid of Kenny Norton because of that physique." However, at the time, he exuded a genuinely frightening bully boy menace.

Speaking the day before the bout, the world heavyweight champion said in a quiet, cold tone: "When the bell rings I'm going out to hurt him. I want to hurt him so bad it's embarrassing to me. I want to hurt him so bad he'll just pass out, just won't be there any more."

Norton, for his part, was talking like a man who'd like, rather than expected, to win. He said: "I'm no 95lbs weakling (yet neither was Joe Frazier) and I don't get pushed around."

Foreman restated with increased menace: "I want to hurt him so bad it's embarrassing to me."

Norton deserves to be remembered as a legend of heavyweight boxing. He faced Muhammad Ali three times and, if one can remain sober in the intoxicating presence of the Greatest, it is easy to be persuaded that Norton won all three. Perhaps as recompense for getting jobbed by Ali in September 1976, he was awarded the WBC title in 1978 when undisputed champion Leon Spinks refused to defend against him. However, as good as the Illinois adonis was, he was nothing to Foreman.

Usually Norton would strip off his robe as soon as he climbed into the ring to show his invariably smaller and less well-conditioned opponent exactly what he was facing. Yet sharing a ring with the hulking presence of George Foreman, who at age 25 had grown into full awareness of the vast compass of his physical powers, Norton seemed reluctant to expose himself.

When the bell rang, Norton was savaged. Vastly underestimated in terms of boxing skills, the champion's tree trunk arms barely moved as they contemptuously intercepted the challenger's best shots. In a crushing second round, Norton was fell into the vast gulf between the best he could do, and what the best in the world could do.

In less than five minutes, Foreman was staring at ringsider Muhammad Ali, whom he would now face in Africa to split a record $10million purse, over the prostrate Ken Norton. Wrote the hugely respected boxing writer Hugh McIlvanney: "The features of poor, devastated Ken Norton are, astonishingly, unaltered. But the face of boxing has been changed utterly."

The age of Ali was thought to be over. How, everybody asked, could Ali cope with Foreman's unholy power – the power that had now blasted aside two men who had defeated the Greatest?

"I admit he's stronger and hits harder. But I know a way to beat George Foreman," screamed Ali. "I have a plan."


George Foreman w rsf 2 Ken Norton, March 25, 1974, Caracas, Venezuela.
World heavyweight title.