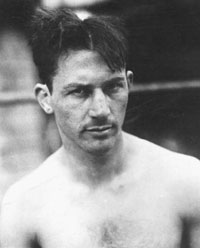 By Joe Queijo
Benny Leonard is still considered by many to be the greatest lightweight of all-time. Leonard was a superb stylist who used his speed to dominate his foes and, unlike most pure boxers, could punch and had no problem slugging it out when necessary.

Leonard had won the world lightweight belt with a ninth round kayo of Welshman Freddie Welsh. In his first defence, he kayoed reigning featherweight kingpin Johnny Kilbane in three rounds before stopping dangerous top contender Charley White in eight, but nothing prepared him for the war to come against Richie Mitchell.

Mitchell was another top contender who had fought various champions and contenders during the day when the absence of a knockout resulted in a "no-decision," where neither man claimed victory. He deserved his shot at the championship.

At the "World's Most Famous Arena", Leonard came out aggressively and quickly nailed the challenger with a sizzling combination, which dumped Mitchell on the canvas. The challenger got up hurt and was quickly stung by a hard right, which floored him for a second time.

The champion went in for the finish, but, to the astonishment of the New York crowd, got caught himself with a cracking right which dropped him heavily. Only the bell came to the rescue of a severely hurt Leonard.

Mitchell repeatedly caught Leonard with hard blows in the following rounds as the champion was still getting over his knockdown. But finally, at the start of the fourth, Leonard managed to get his snappy left jab working as he gradually began to outclass his ever-pursuing challenger.

As the match progressed, Mitchell could not handle Leonard's speed as the champion ripped in well-placed counters and, in the sixth, a short right cross dropped the challenger. He quickly rose, but another barrage dropped him again. Once more the valiant Mitchell clambered to his feet, but the champion finished the fight by downing his opponent for the third time in the round to score an electrifying sixth round kayo.

Mitchell had fought the fight of his life and the loss took a lot out of him. He was surprisingly knocked out in a round by Rocky Kansas before being stopped twice by top contender Charley White, which duly ended his fistic career.

Leonard would outpoint and later stop future champ Rocky Kansas before outscoring big-hitting Lew Tendler to retire as undefeated champion.

The Wall Street crash would cause Leonard to make a financially motivated comeback, which saw him get kayoed by future welterweight champ Jimmy McClarnin in six in his final bout but, as the war with Mitchell illustrated, at his best he was one of the greatest ever.

Benny Leonard w rsf 6 Richie Mitchell, Madison Square Garden, New York, January 14, 1921. World lightweight title.