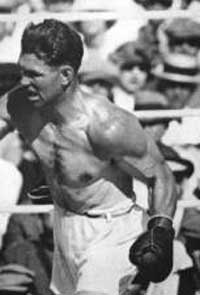 By Anthony Evans
Eighty-five summers have passed since Jack Dempsey (pictured) made a mockery of a half-foot and 54lbs size disadvantage to inflict one of the most savage beatings in ring history on hulking heavyweight king Jess Willard. Yet the image of the dwarfed warrior hacking down the champion remains as powerful and potent today as on the hot Friday afternoon it took place.

The famous, grainy film of the tigerish Manassa Mauler bludgeoning the giant to the canvas seems to indicate a cynically promoted slaughter. Dempsey inflicted seven knockdowns in the first round alone and, by the time a ravaged Willard's indomitable courage gave way to self-preservation at the end of round three, he had sustained a cracked orbital socket and cheekbone, a broken jaw, three smashed ribs while half a dozen of his teeth were missing.

It can difficult, then, for the uninitiated to believe that before the first bell Dempsey was cast as a soft-touch pansy. A small heavyweight for even that generation, he was a resounding underdog when he challenged for the greatest prize in sports in the summer of 1919.

Goliath champion Jess Willard had knocked out the hated and seemingly invincible black heavyweight champion Jack Johnson to win the crown four years earlier and, with boxing becoming an acceptable part of American life, promoters scrambled to make big money off the white man-mountain.

Promoter Tex Rickard had signed the champion for a staggering $100,000 to promote a single fight, gambling he could find an opponent with sufficient appeal to create boxing's first million dollar gate. While there were many talented fighters available most of them, including of course Jackson himself, were black.

"If a nigger has the championship then the championship ain't worth a nickel. That's what Johnson showed us," Rickard was quoted as saying, so the outstanding talents of colored fighters like Sam Langford and Harry Wills went unrewarded.

Light-heavyweight champion Georges Carpentier was considered, but Rickard knew grumbling about the size differential would be too loud for even his hyperbole to drown out.

So Dempsey, a slightly larger and equally popular fighter coming off 10 straight knockouts, got the call. After Dempsey's manager Doc Kearns held out for a $19,000 fee, contracts were signed to stage the bout in Toledo, Ohio.

The town was small, but it had excellent rail links to most of North East America and also the advantage of a law enforcement authority famed for turning a blind eye to gambling, prostitution and boozing. Rickard knew his audience, and while he had to wait until Dempsey vs Carpentier to get his $1million gate, he still drew a great crowd to Toledo.

One of the largest boxing arenas in history was constructed for the fight. Covering more space than two football fields, over 24 miles of seats were laid to create the octagon-shaped arena.

Rickard promoted the fight fantastically well, especially so when you consider that Dempsey was given scant chance of success against the power-punching Willard. The champion had been made acutely, tragically aware of his enormous strength six years earlier, when a single right uppercut took the life of opponent John "Bull" Young. Ridiculous manslaughter charges were quickly dropped but, after setting eyes on the comparably tiny Dempsey, Willard demanded assurances there would be no legal ramifications should the challenger die in the ring.

Kearns dismissed this as a tasteless publicity stunt (yet records suggest the champion was genuinely fearful of killing Dempsey), but it illustrates just how much of a mismatch the bout was perceived to be. Even Dempsey's own father believed the 54lbs differential to be insurmountable.

But just before the first bell, when fighters stripped off under the hot summer afternoon sunshine, astute observers got their first indication of what was to come. While Willard, at 6ft 6ins and 240lbs, was an immensely imposing figure in the ring, the bronzed, panther-like physique of Dempsey exuded pure menace.

A fanatical trainer, the muscled and taut Dempsey looked like a man made from twisted steel next to the slightly flabby figure of the champion. "With a soup bowl haircut and five o'clock shadow, Dempsey eyed the champion as Kane eyed Abel," wrote one ringsider.

The fight itself was a slaughter. After somehow surviving the first, Willard got through the second round without hitting the canvas at the heavyweight price of absorbing a dreadful drumming. Even allowing for the day and age of brave refereeing, the bout should have been stopped in that second round - Willard never landed a single telling blow throughout the next two sessions.

The man dubbed by friend and biographer Roger Kahn as "the flame of pure fire" ignited a golden era of sports that afternoon. His upset victory was so crushing, so devastating, that Dempsey annexed legendary status immediately.

Over 60 scribes, a record, were present to file graphic accounts of the slaughter. The New York Morning Telegraph was represented by the infamous former Wyatt Earp gunslinger William B. Masterson, and his account of the bout was raced to New York by a specially commissioned by-plane.

Dempsey reigned for seven years and two months, long enough for him, Kearns and Rickard to change the face of sport forever.

Jack Dempsey w rtd 3 Jess Willard, Toledo, Ohio, July 4 1919. World heavyweight title.