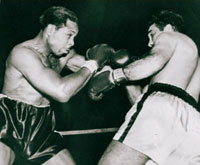 By Anthony Evans
In this modern age of gigantic heavyweight champions, the thought of even the most talented light-heavyweight ruler contesting sport's ultimate prize is too painful to contemplate. But half a century ago, when boxing's behemoths were too slow and ponderous to succeed and the top heavyweights still weighed around 190lbs, the best light-heavies were often tempted into the top division.

Yet, while the gulf in body mass was considerably smaller then, the vast majority of 175lbs fighters failed. However, one who came very close to annexing the heavyweight title – from the great Rocky Marciano no less – was light-heavyweight champion Archie Moore (pictured left).

Born Archibald Lee Wright in Collinsville, Illinois sometime around December 13, 1916 (his birth was not officially recorded, and even his mother was unsure of the exact date) Moore, sometimes called the "Mongoose" but best remembered as "Ageless Archie", was arguably the greatest light-heavyweight of them all.

Frozen out of the title pictured by the mob until the age of 36, Moore was not expected to win the light-heavyweight title when he challenged Ray Robinson conqueror Joey Maxim (pictured right) in December 1952. But he did. Moreover, he held onto the title (and never lost it in the ring) for 10 years.

Yet Moore wanted to go that one step further, and so in September 21, 1955, he challenged Rocky Marciano for the Richest Prize in Sports.

Marciano, who also had become famous under a pseudonym (the Italian-American was born Rocco Francis Marchegiano on the first day of September, 1923) had reached iconic status in America. After knocking out former champion Joe Louis in a collision of the past and future at Madison Square Garden, the Rock had established himself as the true heir to the Brown Bomber by scoring 42 knockouts in 48 unbeaten bouts.

Capable of enduring almost inhuman amounts of punishment, Marciano compensated for a lack of artistry with round after round of relentless attack. Not quite cute enough to work his way inside Jersey Joe Walcott's defence when he received his title shot in 1952, Marciano blasted the champion's arms, shoulders, back and ribs until he finally unloaded a right hand from hell to take the heavyweight title in thirteenth round.

In their rematch a year later, Rocky destroyed the former champion in a single round.

Marciano attacked the aged Mongoose with exactly the same savagery five blistering title defences later. However, the old professor of the sweet science was unafraid and, in what he later said was the sweetest moment of his life, Moore dropped the champion – heavily – in the second round.

Yet the moment passed, and sweetness buckled under the weight of pure savagery. After recovering from the knockdown the Rock dealt the older fighter an furious, two-fisted beating. After eight rounds and five knockdowns, the referee had seen enough and decided to rescue Moore from himself. Walking over to the challenger's corner, where Mongoose was desperately trying to drag air around his body in preparation for another Marciano salvo, the official said that he was going to stop the bout there and then.

But Moore would have none of that. "Oh no, oh no," he gasped. "I want to be knocked out! I'm a champion too!" Indeed he was, and he was allowed to meet his fate. Despite a desperate rage against the inevitable, Moore was stopped barely two minutes later.

No-one knew it at the time, but Marciano has thrown his final right hook. Having made his money and etched his name in the annals of time, he soon announced his retirement.

Moore fought in for another eight years, defending his 175lbs title while continuing his doomed romance with the heavyweight title. One of history's most gifted fighters, Moore eventually retired at the astonishing age of 49 after spending three decades as a professional fighter. In addition to holding the world light-heavyweight title for 10 years, Moore had achieved 141 knockouts – a record which will surely stand forever. After a rewarding career as a trainer and boxing personality, he died at age of 84 shortly before Christmas, 1998.

Tragically, Marciano did not have as long. He was killed in an aeroplane crash on August 31, 1969. He was 45. Among the mourners at the unconquered heavyweight champion's funeral was one Joe Louis. At the wake, the Brown Bomber kissed the closed casket, looked up to the heavens and whispered, "God is getting himself a beautiful man."


Rocky Marciano w rsf 9 Archie Moore. September 21, 1955, New York. World heavyweight title.