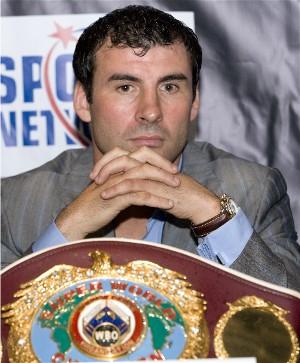 Joe Calzaghe: HoganPhotos.com

By Matt Wells: Joe Calzaghe is a controversial figure, derided by many boxing fans, particularly those in North America. So why is it then that his biggest fights rank among the most anticipated and talked-about events of the past several years? Such was the case when he took on Jeff Lacy. Such is the case, again, for his fight this weekend against Mikkel Kessler.

Some would answer that question by saying that they are waiting for a true contender to come in and tear a stripe off an overrated champion. These folks would naturally fall into the anti-Calzaghe camp. They see him as a fraud, and are waiting for the one misstep that will prove them right. Many see his acceptance of a fight against Kessler as just such a misstep.

Of course, many of these same folks, and probably lots of other fans and pundits as well, saw the Lacy fight in similar terms. Those who crowed that Lacy would show up the Welshman walked away almost as embarrassed as Lacy himself, as Calzaghe put on a performance for the ages.

But Calzaghe's detractors are not easily deterred. Since his monumental win over "Left Hook", his career has fallen into the sort of rut that his critics have taken him to task over many times before. The past year and a half has been a story of injuries and unworthy opponents. It is a story that the critics have embraced as they wait for their nemesis to fall.

A bit of rewinding is necessary here. Calzaghe's win over Lacy has been various re-interpreted in the time that has passed since that fateful day in March in 2006. Some revisionists have dismissed the event entirely, suggesting that Lacy was merely an overhyped but ultimately limited fighter. The match-up only meant something because a bunch of foolish American fans and reporters gave their man too much credit. Calzaghe's win, therefore, means little to nothing.

Such an interpretation misrepresents many of the facts, however. First off, Lacy may be a limited fighter, but that does not mean that he was not a serious and dangerous contender. He may not have been as good as advertised, but he was no Peter Manfredo, whom Calzaghe took on as his most recent adversary (more on that later).

There's more to the story than even that, though. Lacy was good, and he lost. But not only did he lose. Cazlaghe beat him so badly that he appears to have knocked Lacy almost entirely out of the fight game. In his comeback fight, a rematch against Vitali Tsypko, Lacy looked positively awful. Though a shoulder injury was cited as the reason for that poor performance, Lacy just seemed to lack the confidence in the ring he once had.

If that is true, the explanation for why that would be is simple: Calzaghe simply embarrassed lacy from start to finish. He slapped Lacy silly and then stepped back and smiled, admiring his handiwork. Lacy is a nice guy and a determined professional. But how could anyone suffer such a lopsided defeat and not let it get to them? Lacy is pencilled in right now to appear in the December 8 card in which Floyd Mayweather will take on Ricky Hatton. No word on an opponent yet, though one feels that Lacy will be reluctant to take on anyone too dangerous. If his shoulder injury proves to be as serious as it sounds, we may not see him in the ring for much longer.

Back to Calzaghe. If Lacy's career has gone downhill ever since his loss to Joe, it's not as if Joe himself has done much better. A plan to follow up his big win with a match-up against Glengoffe Johnson, an event that would have generated an immense amount of hype at the time, was scuttled the very day it was supposed to be announced, when a hand injury knocked him out of action.

Calzaghe languished on the shelf until October of that year, when he took on wily Sakio Bika. Bika, while not the most talented fighter in the world, was probably one of the worst choices Calzaghe could have made in terms of opponents, at least if he wanted to follow up his Lacy win with another attractive victory. Bika danced around the ring like a wild man while Calzaghe, though never in danger of actually losing the fight, looked more than a little baffled at his opponent's antics. Needless to say the fight wasn't exactly one of Joe's prettiest.

Calzaghe followed up this effort with an easy win last April over Manfredo. The fight was bad, in that Joe was easily the better fighter, but also because it was stopped by referee Terry O'Connor far earlier than it should have been. Calzaghe had things well under control and was raining bombs down on Manfredo when the stoppage came, but Manfredo was not in any particular danger, and he seemed at least capable of defending himself. In the end, the fight only proved that Manfredo was probably not quite the fighter his reputation (earned from his time on the television show The Contender) made him out to be. Calzaghe earned little in the effort, apart from a bit of money.

Joe's disappointing follow-up fights, then, have reinvigorated his critics. The Lacy fight, no matter what it was, was merely a blip in a dreary career, they say. A forgettable fighter had his one day in the sun. But then here we are, talking once again about the same man, aren't we?

Of course the critics are hoping that Kessler will be the one that finally exposes Calzaghe. But those expecting the Danish phenom to pull off the victory better not schedule their victory parties just yet. For all the hype, Kessler, really, is still a bit of a mystery.

Let's not forget that Kessler is a boxer that has only fought twice outside of Denmark, and only once in a fight that mattered. Let's not forget that the number of opponents that he has beaten that are even close to being big-name fighters can be counted easily on one hand. Let's not forget that he will be stepping into the biggest event of his life, in a mammoth stadium in his opponent's backyard.

Kessler is a tough, powerful fighter, but he is still relatively untested. His biggest win came against Markus Beyer, followed by his decision victory over Anthony Mundine. He is exciting and fan-friendly. But none of that adds up to a guaranteed win over Calzaghe.

If Kessler does win, however, Calzaghe's legacy would be in big trouble. Even if Joe does pull off the win, though, it's likely the critics and doubters won't be silenced for long. As with the Lacy win, they'll bide their time, then start up their rhetoric once again.

In many way, Calzaghe's situation isn't much different from a lot of top fighters. Bernard Hopkins and Floyd Mayweather have each had a handful of big wins, but they also have had much more in the way of easy victories over obscure opponents. And, arguably, Roy Jones was worse than any of them, with his string of easy KO wins over no-namers and no-hopers.

Calzaghe is a polarizing force in the sport of boxing. It's hard to say why, exactly, but that's the way it is. After this weekend, win or lose, one gets the feeling that neither his fans nor his critics will give up the fight.

November 1, 2007