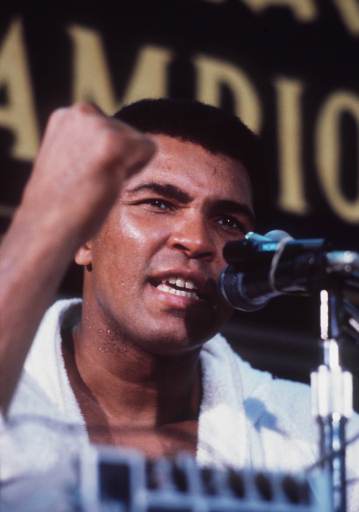 By Anthony Evans
There have been many super-fights in the 31 years since Muhammad Ali collided with Joe Frazier for the first time, but never again will there be a world heavyweight championship fight pitting two such fighters, both having equally legitimate claims to being the heavyweight champion of the world, against each other. Their clash at New York's brand new Madison Square Garden was equal to the hype and has held the public's imagination hostage for two generations.

For Ali, this fight would punctuate the statements he had been making for over three years; since he was unjustly and totally illegally forced out of boxing by political zealots for refusing to go to Vietnam in order to stem the 'cascade' of Communism.

For over a decade the man who was once dubbed 'Gassius Cassius' had taken boxing world , and the world beyond boxing, on a rollercoaster ride. Creating each new twist, turn, dip and ascendance as he went along, Muhammad Ali shocked, scared and thrilled in equal measures. No other athlete in history had penetrated the consciousness of so many different people, and the set-up of the super-fight was something that would have been dismissed by Disney as overly romantic. The handsome, wronged Prince returns from exile to reclaim his throne; it spilled over from the land of make-believe.

Both champions received identical purses of $2.5million, enough to persuade Smokin' Joe to listen to friends who said at 27 he had made enough money from the fight game.

Ali was now 29 and, despite returning from the wilderness to cut Jerry Quarry to ribbons in under 10 minutes and humiliate, hurt and knock out Oscar Bonavena in 15 rounds, could not hide the fact that he was not the same fighter that had become sport's most famous political exile. The three-and-a-half years of inactiveiy had dulled his reflexes and widened his waist. Ali knew this, and for the first time in his life had talked about the need to conserve his energy early on in case the bout went the full 15.

For Frazier, he had to defeat Ali in order to put his status as the world's best heavyweight beyond doubt. Never mind he, too, was an Olympic champion and undefeated as a professional or that he had won both recognised versions of the world title: he had to face Ali in order to escape from under the weight of Ali's legend.

Raised in Beaufort, South Carolina, Frazier moved north to the fight town of Philadelphia as a boy and there began his experiments in the sweet science. A fierce, committed fighter Frazier was a volume puncher whose dedication in the ring was as awesome as you would expect from a man who used to work from 4:30am until 6pm in a slaughterhouse and then go and do the hard business of training.

A machine in camp, Smokin' Joe hammered and flogged himself beyond the limits of most in the gym; when the time came to enter the third incarnation of Madison Square Garden he would know in the pit of his soul that, despite giving away height and weight, he was the superior physical specimen.

That, essentially, was why he won the fight. Secretly, Ali must have know his legs had lost their elasticity and that is why he was forced to take several rounds 'off' and resort to play acting in an attempt to kid the relentless Frazier into believing his opponent to be stronger than he actually was.

Yet Ali started extremely well and took advantage of Frazier's predictably slow start by easily taking the first three rounds, and was probably still four points up when the bell sounded for round 10. Wary of burning himself out, Ali went to his bag of tricks: he held out his glove to Frazier's eyes as a distraction, he rested on the ropes while delivering a bad-mouth sermon, and all the while he was talking to Frazier, jabbing at this self-confidence.

But Frazier had a force of will equal to all that. Braced by the inner belief that no-one, in the world, could have possibly prepared as hard as he, the bruised and bloody Frazier took over from the tenth.

Ali was very tired now, his excellent efforts in the ninth had seen to that, and Frazier began to beat him with the now laser guided left hook. Time and again Frazier landed with his money-shot punch in rounds 11, 12 and 13.

In the penultimate round Ali, somehow, got back on his toes and won the round comfortably. But he had grandstanded three minutes too early.

The brutal knockdown, which came at the tail of perhaps the most famous and re-played leaping left hook in history, sealed it. Joe Frazier had become the first man ever to defeat Muhammad Ali.

It is astonishing and difficult to compute, but to some Ali proved his heart by getting up and fighting. That Ali - the man who had fought Sonny Liston while blind - needed to convince anyone of his fighting spirit by 1971 is staggering in retrospect, but that was the depth of the dislike in which some held him.

Ali crashed to the canvas, his legs arched high towards the Garden roof, but he got up instantly and fought back with what he had left. The knockdown was excuse enough for the judges to vote against Ali, but some to this day believe won all three of the Frazier wars.

It was close - just like their two later meetings - whomever you believe should have won it.

He kept saying don't you know I'm God, the victor said afterwards. But God got whupped.

Frazier thought he'd finally stepped out of the Greatest's shadow, but few people mention him today without recalling Ali's image to mind almost as soon as they do his. His legacy and estate, as splendid as it is, is but a cul-de-sac in Ali's empire.

Expecting to accept victory like an immortal, Ali instead took defeat like a man. When Ali left his hotel, the New Yorker, he was mobbed. He had lost, but the people swarmed around him like a winner. Rather than making the fans question their faith in this fighter, Ali's defeat had deepened it still further. People believed in him.

You'll be back, you'll be back Ali, several shouted.

Although his face was swollen, Ali winked.

Joe Frazier w pts 15 Muhammad Ali, New York, March 8, 1971. World heavyweight title.