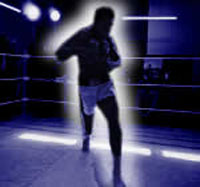 One of the most popular heavyweights of his era, Gerry Cooney's one-two combination of charm and jaw-shattering power won over legions of supporters in the late 1970s and early 1980s. Now, SecondsOut's Larry Tornambe catches up with the former world heavyweight championship challenger and finds a man who has not only found a life for himself outside the ropes, but one who is dedicated to helping other ex-fighters do the exactly same.
By Larry Tornambe: A white heavyweight who could punch, giant Gerry Cooney's career progress was looked at through a microscope by the world's fans and media. Initially they complained that his managers, Mike Jones and Dennis Rappaport, were too protective of the 1980s incarnation of the Great White Hope. Today, Cooney admits: That could very well be true, but the problem was I wasn't part of Don King's empire. King didn't allow me to fight (the big names), he put me out of the picture. He didn't want me to win a title."

King had the papers on WBC heavyweight champion, Larry Holmes at the time and wasn't about to give an unsigned fighter who could punch a title shot, if he could help it. Gerry himself puts a brighter light on his earlier career when he recalls, "I fought and knocked out Kenny Norton. An athlete has to perform and I wasn't allowed that luxury".

However, Gentleman Gerry's fists eventually demanded a title shot after he knocked out Dino Dennis, Leroy Boone, Jimmy Young, Ron Lyle and crushed Norton in less than a round from 1979 and 1981. Now the public wanted to see if he could reach Holmes. Cooney had not gone past eight rounds by the time he was finally granted that fight in June 1981.

It was a huge match-up and perhaps the defining bout of both fighter's career. Cooney is not bitter than he came second: "I had a great time, I went 13 rounds with one of the top heavyweights of all time. I feel very proud of that night. It was a great experience. It was a hot night, nearly 115 degrees at Caesars Palace in Las Vegas. We went 13 rounds, I came in a little too light. But we had a great time.

Gerry ended his 28-3 career after consecutive losses to Michael Spinks and George Foreman in 1987 and 1990, respectively.

Gerry and his wife Jennifer have one son. Since retiring from boxing, Cooney has invested his earnings in minor league baseball teams and said: "I have had a great life. I keep myself very busy, I've been in the horse business, I had a telephone company and I have a foundation that helps fighters go back to school and get trained in skills that they like and get good jobs. That is called FIST: Fighters Initiative for Support and Training."

Gerry now lets his FIST do the talking as he runs the foundation with the help of a 34 seat board. A detailed process ensures the foundations success. We bring the fighter in and give him an aptitude test. We find out what their problems are and help address them, we find out what their skills are and what they'd like to do, then we teach them how to work and find jobs.

So many boxers have fought since they were little kids, after adolescence they turned pro and never really held a day job. One must also remember the fighters who escaped the ghetto or prison scene through boxing. Gerry realized that when he explained that fighters have a good work ethic, they just need to be retrained. Cooney protected the identity of the boxers he's helped, but said "We are coming up on about 100 fighters we've found jobs for.

Gerry Cooney was one of his generation's hardest punchers. Today his FIST. Foundation is making a positive impression on the world. If you'd like to assist, Gerry says you can call 1-908-389-0900 or 1-888-765-3478.

He said: "It's a great foundation, we are helping some guys get their lives back on track and we welcome your support financially or with jobs."

Giving FIST a hand could help enrich the life of a boxer who thrilled you way back when.