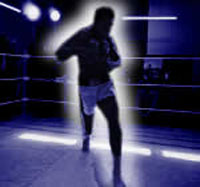 By Paul Concannon: Former undefeated WBA and IBF junior welterweight champion Aaron 'The Hawk' Pryor was amongst the most exciting and popular fighters of the 1980s. The Cincinnati born buzzsaw featured in some of the decade's most memorable battles including two epic encounters with the Nicaraguan legend Alexis Arguello. Renowned for a perpetual motion attack, excellent power, a granite chin and seemingly endless stamina this dangerous cocktail carried Pryor to eight successful world title defences.

After his initial retirement in 1985, it was Pryor's personal life that attracted most of the headlines. A harrowing crack-cocaine addiction that had already shortened his career, later almost killed him. Pryor finally overcame his toughest battle in 1993. Life post-addiction has been good to Aaron Pryor. We discussed this, his career, boxing in the 1980s and the future. Honest, candid and as articulate and witty as ever; here's what the 1996 Hall of Fame inductee had to say

SO) Hi Aaron, how's life treating you right now?

AP) Life is treating me just fine. Even though I'm retired, I seem to have more going on now than ever before. I've been married to my wife, Frankie, for the past 11 years. I have three sons and one step-daughter. I'm a Deacon at New Friendship Baptist Church and, whenever I am in town, you will find me at the gym everyday. I train two of my sons, Stephan and Aaron, Jr and I also work with Tim Austin, the IBF bantamweight champ. Additionally, I do a lot of traveling around the world making personal appearances and doing anti-drug speaking.

SO) Tell me about your son, Stephan, who is currently making progress in the paid ranks with you as his trainer. Is he a 'chip off the old block' in terms of his father's style?

AP) Stephan is now 7-1 in the junior middleweight ranks. Although I train him, he is not a carbon copy. He is definitely developing his own style and I am very proud of him. It's hard for the sons of famous fighters. Everyone is looking for a repeat of their father's style and career. I would much rather see a kid who can think for himself and stand on his own two feet. I also have another son, Aaron Pryor, Jr. who is coming up through the amateur ranks now. Although he is tall like Hearns, his style is much more similar to mine. He likes to throw lots of punches.

SO) The way you turned your life around after those much publicised drug problems has been a story of genuine inspiration. How long have you been clean now and who do you feel were the main influences towards you getting back on your feet?

AP) I have been clean now for nine years. I think that the bottom line in all major life changes is how much does an individual really want the change and then the next stage is where you go to get the help.

SO) Tell me about your church, your religion and how significant this was in your battle against drug addiction.

AP) As I said, I am a Deacon at New Friendship Baptist Church. Nine years ago, I almost died from a ruptured ulcer due to drug use. During my long stay in intensive care at the hospital, I asked God to deliver me from drug addiction. The first Sunday after my release from the hospital, and with 40 stitches still in my stomach, I made my way to Sunday services and have been there ever since.

SO) As said, you came perilously close to death; do you feel it was necessary hitting rock bottom in order to finally bounce back and beat your addiction?

AP) If you have ever gone through pain of any kind, you know it can be a very powerful motivator.

SO) What can one expect from a sermon from The Hawk?

AP) It all boils down to one simple idea. All things are possible through God.

SO) On to boxing, you had a great career; yet despite your immense popularity in the sport you never quite achieved the household name status of Hagler, Hearns, Leonard and Duran in the 1980s. Why do you think that was?

AP) There are a lot of boxers who do not achieve household name status. Thank goodness, that's not what we are judged by!

SO) Even aside from the 'big four' the eighties were a great, great decade featuring fighters like yourself, Wilfred Benitez, Wilfredo Gomez, Eusebio Pedroza, Alexis Arguello, and Salvador Sanchez to name but a few. How do you feel your decade compares with the current state of the game?

AP) I think that it is like comparing apples to oranges. First of all we went 15 rounds back in those days. Styles were just completely different. Now you have to be a rapper and a dancer before you can be champ.

SO) So do you feel the notion of a boxer as a showbiz celebrity has removed a certain purity from the modern fight game?

AP) No, I do not feel that 'celebrity' has removed any purity from boxing. It's just different times and they do it differently now-just like we did it differently than the era before us.

SO) Often compared with that other perpetual-motion great, Henry Armstrong, for your absolute unlimited stamina, what was the secret of your ability to keep throwing dozens of punches when most fighters would be either looking for a breather or a trap door in the canvas?

AP) First of all, I feel that I am just plain blessed by God with an abundance of natural ability. Secondly, I loved to train back in the day. I actually would train for 30 rounds, twice the amount I was scheduled to fight. I made sure that I was in tip-top shape.

SO) You out-pointed Tommy Hearns in the unpaid ranks, what are your recollections of that particular fight?

AP) I was just watching that fight a few weeks back. That was a very exciting fight for a kid. That was also back in the days when headgear was optional for the amateurs. As you may know, we were fighting for a seat on the '76 Olympic team at the Orange Bowl in Miami, Florida. Same place as the first Arguello fight was held. Fighting someone that tall was a real test of my ability. My son, Aaron Pryor, Jr., is tall like Hearns. I tell him to watch Tommy's fights and learn how to use his height to his advantage.

SO) You have described the title defence against the late Dujuan Johnson as your hardest fight (Pryor rose from a knockdown to stop the Detroit banger in the seventh round of a November 1981 title defense); describe why this encounter was more grueling than the first Arguello fight which was described by one writer as an 'epic in brutality.'

AP) Tommy Hearns and Emmanuel Steward were in the opposite corner that night. I guess Tommy was there for payback from our amateur days. I know this sounds crazy, but the biggest thing I remember from that fight is that I had just had my wisdom teeth removed a couple of weeks before the fight. Dujuan was one heck of a fighter; he was undefeated and ranked number two in the world at that time. What really made me want to beat him though was the fact that he thought just because he had Tommy and Emmanuel in his corner, he couldn't lose. He was overly confident.

SO) You and Arguello had two great battles (Won TKO 14, won CO 10 Pryor) in the first fight he was able to catch you with some savage right-crosses flush on the chin yet despite a few wobbles you had an amazing capacity to absorb the punches. Marvin Hagler was once quoted as saying the ability to hold a shot was as much psychological as physical. What, in your estimation, makes for such a strong set of whiskers?

AP) Every big punch deserves a standing ovation; I would never take anything away from Alexis. I truly respect my very dear friend's performance in both of those fights. However, if you got in a good shot on me you could count on getting twenty back. Those hits only charged me up.

SO) In the first Arguello fight there was a touch of controversy when you were given a drink by Panama Lewis after the 13th round. Panama was reported to have said something to the effect of Pass the juice, the one that I mixed. Some cried foul. I am less convinced anything untoward took place. What's your side of the story?

AP) Paul, there is no side of the story. There was nothing in the bottle, plain and simple. As you are probably aware, during a championship fight you are made to take a drug test before and after the fight. If there would have been anything in the bottle, it would have been detected. That situation has been analyzed a million ways and I hate to take the drama out of it, but there was nothing in the bottle.

SO) Lewis hit the headlines for all the wrong reasons when he removed the horsehair from the gloves of Luis Resto before an eighties TV bout with Billy Collins (Collin's career was ruined, and he subsequently died in an apparent suicide a few years later. Lewis later served time). What are your thoughts on Panama and what he was like as a trainer?

AP) Panama was a good trainer with me. Fundamentally sound. I don't know what he did with other people, but in my corner he was strictly legit.

SO) Another aspect of that Arguello fight was your style, you combined the usual non-stop attack with lots of moving and jabbing and more than a little cunning in defense, in fact Arguello really had to go for broke in order to get shots on target in many of the rounds. Was that a predetermined-tactical ploy or did you fight the fight you needed to in order to emerge victorious?

AP) I always fought the fight that I needed to fight in order to win. Winning is everything. You can plan all you want, but until you are in that ring and in the middle of the fight, your plan may just have to go out the window. When you watch Arguello you see that the first seven rounds were a flurry of action from Arguello. I switched up and began boxing in the last rounds in order to win.

SO) After the first fight you were asked if you feel you stopped history (as Arguello had been gunning for a historic title at a fourth weight) and you answered to the effect that Arguello as a three weight champion had already made history. Later, during the height of your drug problems Arguello (who more recently overcame his own problems with crack) stated that he wanted to help you in any way he could. These two statements speak volumes about your respective characters and a strong friendship was formed from the ashes of those two fights. Describe your relationship with Alexis today.

AP) Alexis and I are very, very good friends. We see each other about 4 or 5 times a year and always have a great time. We love to joke and kid around. He has a great sense of humor. In fact, we were together in Venezuela just last month. Only Alexis and I know what we shared in that ring and it has bonded us together forever. Alexis is a gentlemen and I am proud to call him a real friend.

SO) One of your finest moments was your stunning victory over another great fighter, Antonio Cervantes, when you lifted the WBA junior welterweight title. That must have been an amazing night in front of your hometown fans in Cincinnati.

AP) That was an incredible night. Just imagine, I used to sell concessions in the stands at Riverfront Coliseum when I was a kid and there I was fighting for the WBA Championship. Plus, that was the first time that a championship fight was ever held in Cincinnati. I remember earlier that day driving by the Coliseum just to see my name on the marquee. My whole family was there and it was a great day.

SO) Two fights I would love to have seen were Pryor-Chavez and Pryor-Duran. How do you think those two bouts would have gone for you?

AP) I think that Pryor and Chavez would have been very similar to Pryor & Dujuan Johnson, with the referee stopping the fight. I would have thrown too many punches for Chavez. My opinion is that Duran and I would have been close to the Leonard/Duran fight with me out boxing and out moving Duran. We would have gone the distance, but I would have won on a split decision.

SO) Your last two title defenses were the only ones out of your 11 world title fights that went the distance. Why do you feel Nicky Furlano and Gary Hinton were able to make it through all 15 with you?

AP) I could say things like, Hinton was left-handed or I was going through a divorce but it really boils down to that was the start of my drug abuse.

SO) After your first retirement in 1985 you came back with one fight per year between 1987-1990 the first of which saw your suffer your one and only defeat at the hands of big-punching Bobby Joe Young. I have heard that you fought that fight and the three stoppages (all wins) that followed while virtually blind in your left eye.

AP) Yes. I feel that my retina was detached during the second Pryor/Arguello fight. It just kept getting progressively worse. I had eye surgery a couple of years back and can now see better than ever out of my left eye.

SO) Who are your favourite fighters today?

AP) Mosley, Hopkins, Trinidad, and Tyson.

SO) How about of all-time?

AP) Ali (of course) Hagler, Leonard, and Duran.

SO) You sparred Leonard Sugar Ray Leonard at one point. What are your recollections of your time spent in camp with Ray Leonard?

AP) Yes, I have many fond memories of sparring with Ray. Ray gave me a job after I lost my seat on the Olympic team. I used to go stay with him and his family and work out with Ray. We became very close friends. His Mom even sent us down to college to enroll because she wasn't sure that boxing was going to work out for us. Obviously, we both chose to stick with boxing.

SO) And finally, what does the future hold for Aaron Pryor?

AP) God, family and training boxers.

Big thanks to Frankie Wagner-Pryor for making this interview possible. Anyone wishing to find out more about Aaron Pryor should visit his website, //www.hawktime.com">www.hawktime.com for further information.