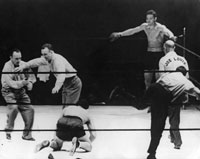 Louis wins the rematch, but he and Max would become great friends

German icon Max Schmeling, the former heavyweight champion of the world best known for his two fights with Joe Louis, has died aged 99. The oldest living former holder of the Richest Prize in sport passed away Wednesday (February 2) according to German media outlets.

'Die Maxie' Schmeling was born in Brandenburg in September 1905 and turned pro in 1924. After besting domestic opposition, winning both national and European Titles, he travelled to the USA and beat undefeated Johnny Risko and Paolino Uzcudun to earn himself a shot at the World Title vacated by Gene Tunney.

The German, who posses a stiff jab and solid right cross, met Jack Sharkey at Yankee Stadium, New York, on June 12 1930 and after taking a low blow had the inauspicious honour of being the only heavyweight champ to win the belt on a disqualification.

Schmeling fought once in 1931, successfully defending the title against Young Stribling with a 15th-round TKO. But his second defense, he lost a controversial split-decision in a rematch with Sharkey. Despite to gain his another chance, he stopped former middleweight champ Mickey Walker in eight rounds two months later but in 1933 was knocked out by Max Baer.

Yet the German wasn't done yet. He was matched with rising star Joe Louis and, after studying footage of the 22-year-old power puncher, noticed the Brown Bomber dropped his right after punching. Die Maxie exploited this flaw to the max - knocking Louis out in 12 shocking rounds on June 19, 1936.

The win should have earned the German a return bout, but champ James J Braddock knew there was more money in a Louis bout. Of course, once Louis won pride obligated him to give Schmeling a return and the 1938 rematch was one of the worst beatings in heavyweight history.

The bout was famously hijacked by both Nazi and American propagandists but Schmeling was no follower of the Third Reich despite his love of his people. After a time in the paratroopers he took a desk job and used this position to help many escape the concentration camps.

He also housed Jewish brothers Henry and Werner Lewin in his Berlin apartment for a time before helping them escape to the US.

The man had courage beyond even that of a heavyweight champion.

Schmeling boxed on until October 1948, when he lost a six round decision to one Richard Vogt in Berlin. He later became head of Coca-Cola for German, earning millions.

Keeping in contact with former nemesis Louis, the 'Black Uhlan of the Rhine' would eventually help pay for the Brown Bomber's funeral in 1981.

Far from the evil poster-boy for the Nazi's which some once attempted to portray him as, Schmeling was a courageous, humanitarian and as fine a human being as has ever held the World Heavyweight Title.

"I want people to know that there were good Germans," one of the Jews he aided once told a newspaper. "And their leader was Max Schmeling!"