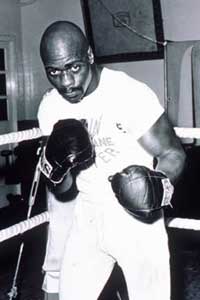 We all appreciate great boxers like Willie Pep or Muhammad Ali, but there is nothing like the excitement a puncher brings to the ring. At any second he can win, or invariably lose, a contest with one mighty blow. Joe Queijo looks at one of the greatest punchers of them all - Rubin "Hurricane" Carter.
Carter never won the world middleweight title, but his punching power and eventual imprisonment made him a cause celebre far beyond the boxing world. Years after his release, "The Hurricane" starring Denzel Washington became a major motion picture.

By Joe Queijo: Rubin Carter turned professional in 1961, winning his first four bouts before dropping a six round decision to former victim Herschel Jacobs. Six kayos followed until Ernie Burford outpointed him over eight though a return two month's later saw Rubin gain revenge with an eight round kayo.

Carter next faced big-punching contender Florentino Fernandez in his first TV appearance. Yet 69 seconds later it was all over with Carter showing the US viewing audience exactly why he was called the "Hurricane". Two points wins later and Carter was stopped on cuts by the capable José Gonzalez. Nonetheless, Carter received an unofficial world middleweight title eliminator against superb boxer George Benton.

Benton is known for being an excellent trainer of champions, but in the 1960s he was one of the most feared men in the middleweight division. Carter took a razor thin decision in a terrific bout, staggering Benton in the last round with a cracking left hook.

Rubin was then outpointed by slick Joey Archer, but showed the world that the Hurricane was not finished by kayoing the superlative welterweight champion Emile Griffith in one round. Next up was future heavyweight champ Jimmy Ellis, who was floored and beaten soundly on points clinching Carter his long awaited title shot against tough Joey Giardello.

Giardello was an ageing contender, who finally won the world title with a surprise decision from the great Dick Tiger. He fought his last great fight against Carter as he continually controlled the action with his ramrod jab and pinpoint combinations. Carter got in some hurtful punches, but Giardello´s chin was up to the task as he took a deserved decision. Forget what you saw in the film "The Hurricane", Giardello won that fight.

Rubin's career went downhill after his title fight loss. He was outpointed by former welter champ Luis Rodriguez, then won and lost two tough fights in London with Harry Scott before being floored twice and outpointed by Dick Tiger. Another loss to Rodriguez finished his top-flight career. His final fight was in Argentina in 1966 where he lost on points to toughman Rocky Rivero.

Soon after he was arrested and convicted for murder of two men, a heinous crime he did not commit. Rubin Carter had a long fight before him that he eventually won and he was finally freed. Carter wrote a book while incarcerated called the "The 16th round" and his life story was made into a film called simply "The Hurricane".

Punching style: Hard puncher with both hands though a short left hook was his most damaging blow. Liked to throw the hook after his jab or throw it as a vicious uppercut.

Most spectacular kayo - KO1 Emile Griffith

Welterweight champion Emile Griffith was a tremendous fighter, who could seem to do everything in the ring. He started the round behind his educated left hand until Carter caught him with a chopping right. Griffith held on for dear life, but on being separated Carter ripped in a vicious short left which dropped Griffith heavily. A dazed Griffith rose slowly and was soon backed against the ropes by a fearsome barrage of blows. A final left hook sent Griffith to the canvas, but he valiantly got up on shaky legs until the referee wisely stopped the bout.

Griffith would go on to dominate the welters and then win the middleweight title twice. His only other stoppage loss was in the 14th round of his first fight with the great Carlos Monzon. He would then go the distance with Monzon and take the blows from middleweight punchers like Bennie Briscoe, Stanley "Kitten" Hayward, Tony Mundine (middle and light-heavy contender who was heavyweight champ of Australia!), Eckhard Dagge and Alan Minter without ever being stopped.

Fights against other big punchers - KO1 Florentino Fernandez

Big punching Fernandez turned pro in his native Cuba, but escaped when Fidel Castro came to power. He had a 30-2 (24 kayos) record when he faced durable Gene Fullmer for the middleweight crown. Florentino lost a very debatable decision, but then inexplicably suffered three consecutive kayo defeats before facing then unknown Carter.

Both fighters started behind their jabs when Carter suddenly landed a short counter right, which dropped Florentino. The Cuban got up quickly, too quickly, and mistakenly backed against the ropes where Rubin ripped in a vicious left and right which sent Florentino through the ropes to be counted out.

Fernandez rebounded well from such a devastating loss by going to Puerto Rico to knockout undefeated Jose Torres in five one sided rounds. Torres would go on to become the light-heavyweight champion of the world. Florentino also beat tough Rocky Rivero two out of three times before losing twice to Jose Gonzalez, which effectively finished his career.