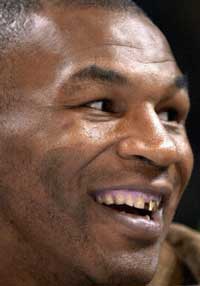 On the 15 year anniversary of Mike Tyson's WBC world heavyweight title winner over Trevor Berbick, SecondsOut's contributing editors Paul Upham and Patrick Kehoe clashed on the question of 'Iron Mike's' immortality. Australia-based Upham reasoned the former undisputed heavyweight champion's achievements in the 1980s alone indelibly etched his name in the annals of ring history, while Canadian Kehoe argued vehemently that the Brooklyn native's inner demons robbed him of his chance at immortality long ago.
After presenting both sides of the debate we asked you – the SecondsOut readers – for your opinions. The response to the first of SecondsOut: Legends //www.secondsout.com/legends/inthiscorner.asp">In This Corner feature was overwhelming; some of the responses were obviously the products of literally hours of thought. Here, edited for brevity are some of the best responses and rebuttals.

"Mr Kehoe was correct. Tyson had the chance, the ability to become something great but he blew it. It could have been so different if Cus had lived." Mike Evans, Ohio

"One of the things both (writers) didn't mention were that Holyfield – the guy who murdered Tyson – is himself so overrated. Lewis handled Holy so easy it was unreal and people say Lewis is not a great! If Lewis isn't a great = Holy is not a great = Tyson is a bum!" Sean Mooney, Burslem, ID

"I think both (writers) had strong points and in there own way were both correct. While I think other fighters have achieved more and for longer, the fact is Tyson is a legend. It doesn't matter he's done nothing since Spinks, it doesn't matter that Holyfield made him quit twice, it doesn't matter that Lewis will kill him next year (if Mercer doesn't first) – none of it matters. What matters is that he's about the only fighter in the world to draw media attention over the last 15 years – good or bad. He won the title twice (and tried to unify it both times), was the youngest heavyweight champion of all-time and was in some of the biggest PPV event in boxing history. These are not small achievements. Tyson will be remembered as long as there are boxing fans and that makes him a legend in my book." Ed Banners, Germany

"Tyson cheats all the time. Legends don't need cheating." Nick Anderson, Leeds, UK

"I can't see what Tyson has done next to Louis, Johnson, Ali and even Holmes, even reading (Paul Upham's) argument. I mean – who are these guys like Bruno, Seldon and Mathis. Sure, go all the way back to Spinks, but that was one fight – ONCE – against an inactive light-heavyweight. Big. Deal. If you are talking a footnote in history or a character in history – fine – Tyson will be remembered. But standing next to Louis and Ali? NO WAY!" Neil Christian, New York City

"I agree completely with (Paul Upham). Not even looking at the two world titles in the mid-1990s, Tyson was a legend. He would have beaten all these guys – Joe Louis (all 190lbs of him) Rocky (now there's a myth!!!) Holmes (oh, wait, HE DID!) and will spark Lewis when they fight next year. Tyson has won the WBC title twice, the WBA title twice and the IBF title. If he'd had given them up rather than defend them and then won them back he's be a SIX TIME heavyweight champion if you include the win for the linear heavyweight crown he won from a frightened to death Michael Spinks. A six time champion not a legend? As Tyson's shirt says: "BE REAL!" Andy Sommers, Boston

"Both sides of the coin have their points. Tyson did a lot before jail and would have beaten Buster in any return and he won the undisputed heavyweight title: there ain't too many of them no more. Tyson after he came out from jail still had enough to win two world titles but not enough to defeat a legend in his prime Holyfield. Mike was still a great in his prime." Tony Shaw, Austin, Texas

"Tyson should be disqualified from ever going to the Hall of Fame or being considered a great after the what he has done to this sport. Rape, road rage, trying to break arms and ripping ears off with his teeth are just some of this sicko's tricks. Boxing needed him like an ass-tumour. Only a sport as stupidly forgiving as boxing would honor a despot like Mike Tyson." Louis J, Quebec

"Wins over Spinks, Holmes, a prime Tucker and Smith all before the age of 24 are good enough for me." Brett Chesters, New Orleans

"It all depends on what you define as great. On number of titles – Tyson is a great, but on quality of opposition and wins against that quality, he is way below Louis, Dempsey, Ali and the others. Personally I think he's just outside the Top 10 all time greatest heavyweights: way better than the likes of Norton, Smoking Joe and those guys. He's not up there with Ali or Louis, but Tyson is up there." Wil Keivans, Toronto, Canada

"Tyson quit in the second fight against Holyfield, and the tried to quit in the first one as well when he rammed his face first into Holyfield's. You can argue about the 80s all you want and say he was shot or whatever but the fact is he can't be a legend because legends don't quit and he quit like a dog – biting in 1997. Simon Freddericks, North England

Keep checking Legends for more In This Corner. The next point of controversy will argue who was truly 'The Greatest' Muhammad Ali or Sugar Ray Robinson?