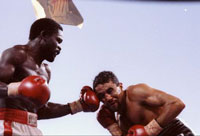 Larry Tornambe in Canastota, New York
The International Boxing Hall of Fame opened its doors to 2002 inductees on Sunday. Among the honored were former WBA Welterweight king Pipino Cuevas; three weight champion (super-fly, bantam and featherweight) action figure Jeff Fenech; the Hammer of Thor - former Heavyweight champ, Ingemar Johansson and British broadcaster and journalist, Reg Gutteridge.

Also inducted from the Modern Class was Victor Galindez who was the WBA Light Heavyweight champion twice between 1974 and 1978. Galindez retired from boxing to become a race car driver, a vocation that took his life in a 1980 crash. Unfortunately, Ingemar Johansson was grounded in Sweden by an illness and a dislike for long travel.

Pipino Cuevas reflected on his induction by saying, "A boxing career is one of many sacrifices. I believe it is worth all the sacrifices to be here today."

"It's a great honour to be here, said Jeff Fenech upon receiving his Hall of Fame ring and certificate. He gave credit to Johnny Lewis, his trainer, "Lewis took me out of the streets and into boxing."

Reg Gutteridge rallied the crowd by stating he had "A wonderful few days here, I'll miss it like mad...I shall return."

The Hall of Fame also welcomed the return of past honourees and invited some of the hottest names in today's game. Mikey Ward, Paulie Ayala and James Leija visited for the first time and seemed awed by the whole weekend experience. Leija, who worked out for the public on Friday said: This weekend is humbling. Canastota is truly a fight town. Ayala, who was in the ring Saturday, put forth a not so subtle hint that he wants to be invited back because he was having so much fun. Mikey Ward was stunned by so many champions and legends in one room.

The Hall of Fame Induction Parade paid tribute to all the firefighters and police officers of the world. Their representatives and Grand Marshals for Sunday's parade were New York City Police Officer, Ron McNair and Firefighter First Grade Tom Orlando.

A Friday night fight card was presented by Michael Acri Promotions at the Turning Stone Casino. The 50 legends in attendance was the largest collection ever assembled by the Hall of Fame. Mr. Ed Brophy, the Hall's Executive Director, and his ample, polite and hard working staff deserve so much credit for keeping the crowd controlled, the celebrities protected and the outings and schedule efficient.

The main event was a 12 round contest for a minor Junior Welterweight title. Frank Houghtaling outlasted a soft punching Lou Bizzaro. The end of the bout came when a cut and staggered Bizzaro was stopped at 1:35 of the 12th round.