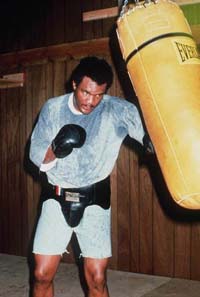 By Patrick Kehoe: The Olympic heavyweight champion from the 1968 Mexico City Games, George Foreman took a ponderous, pain inducing path to the top of the pro ranks. When he signed to fight world champion Joe Frazier in 1972 for a January 22, 1973 title challenge in Kingston, Jamaica he was the number one pretender few people really believed in. The book on the kid from Houston read: strong but slow, wide shots and no real defensive capacity under fire, intimidating yet susceptible high punch rates and demonstratively lacking in stamina, Gregorio Peralta as exhibit "A". It was because Frazier was trying to make arch rival (revile) Muhammad Ali wait for another chance at the title that the door of opportunity was opened unto the 6ft 3ins 220lbs pillaring wall sporting a 37-0 (34) rap sheet.

And how George did kick that door down! The shock waves sent forth from his second round humbling of Frazier - his stardust epicentre of Jamaica - spread out across toward Tokyo until Foreman blitzed Puerto Rican contender Jose "King" Roman in a heartbeat on September 1, 1973. The fact that Ken Norton, 30-2 (23), had broken Ali's jaw and looked like the son of Zeus was supposed to mean a real challenge had to be coming George's way. Fledgling promoter Don King, hungry to keep the Foreman global express rolling along as he had an agreement in principle with Foreman and Ali inked just a week before, brazenly set the Foreman-Norton showdown in, of all places, Caracas, Venezuela. Remote but beautiful setting, well known but dangerous opponent, next fight signed up with a monster, hype making guarantee for both fighters, it was pure early Kings-man-ship.

It's strange to remember now that the first incarnation of George Foreman - a scowling menace booed from most every seat in the arenas he toiled in - never fought a heavyweight championship round in the United States. Don King his promoter (and Ali's and Frazier's) had found that foreign investors - often governments - were willing to bankroll a heavyweight championship fight just for the tourism, continental bragging rights, PR exposure and international prestige associated with being a recognized spot on the map of current affairs. And King was never one to look a gift demigod in the mouth, so much the better if it happened to be from an African dictator.

Checking over the two gladiators and their respective styles most analysts felt that Norton's jabbing, flinching awkwardness which mixed in decent power might - if extended over some rounds - force Foreman into a real, athletic engagement. That at least was the hope. But the memory, still fresh, of the great Joe Frazier being dribbled like a basketball off the canvas until cradled in his manager's arms Yank Durham back to his corner was the newest abiding memory in boxing's long line of championship annihilations. Of course, that's why you fight the big fights.

Besides, if the ex-sailor from San Diego, California could fight competitively with Muhammad Ali for 24 rounds surely he could make the champion break a serious sweat, for his guaranteed $700,000 and ancillary change. And this entire Venezuela thing was not going according to anyone's script. If Foreman was as confident as Saddler and cornerman Archie Moore said to one and all, then why had they tried to have their own hand picked man Jimmy Rondeau flown in from Washington to referee?

Rondeau would indeed referee, miserably, but only after the Foreman camp allowed the entire judging core to be home picked. Better the referee in your pocket than the judges, when your guy is George Foreman that is! Also, why did the champ suddenly come up with a knee malady the morning of the fight after training had ceased? Foreman was injured climbing stairs? The story unravelled from that single assertion ending up to no ones satisfaction. Was the champ able to fight? He sat in his dressing room not committing one way or the other.

In the stadium, Ali was holding court at ringside mouthing to Bob Sheridan "doing the colour commentary" for the telecast of the fight. When Ali and Oscar Bonavena started into a mock stare-down and sparring session during the preliminaries all that was left was for the circus to show up. When the introductions ended and the bell rang Foreman was there in symbolic red trunks and Norton outfitted in blue met him at ring centre to remind everyone there was a championship to be decided.

The fight itself was a study in raw heavyweight power hitting, an exhibition of Foreman's prime uppercuts and inside left hooks locked in for explosion on the head of Kenny Norton. Just over 200 closed circuit audiences in Canada and the US saw the live and living ritual sacrificing of Norton inside of 2 rounds. Never would Norton collect a more deserved 200,000 if only measured as mercy pay. El Poliedro Stadium, barely half full, barely had time to see its dignitaries seated before Bill Slayton halted the fight. No, not Eddie Futch who had been dismissed by Norton's management Art Rivkin and Bob Biron over Futch's new working relationship with Joe Frazier as a conflict of interest. Norton stumbled back to his corner to a stranger, Slayton who barely reacted outwardly to Norton's having been bludgeoned by Big George for the worst defeat of his young career.

Futch, who watched from ringside with Joe Frazier, had proffered that his old charge had to box and wait out what would have to be a late round counter attack victory. Looking back now who can even imagine a fight where Norton beat Foreman? As the actions were just being carved in time and not long after even the upcoming showdown with a 33 year-old Muhammad Ali seemed at best a crime in the making and at worst a dangerous life decision for the Muslim warrior from Louisville, Kentucky and Cherry Hills, New Jersey.

Ali's miracle would come in the fall. In that spring of 1974 George Foreman was the search and destroying force in modern boxing. The protege of Sonny Liston had seemingly vaulted past the lessons of his master. Who was there left to really challenge the champ? Could Foreman last out the decade as the king of the heavyweights? Making Ali a hypothetical winner over this force of nature had to be an act of sentimental folly or romantic stubbornness.

Look at the photos of Frazier and Norton. Oh, the humanity! The people in the 70 countries who would watch what little action there was on tape delay would only be more converts to the legion of Foreman supporters. Maybe you don't like the guy but he's inevitable, lethal, and unstoppable!

"I'll knock Ali out, yes. The first time I get through clean!" After Norton everyone believed Foreman, especially the people picking Ali to win in Zaire.