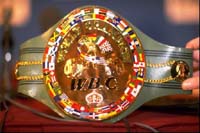 Former WBC featherweight champion Howard Winstone was finally awarded the WBC belt on Monday (October 8) – posthumously - some 33 years after defeating Mitsumi Seki to win the crown at the Royal Albert Hall in London.
A special ceremony took place in the rain at Merthyr Shopping Centre in Wales as former world lightweight champion Ken Buchanan presented the belt to the fighter's son Howard Winstone Jr.

A local choir sang Howard's favourite party song Hello Dolly as Winstone's widow Bronwen said: "We wanted this to be a celebration of his life."

A small plaque was all the quicksilver Winstone had to commemorate his epic win on the night, but - after British Boxing Board of Control General Secretary Simon Block rigorously campaigned - WBC President Jose Sulaiman sent a prized belt to the fighter's widow Bronwen.

"I cried when I first saw the beautiful belt with Howie's picture alongside legends Muhammad Ali and Joe Louis," she said.

Winstone passed away 11 months ago, aged just 61. The Welshman is regarded as one of the finest British fighters of all-time.