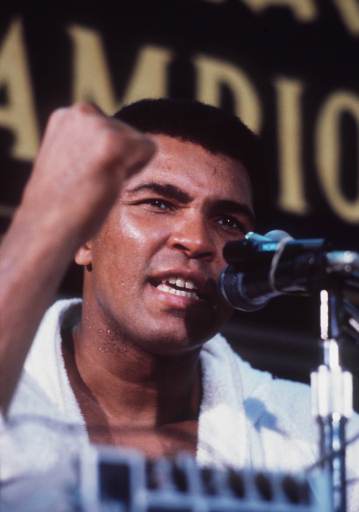 By Jack Hirsch: He was brash, arrogant, and self centered, but few can deny that Howard Cosell is the most famous and influential sportscaster in history. Anyone who tells you otherwise is blinded by a dislike for the man who dubbed himself the Greatest before Muhammad Ali made the term fashionable.

Although Cosell covered a variety of sports, it was two above the rest, which helped him to achieve his notoriety. Those being boxing and football.

Cosell's run on ABC's Monday Night Football lasted throughout the 1970's and the early part of the 1980's. In America it was a pop phenomena, a cultural expedition in which record numbers of television sets were tuned into the game every Monday Night during the season. However, as popular as football was and still is, the game was only part of the reason MNF achieved the popularity that it did. The other reason was Cosell, the man people loved to hate.

To say that Cosell put MNF on the map all by himself would be unfair. At the height of MNF's popularity, Cosell's partners in the broadcast booth complimented him perfectly. There was no love lost between them, which if anything, added to the groups chemistry. Texan Don Meredith, a former star quarterback with the Dallas Cowboys, would exchange barbs with New Yorker Cosell. It was usually very funny, but underneath laid friction. Frank Gifford, did the play by play (Cosell and Meredith were analysts). Gifford a handsome, modest, former star player of the New York Giants, was the straight man, the referee. But because of Gifford's close friendship with Meredith, it always came off as two against one. It may as well have been 40 million (or whatever number watched the game) against one, because clearly, Cosell was not about to win any popularity contests. Lacking humbleness was one thing, Cosell's inflated opinion of himself another.

When Cosell did MNF it thrived. Today it merely survives. ABC continuously has tried different broadcast combinations in hopes of recapturing the glory years it enjoyed when Cosell was there. Maybe they should resign themselves to the reality of what once was, is not going to happen again. The era that Cosell worked in is vastly different than what it is today. Sports no longer enjoys the purity it once did. Sporting events are staged strictly on the revenue it can generate. A case in point would be Wrigley Field, the home of the Chicago Cubs baseball team.

For a time, the Chicago Cubs organization were the last of the holdouts. Wrigley Field was not only worshipped because it was one of the last of the old fashioned ballparks, but also because they played all their games in the daytime.

When the Cubs who were (and still are) traditional losers, had a burst of success and threatened to make it all the way to the World Series a decade ago, the powers of baseball were faced with a dilemma. Because their television deal called for the world series games to be broadcast at night, major league baseball had a clear choice. They could renegotiate their deal with television and it's sponsors, at what would be a significantly lower rate than before, or do the unthinkable, force the Cubs to put lights in Wrigley Field and play the world series at night. They chose the later. Money wins over tradition every time.

As it turned out, the Cubs came up a little short and failed to make the World Series, but within a few years started playing some of it's home games at night anyway.

Ballparks that are regarded as shrines are torn down so new, more lucrative ones can be built. Worse yet, teams are moved from one city to the next without regard to what it would do to the emotional mindset of it's fans. Players rarely spend a lengthy career with the same team.

Abandonment in some way, shape, and form, is not only accepted in sports, but also expected at some point in a players career. Broadcasters as popular as they are, rarely spend a whole career at one network before moving on. Cosell was an exception. He proudly wore the emblem of the American Broadcasting System for the 30 or so years his career lasted. Cosell was also immensely loyal to his wife Emmy for the many years of their marriage. What he did not remain loyal to was the sport that made him famous, boxing.

A story that a friend of mine, Marty the Cabby related to me years ago, proves that Cosell's utter distaste for boxing did not evolve over a long period of time.

It was 1980, when Marty picked Cosell up. Startled to have such famous company in his presence, Marty started to talk about sports. Cosell requested that they change the topic, talk about the situation in the middle east instead. Marty would have none of it. It's not everyday that I pick up Howard Cosell in my cab he told him, I would rather talk to you about sports than anything else.

Marty asked Cosell who he thought would win an upcoming football game, to which Howard replied I don't give a bleep.

Cosell showed little enthusiasm for the conversation Marty engaged him in, but a one word answer from the legendary broadcaster revealed his feelings. What is your favorite sport? Cosell was asked. Boxing was the reply. Because Marty was not a boxing fan, he did not dwell on Cosell's answer, but on reflection it is revealing.

Had Marty picked up Cosell in his cab a few years later, he would never have received the same answer. By then, Cosell had gotten disenchanted with boxing to the point where he was calling for it's abolishment.

Things came to a head in Cosell's mind in 1983, when he broadcast the Larry Holmes vs. Tex Cobb fight. In that match, Holmes successfully defended the heavyweight title, beating up on Cobb for virtually every second of the 15 rounds it lasted. While this was going on, Holmes' promoter Don King was gleefully shouting out from ringside, all night long Larry. And all night Holmes pounded Cobb's head as if it were the speed bag.

Because Cobb was able to defend himself, the match was allowed to go the distance, but the punishment he sustained was more than any man should ever have had to endure. Cosell was appalled by what transpired, said so, then used this spectacle as an opportunity to leave professional boxing.

Being that the Los Angeles Olympics were the following year, Cosell who always craved the limelight, rationalized that amateur boxing was an altogether different proposition from the pro's. Cosell did the Olympics for ABC, then started to sour on amateur boxing as well.

For all of Cosell's success on MNF and in the broadcast field in general, it would never have become possible without boxing. Until virtually the very end of his broadcast career, Cosell was a huge supporter of boxing, but it was probably less out of love for the sport than how it could benefit him. Cosell loved to latch onto stars, build close relationships with them and establish a type of bond that other reporters could not match. And because boxing is an individual, not team sport, Cosell was able to easily deal with fighters on a direct level.

Cosell came into the business during the time Floyd Patterson was heavyweight champion in the 1950's. He befriended the shy, almost hermit like boxer from Brooklyn. They got along well, but being that Patterson was not a dominant champion, their relationship did not elevate Cosell. With the emergence of Muhammad Ali in the mid 1960's, Cosell found exactly what he was looking for.

Depending on who's version you listen to, Cosell made Ali or it was Ali who made Cosell. In all probability, Cosell benefited more from his relationship with Ali than the other way around. Ali was a phenomenal boxer who would have become a ring legend with or without Cosell. A natural showman, Ali always had crowds rolling in laughter no matter what the setting. However, with Cosell he had the perfect foil, the one man who could compete with him in the gift for gab department, and one Ali could turn into the villain. Without a doubt, Ali and Cosell were sports' greatest comedy team. Ali actually seemed to like Cosell. He took great pleasure in being able to stay a step ahead of him, use Cosell to get some laughs.

At the press conference to announce his first fight against Joe Frazier, Ali yelled out a short poem to the assembled press corps. When the fight is over and Frazier can not answer the bell, I am going to jump out of the ring and take on Howard Cosell.

Later in Ali's career when his skills were diminishing, he had a line he loved to use. Howard Cosell says that I am not the same man I was 10 years ago. Ask Howard Cosell's wife is he the same man he was two years ago.

Ali liked to tug at Cosell's hairpiece, pretend he was going to pull the rug out from under Howard. This always seemed to make Cosell a little nervous.

Cosell always liked to emphasize his point by concluding with the words, This is Howard Cosell telling it like it is.

Many considered Cosell a shill, a blowhard. But when Ali had his license pulled because he refused to go into the military, the champion had no bigger supporter than Cosell. Ali always appreciated it.

When Ali's career started to wind down, Cosell attached himself to another superstar in Sugar Ray Leonard. Cosell broadcast Leonard's fights at the 1976 Montreal Olympics, instantly recognizing the boxer's charisma and star power.

Cosell and Leonard enjoyed a warm relationship, but it was nothing like the one Howard had with Ali.

In 1982, a detached retina forced Leonard into retirement. As we all know Leonard came back. But at the time Cosell packed it in, it was thought that Leonard's retirement might be permanent. Maybe it is just a coincidence, but Cosell's disenchantment with boxing occurred when he had no dynamic superstar to play off of. It is hard to envision Cosell having quit the sport if say, Ali was at his peak.

The last time Cosell saw Ali was in 1992 at the Hotel Pierre in New York City. Cosell was there to speak at a luncheon in which Ali was being honored. I was there and have vivid memories of the afternoon.

Cosell arrived early and sat at a table with his daughter. Cosell's demeanor was not sociable. Everyone gave him his space.

When Ali arrived he seemed startled to see Cosell. Ali walked over to Cosell, leaned down and gave him a hug. Their cheeks came together as they embraced. No longer were they the vibrant young men who had captured the emotions of the public. They both moved along in slow motion. The exchanges between the two that for years had people rolling in laughter, would be no more.

Ali stricken with Parkinson's syndrome no longer had the ability to verbally spar, Cosell did not want to. He was there strictly in a show of friendship for Ali. When he got up the speak, Cosell said, I love you Ali, the whole world knows that.

Boxing was not the only sport Cosell had tired of. For close to a decade before his death in 1995, Cosell had little use for any of them. Simply put, he had become a bitter old man. Yet as much as he had grown to despise the elements of professional sports, it was the way he turned against boxing which created the biggest waves.

In general, Cosell's calling for a ban on boxing carried little clout. The majority of people accused him of being a hypocrite, one who had years to reach the conclusion he did. Only after Cosell had gotten rich from boxing did he come out as an advocate against it.

The 1970's were called the golden age of the heavyweight division. If true, Cosell's personality and fight calling contributed greatly to the excitement. Who can forget his famous line when Joe Frazier hit the canvas for the first time in his match with George Foreman. Down goes Frazier, down goes Frazier, down goes Frazier. The words were simple, but it was the way Cosell said them that has lived on in eternity.

If Cosell had not turned against boxing in the manner he did, then there would be no question that he should be enshrined into the International Boxing Hall of Fame in Canastota. His contribution to the sport far outweighs that of others who are already in.

Great fighters are forgiven for dreadful performances late in their careers. History tends to give many a complete waiver. So let the same situation apply to Cosell. When Cosell turned against boxing he was past his peak as both a broadcaster and human being.

What we should remember about Cosell is the impact he had on boxing. Whether you liked, disliked, or were in indifferent toward him, no one should dispute that Cosell left his mark. Such a man deserves induction into the Hall of Fame.

One of the good qualities a person can possess is to forgive and forget. In Cosell's case only one is necessary. Let's forgive him for what he said in his later years, but let's never forget the impact he had on boxing. That can only be achieved if he gets what he deserves, a plaque on the wall in Canastota.