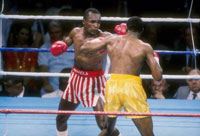 The battle for the name. By Paul Concannon
These are two great American boxers to whom any hardcore boxing fan will need little by way of introduction. This battle features the grace, power, speed and all-round brilliance of Robinson against the fast, flashy and explosive combination punching and superb footwork of Leonard.
Robinson won world titles at both welterweight and middleweight, and remains the only man to win the title at the higher poundage on five occasions. Joey Maxim beat him in his one and only assault at the light-heavyweight title, when severe heat exhaustion forced his retirement in 13 rounds of a fight he was winning handily. Leonard was a legend of a more modern age, when fragmented titles and multiple weight divisions gave winning world titles a little less meaning than in Robinson's era. His achievements, though, are still remarkable as Leonard became only the second man to win world titles in five weight classes, from welter to light-heavyweight.
Robinson was one of those who was regarded as a legend in his own time, and is still to a great many boxing experts, the greatest fighter of all time. His real name was Walker Smith Jr, a name he changed in order to turn professional due to red tape when applying for his licence. He had a remarkable 76 fights before finally winning the welterweight title on points against Tom Bell in 1946, a little over six years after his pro debut. His pre-title opposition consisted of the likes of Sammy Angott, Jake Lamotta, Fritzie Zivic, Marty Servo, and the great Henry Armstrong among many others. After four defences (and numerous non- title bouts) he moved up to middleweight to take on old foe Lamotta, the only man to have beaten him, for the world title. He won that battle in round thirteen after a gruelling struggle, and then lost and won the title against the likes of Randy Turpin, Gene Fullmer and Carmen Basilio over the next eight years. He finally lost the title for good against Paul Pender, losing twice on points to the man from Boston. He was forty at this point, but he fought on, with mixed success, for another five years before retiring in 1965 after a fantastic 25-year career.
Ray Leonard was an Olympic golden boy by the time he turned professional in February of 1977, and to most was destined for greatness right from the beginning. His style of hitting without being hit coupled with blurring hand-speed captured the public's imagination, and by the time he challenged for his first world title in November of 1979 he was hugely popular. He wrenched the WBC title from outstanding Puerto Rican Wilfredo Benitez by way of 15 round stoppage after a classic chess match between highly skilled operators. He would shockingly lose the title on points to Roberto Duran in a scorcher in Montreal, before regaining it, from the same man. After a quick assault at light middleweight to pick up the WBA crown he returned to welter and unified the titles by stopping Tommy Hearns in 14 rounds. He then fought only twice in the next five years, before beating Marvellous Marvin Hagler on points for the undisputed middleweight honours in a stunning upset. His last two titles came in one fight when he beat Donny Lalonde of Canada for both the WBC super middle and light- heavyweight championships, a rather dubious move by the WBC. He retired after a defeat by Terry Norris in 1991. A comeback attempt ended in disaster n 1997 and he has been inactive ever since.
"Sugar" Ray Robinson.
Country: USA (Detroit).
Nickname: "Sugar".
Career duration: Oct 1940- Dec 1965.
Record: 173-19-6 (109 by KO) 2NC.
Status: Deceased. (May 20-April 89).
World titles: Undisputed world welter and five times world middleweight champion.
Style: Classic moves and dazzling footwork, and a knockout punch in both hands. Could box on the move or in-fight with the best. He redefined boxing.
Best punch: Left hook.
"Sugar" Ray Leonard.
Country: USA (Baltimore)
Nickname: "Sugar".
Career Duration: Feb 1977- Jan97
Record: 36-3-1(25 by KO).
Status: Inactive.
World titles: WBC
Style: Fast combination puncher, speed of hand and foot, and a master of hitting without getting hit. Sublime footwork.
Best punch: Left hook.
The Fight…
Duration: 15 rounds at welterweight.
The venue: Madison Square Garden, New York.
There is much hype and hoopla surrounding the fight, and the two have taken to good-natured verbal sparring sessions in the pre-fight build up. At the final press conference Leonard boasts, "I might have borrowed your name old man, but I am going to prove I am the sweetest"! Robinson, grinning broadly retorts "Okay then Ray, I swear in front of all these people if you lick me, I will drop that name. I am that confident of victory. How about you?" To raucous laughter Leonard responds, "Old man, you got yourself a deal, this is the fight for the right to be called Sugar!"
There is an intense pre-fight stare-down as they meet in ring centre, and both men know that this is where the talking stops and the fighting starts. The first round is tense and riveting with both opting for caution and boxing from a distance, searching for openings and seeing what the other has to offer. There are few, if any punches thrown but the skills on display are superb, with uncanny footwork and crafty feints. Robinson attempts a few speculative jabs at rounds end. For 90 seconds round two is a blueprint of the first round and then Leonard decides to make his mark on the fight by bouncing in with a fast flurry, capped by a nice left hook that nails Robinson high on the head. Robinson attempts a left hook of his own but Leonard circles away from it and grins mockingly at Robinson, before firing another fast flurry and spinning out again. No damage done, but round two belongs to Leonard. At the bell Leonard waves his glove to acknowledge the ecstatic crowd. A similar pattern emerges in the third with Leonard just a bit quicker off the mark, and also finding some success with his jab, all the while dancing about and on his toes. After two minutes Robinson makes his first attempt to take a grip on the fight and he expertly cuts off the ring to leave Leonard in a corner with no place to run. He lands two fast hooks to Leonard's head only to walk in to a fast right hand counter. The crowd love the action as both blaze away on the inside, the punches from both are superb with bolo shots and uppercuts going in and Leonard ends the exchange with another fast right hand counter. An even round.
After that initial taste of Robinson's power Leonard readopts the cautious approach and dances through the forth behind his jab, with Robinson in pursuit and never far behind. Robinson, realising the fight may be slipping from him a little, begins to call upon his vast repertoire of tricks in the fifth. He begins shuffling much closer to the Baltimore speedster attempting to feint his man on to a big punch. Leonard sticks to the jab, and then the Detroit man begins aiming his left hook at Leonard's body. A pattern is set as Leonard jabs and the first Sugar Ray will beat him to the punch with a hurtful hook to the body. Both are still on their toes and Leonard fires another Jab, and Robinson feints with the hook downstairs. Leonard, in anticipation brings his guard down and then it happens. BOOM! Robinson uncorks a big left hook to the jaw and down goes Leonard! The trap was set and Ray fell right into it. Leonard smiles a sickly smile and gets back to his feet at the count of seven, but he is hurt and the original Sugar man pounces, firing lefts and rights in a fast and brutal blizzard, nailing Leonard to body and head. The bell saves Leonard from what seems like a certain stoppage.
"He fooled you son and you walked right on to it. Read the fight. This guys smart!" bellows Angelo Dundee in Leonard's corner. But Rays pride has been hurt, and ever the warrior, he storms out for the sixth, lashing wild hooks and uppercuts at the older man. Robinson happily obliges in a toe to toe trade in ring centre and the crowd is stood in amazement at the sudden explosion of action. They flurry non stop, each rocking the other until at rounds end it's Robinson's turn to be in trouble as a huge, whiplash right hand staggers him, and he spins into a neutral corner badly shaken. This time the bell saves the Detroiter! Inside of two rounds the fight has gone from a chess match to an all out war. Both corners realise this is a pivotal moment in the contest and both are sent out with instructions to take a grip on the fight once and for all.
This time it is the older mans turn to box and move, and he employs his silky footwork to have Leonard punching the air, and the first Sugar Ray wins the next four rounds on the trot. He turns in a master class popping Leonard with jab's and straight rights. A big uppercut has the younger man floundering at the start of the eleventh, and Robinson lets fly with five left hooks all of which connect. Leonard smiles but he is being nailed! He goes back to his corner at rounds end knowing he is behind and his face is beginning to look bruised and swollen. Dundee is frantic in the corner "You want to be a **** up for the rest of your life son? Get out there and stop him!" Leonard never gives up and the last four rounds are fought toe to toe with Leonard always trying to land the punch that will turn things his way. It is the slightly bigger punching of Robinson that will be the key though. Leonard, battered and with swelling under his left eye, goes for broke in the final round, but Robinson stays with him and sees the round out. That last ditch effort will prove to little to late for Leonard and Robinson is awarded a unanimous decision with scores of 143-139, 145-140 and a too wide 146-139. "You're the true Sugar", admits Leonard afterwards," I will keep my promise and drop the name". The old champion, always a class, act shakes his head. " No, Ray. Keep it, tonight you earned it".
Result: Sugar Ray Robinson on a unanimous decision.