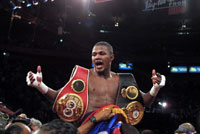 Felix Trinidad's superb fifth round trouncing of WBA middleweight champion William inducted the Puerto Rican pound-for-pounder into an elite group of welterweights who had the skills, power and courage to move up 13lbs to reign supreme at middleweight. In the first of a two-part article, SecondsOut's Joe Queijo ponders how the Puerto Rican living legend would fair against the welterweight ghosts from the past, who also dared venture into middleweight territory.

Superb welterweights like Jose Napoles, Kid Gavilan and Don Curry failed in middleweight title tilts, proving the gulf between welterweight and middleweight cannot be measured by 13lbs alone. But how would "Tito" fair against his fellow super welterweights?

Fight one: Tommy Hearns
Biography: Tommy Hearns was one of the most sensational punchers ever. His right cross was lethal and accounted for most of his kayos. "The Hitman" did not hear the final bell until his 18th pro bout. A further barrage of wins got him a shot at WBA welterweight champion Jose "Pipino" Cuevas. The Mexican titleholder was a wicked left hook artist, but was crushed in two explosive rounds by Hearns' blockbuster right.

Three easy title defences followed before a unification clash with fellow star "Sugar" Ray Leonard. Hearns boxed with poise as he went to a early lead behind his ramrod left jab, but Leonard slowly wore him down before coming from behind to stop Hearns in the 14th of a classic.

Hearns rebounded to outpoint the slick Wilfredo Benitez for the WBC junior middleweight title and crush iron chinned legend Roberto Duran in two chilling rounds to set up a super clash against middleweight champion Marvellous Marvin Hagler.

Both came out bombing and they unloaded their heavy artillery in a simply breathtaking first round. Hagler was on the verge of being stopped on cuts when he sent Hearns to the mat with a pulverising combination to win perhaps the greatest fight of all time.

"The Hitman" showed his resilience by moving up to light-heavyweight stopped tough WBC champion Dennis Andries, who would twice more, in 10 rounds before picking up the vacant WBC middleweight crown with a exciting four round kayo of Argentine strongman Juan Roldan.

Wild slugger Iran "the Blade" Barkley withstood a beating and some horrific cuts to stop Hearns with a wild swing in three to take the middleweight crown. Hearns again showed his recuperative powers as he became the first ever four-weight champ as he got off the floor to outpoint James Kinchen for the WBO super-middleweight belt and get a long awaited rematch with Sugar Ray Leonard.

The Sugarman thought Hearns was washed up but was outboxed and floored twice and very fortunate to escape with a draw. Hearns then outpointed WBA champ Virgil Hill with surprisingly ease before boogieman Iran Barkley floored and outpointed him.

Tommy Hearns's exception career is now finally over, after years of sporadic activity as a cruiserweight.

Trinidad v Hearns: the fight

Tommy Hearns sticks out his snake-like jab from the start of the contest. Neither lands anything of note until the third when Hearns strikes with a cracking straight right. "Tito" crashes hard to the canvas and barely gets up, and then Hearns let loose his entire repertoire until another right fells Felix. The bell sounds during the count and the Puerto Rican staggers to his corner.

Hearns comes out bombing in the fourth but finds Trinidad, as usual, has recovered. Tito's vaulted left hook comes into play. Both try to jab their way while a warmed up Trinidad starts to target the body with hard shots. Hearns' jab lands often but, from the 10th, his punches start to lose power as Trinidad's body-snatching attack takes it toll.

However, Hearns still has the strength to shake Felix with a good right in round 13, but gets caught himself with a wicked right. He holds on for dear life as Trinidad pours it on until a short hook fells Hearns.

The Detroit legend barely rises but is met with a cracking right which drops him like a log Hearns bravely tries to get up but is counted out.

Trinidad by 13th round kayo.


Fight two: Carmen Basilio
Biography: Basilio was a phenomenally strong fighter. He was an astonishing slugger who scorned defence to wear opponents out with a punishing two-fisted attack. Carmen had an iron chin, wicked left hook and huge heart which always made for crowd-pleasing bouts. He lost decisions early in his career but learnt enough to fight the great Kid Gavilan for the welterweight title.

Basilio floored the Cuban boxer early but Gavilan was never stopped in his entire career – and Basilio lost a split decision. Soon after, Carmen fought big punching Tony DeMarco in a second title tilt and made no mistakes this time, scoring a 12 round kayo. DeMarco got a quick rematch and battered Basilio around the ring in the first seven rounds with an assortment of punishing blows, but Basilio refused to fold and came back swinging back to score a magnificent kayo - again in round 12.

Mob controlled Johnny Saxton relieved Carmen of his title via a dodgy decision, but was hammered in nine in a return and then massacred in two in a third meeting. Basilio vacated his welterweight title to challenge the great Sugar Ray Robinson for his middleweight belt.

In one of the greatest bouts in ring history, Basilio absorbed all of Robinson's blows to out-punch him for a deserved decision win. Basilio fought magnificently in the return as his eye closed in the sixth round, but the handicap became too much as Sugar Ray's piston like fists took a close decision. Basilio fought three more times for the middleweight belt; he was stopped twice on his feet by tough Gene Fullmer and outpointed by slick Paul Pender.


Trinidad v Basilio: the fight

The Puerto Rican gets off to a good start as his jab zeroes in on Basilio face. Basilio walks in trying to land hard hooks to the mid-section but is repeatedly caught. Trinidad easily takes the first six rounds in what starts to resemble a rout.

Basilio comes out determined for the seventh and lands a wicked left hook which buckles Trinidad's legs, Basilio goes all out with both hands as he has "Tito" backed against the ropes. Trinidad survives but the tide has changed as Basilio´s strength forces the fight into phone booth warfare.

Again and again, Trinidad lands his fearsome right with Carmen walking through it to land smashing blows to both head and body. Basilio's constant pressure wears Trinidad down and in the 12th a cracking left hook to the point of the chin drops Trinidad. He bravely rises up is nailed with fearsome barrage of punches before being felled by another hook. He just beats the count but the referee wisely stops the contest.

Carmen Basilio by 12th round stoppage.


Fight three: Emile Griffith
Biography: Griffith was a consummate professional who was capable of doing everything in the squared circle. He quickly rose through the ranks and took the welterweight crown with a 13th round kayo of Benny "Kid" Paret. He was outpointed in a return before kayoing Paret in 12 in their rubber match. Paret, who was coming back from a brutal 10th round kayo at the hands of middleweight champion Gene Fullmer, unfortunately died from his injuries.

Five successful defences followed before the underrated Cuban exile Luis Rodriguez outpointed Griffith. He then won the welterweight crown for a third time by taking the return from Rodriguez but was then shockingly stopped in a single round by big punching middleweight contender Rubin "Hurricane" Carter.

He returned with four more defences including another close win, still disputed, over Luis Rodriguez before moving up to middleweight to soundly outpoint the incredibly strong Dick Tiger. Two close wins over slick Joey Archer followed before smart boxing Italian hero Nino Benvenuti outpointed him.

Griffith gained revenge over Benvenuti but lost their third and final bout. Legendary middleweight Carlos Monzon beat Griffith twice in hard fought contests which effectively finished him as a top liner.


Trinidad v Griffith: the fight

Griffith comes out behind a high guard as he quickly establishes his jab. Trinidad tries to get his own left hand working but is made to miss. Griffith controls the pace as the fight develops into a tactical battle. Tito lands a hard rights in both the seventh and eighth rounds, but can't land more than one punch at a time as the slick Griffith boxes a masterclass.

Emile briefly stuns Trinidad with a hard one-two in the 12th as he starts to increase his punch rate. Trinidad tries to reply but is continually caught with classy counters. Griffith starts to muscle his opponent around the ring as his strength starts to tell. Griffith finishes the last round by nailing the Puerto Rican with an accurate barrage of blows culminating in a stiff right, which buckles his knees. Trinidad hangs on to hear the final bell.

The three judges score the bout as follows: 145-140, 144-141 and 143-142 all for Emile Griffith.


Don't miss the second part of this article featuring Trinidad vs Mickey Walker and Sugar Ray Robinson!