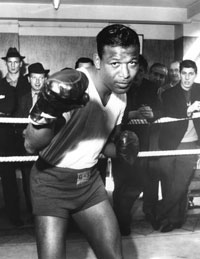 Felix Trinidad has joined an elite class of welterweight champions who had the power, skills and courage to move up and succeed in the middleweight division. In the second part of his mythical series featuring the Puerto Rican powerhouse, SecondsOut.com's Joe Queijo ponders how the Puerto Rican living legend would fair against the welterweight ghosts from the past, men like Ray Robinson (pictured), who also dared venture into the land of the middleweights.

Fight four: Mickey Walker
Biography: Mickey "Toy Bulldog" Walker was a flamboyant little battler whose flair, punch and dogged persistence marked him out as a great fighter. He burst on the scene by outpointing clever veteran Jack Britton for the welterweight belt. After four title defenses, he challenged the great Harry Greb for the 160lbs belt, but found himself outslugged over 15 rounds. A quick defence of his welterweight belt followed before weight-making difficulties saw him outscored by old victim Pete Latzo.

The undeterred Walker then challenged new middleweight king Tiger Flowers, winning a close decision. Walker then visited British shores to kayo Scotland's big-punching Tommy Milligan in 10 before beating the tough Ace Hudkins.

Superlative boxer Tommy Loughran outscored Walker in an attempt for the light- heavyweight crown. Hudkins then beat Walker again before the former welterweight king, incredibly, moved to the heavyweight division. Walker was obviously too small, but made up for it with speed and sheer tenacity as he beat contender Johnny Risko to get a title eliminator with future champ Jack Sharkey.

Walker boxed superbly and was actually forcing the bigger fighter backwards towards the end of the bout. Sharkey was very lucky to get a draw after 15 rounds, but Walker's career as a heavyweight ended badly when he was battered and stopped in eight by former champ Max Schmeling.

Walker was later outscored by Maxie Rosenbloom for the light-heavyweight crown though he would outpointed the champ in a non-title rematch. Mickey´s fabulous career ended when he was stopped in seven by tough Eric Seeling, but he found success after boxing as both a painter and a sports editor.

Trinidad vs Walker: the fight

Walker comes out swinging from the first bell as he tries to take advantage of Trinidad's slow start. Walker crashes a hard right, which stuns Tito at the bell. Walker continues his swarming attacks as he blasts away at Trinidad's body with regularity. The Puerto Rican icon starts to come back in the fourth as he lands his jab with force for the first time. Walker gets nailed in the seventh by a wicked volley of blows, which rock him badly.

Sensing his man is hurt, Trinidad lets loose with his entire arsenal until Walker is finally forced to the deck. Mickey survives but cannot get away from Trinidad accurate blows as he is outworked in the subsequent rounds.

However, Walker goes for broke in the 13th with a desperate barrage of punches, which stagger Tito until a wicked right puts Trinidad down. Trinidad gets up slowly and is backed against the ropes taking fierce punishment when the bell saves him from being stopped. Walker fights like a man possessed in the last two rounds, but cannot finish a tired-looking Trinidad, who makes it to the final bell.

After 15 tremendous rounds, Felix Trinidad triumphs by scores of: 143-140, 142-141 and 145-139.

Fight five: Sugar Ray Robinson

The legendary Sugar Ray Robinson, who lends his name to the middleweight tournament Trinidad is currently competing in, is considered the greatest fighter ever by most experts. A string of victories over top flight fighters led to points win over Tommy Bell for the vacant welterweight belt. Four defences, including a win over future champ Kid Gavilan, followed before the inevitable move up to middleweight.

Robinson stopped iron-chinned Jake LaMotta after 13 brutal rounds to be crowned middleweight kingpin, which he then surprisingly lost to the strong and under-rated Randy Turpin. The Englishman reigned for 64 days until Robinson battled back from a fight-ending cut to stop Turpin in round 10 before moving up to light-heavyweight to try and annex the belt from the capable of hands of Joey Maxim.

Robinson dominated the early rounds, but the record temperatures at ringside, which got so bad the referee had to be relieved half way through, forced Robinson out in the 14th round.

The man born Walker Smith quickly returned to recapture his old middleweight title with a vicious two round kayo of capable Bobo Olson, until Gene Fullmer upset him. Yet the original Sugarman scored arguably his most famous win by kayoing iron-chinned Fullmer with one picture-perfect left hook in the fifth round of a return.

Carmen Basilio outscored Robinson in tremendous bout, but that too was avenged when Sugar took a hard-fought rematch. However, unsung Paul Pender outboxed him in a shocker and then repeated the trick in a return though Sugar Ray got a draw with Fullmer for another version of the world crown.

Fullmer then outpointed the aged legend in their fourth encounter, which effectively finished Sugar Ray's days at the top.

Trinidad vs Robinson: the fight

Robinson effortless sticks his jab in Trinidad face for the first three rounds. Neither fighter lets loose as they both try to look for openings. Sugar Ray takes the fourth and fifth with hard rights, but Felix gets in some quality bodywork. Trinidad lands a hard right in the seventh, which surprises Robinson, who then retaliates with a wicked two-handed barrage punctuated by a hard hook.

The Puerto Rican's own jab becomes more effective, but Robinson is still controlling the pace with his faster punches. Tito is tagged with a cracking right in round 11, which stuns him, but comes back with a sustained barrage which brings the crowd to their feet.

Then, out of nowhere, Robinson lands a short right uppercut, which floors Trinidad for a six count. Trinidad survives the dying moments of the round, but is caught with a hard right hand at the start of 12th and is pummelled with hooks and uppercuts before crashing to the canvas.

Somehow, he gets up, but is floored by a wicked left hook prompting the referee to stop the contest.

Sugar Ray Robinson wins by 12th round stoppage.