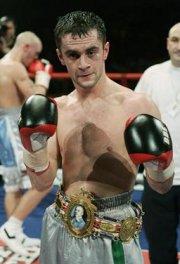 Simpson hopinf for the bigger fights

By Tom Gray: In his most recent outing John Simpson produced an impeccable display to hand the highly rated Martin Lindsay his first defeat and claim the British featherweight title for the second time. The 27 year old now seeks a European title shot and under trainer Billy Nelson's guidance he has never looked better.

Simpson, 22-7 –(9), now holds the Lonsdale belt outright and is ranked number 11 in the world by the IBF.

The following is a transcript from a recent interview:

***

TG:Your win over Martin Lindsay was virtually flawless. How did you feel after the fight and do you consider it a career best performance?
JS:Definitely. I felt on top of the world after the fight because it took me a long time to get another shot at the British title. I now get to keep it the Lonsdale belt for good so I'm over the moon.

TG:You seemed to give Lindsay fits from the very beginning of the fight. Were you confident going in and what was the game plan?
JS:Well to be honest my training camp didn't go perfectly. I had a sore arm about four weeks before the fight and I had to stop training, then it happened again two weeks prior so I was a bit worried. I'm always confident going into a fight so apart from that I did feel really good. I think in other fights I was over doing it in the gym and I approached my weight differently as well this time.

TG:You've been on the wrong end of a few controversial decisions. Were you worried about the scoring away from home?
JS: I was. My trainer told me I'd won it but I wasn't confident. When they read out the cards it was a good feeling.

TG: Ricky Burns was by your side. Are you guys good at keeping each other motivated?
JS: Definitely. I train alongside Ricky and we've done a lot of sparring. I was part time at Billy Nelson's gym for a while but now I'm there full time. It's been really good.

TG:The fight took place in Belfast. Did you do any celebrating over there?
JS:We went back to the hotel and had a couple of beers (laughs) but my flight was at 5.30am the following morning. I had to get to the airport early so I was in my bed for 2.00am. I only got a couple of hours sleep but I did a bit of celebrating and a lot of Martin Lindsay's support was at my hotel. Everyone was spot on.

TG:Lindsay was rumoured to have been one fight away from a world title fight. How soon would you like to get in with one of the champions, given your newly acquired world ranking?
JS: It's every boys dream to be world champion. I'm not in this game to be at British level and I want to go further. I've been at this level for a long time and I would really like to get cracking on with the bigger fights like a European title fight and then hopefully a world title fight. I would love to fight for a world championship and do what Ricky's doing, he's doing really well.

TG:Who impresses you at world level within the featherweight division?
JS:The champions at featherweight are superstars. You've got Juan Manuel Lopez who is top notch and Yuriorkis Gamboa as well. It would be really hard but to be honest if a fight like that came up it would be a dream come true. It would just be superb and I wouldn't think twice about taking it but they are superstars.



TG:You lost a controversial decision to Stephen Smith. How keen are you to avenge that and reclaim the Commonwealth title or do you think that is backward step?
JS:To be honest I don't know how to look at it. If I had the chance to fight for a bigger title I would obviously take it because I've got the British title outright now. I'm not sure if I would call it a backward step because I don't want to talk bad about Stephen Smith, he is a good fighter. I just feel that I should be moving on because I've been British and Commonwealth champion and I'm not getting any younger. If the bigger fights don't come off then I'll fight Stephen because I don't fear him and I think I have the beating of him.

TG: Has there been any opponents mentioned for the future?
JS:We don't really know what's happening but I think I'm mandatory challenger for the European title so that would definitely be something to look at. If a bigger fight doesn't come up then I need to keep busy and I'll fight Stephen Smith, because that is a big match up in itself. He beat me before and he is Commonwealth champion but I'm not really fussed about the belt and I'm happy with the British. I would like to move on but if that doesn't happen then I'll get it on with Stephen Smith.

TG:Would that fight be in Scotland?
JS: It has gone to purse bids. Frank Warren and Frank Maloney will be bidding for it because Frank Maloney has two options on me. I'm not really fussed if it's at home or not. I need to get out of this curse of boxing better away from home because if I'm going to win bigger titles then the fights will be here a lot more often. Bring it on anyway, home or away, it doesn't bother me.

TG:Billy Nelson has had a terrific run recently and his gym is bursting with talent. What improvements do you think you've made under his guidance?
JS:The gym is on a high with Ricky winning a world title and with me winning back the British. I can't put my finger on what has improved exactly but Billy has a lot of control over me and he lets me know if I'm doing too much. He's just a brilliant trainer and he does absolutely cracking pad work having worked with Scott Harrison in the past. The whole gym has just come together with Ricky winning the world title and we're all just bouncing off each other now.

TG:When do you think we will see you back in the ring?
JS: Well this British title fight needs to be fought before the end of April so I'll be back by then no matter what happens. To be honest I haven't been in full time training but I'll be ready to go.

February 7, 2011