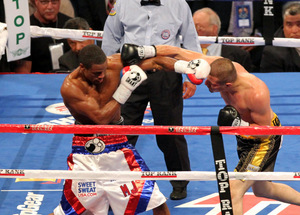 Photo by Tri Nguyen.

By Jason Pribila: The Boxing World's eyes were on the heart of Texas as Manny Pacquiao and Antonio Margarito were set to square off at the $1.2 billion Cowboys Stadium in Arlington. Top Rank used the opportunity to introduce their latest addition to their vast welterweight stable, Philadelphia's Mike Jones.

Prior to tonight, Jones' career was guided by Hall of Fame Promoter, J. Russell Peltz, who artfully guided him to a 22-0 record, and a top ten ranking by all four major sanctioning bodies. However, Peltz realized it was time for the 27-year-old Jones to move to the next level, and he reached out to the team he has known for over thirty years, Top Rank Inc. After two less than sensational fights, the stage was set for Mike Jones to steal the show. The only thing in his way was a tough as nails Mexican fighter, Jesus Soto Karass.

If Jones would have allowed the weight of the moment to cause him to enter the ring on the tentative side, no one could have held it against him. The biggest audience he ever performed in front of was one-fifth the size of the expected crowd of over 50,000 that filled Cowboys Stadium. However, Jones took advantage of the easy to find Soto Karass by controlling the opening stanza behind his jabs, left hooks, and his overhand right.

In round two, Jones put on an offensive display at the 50-yard line that surely got the attention of Cowboys owner, Jerry Jones. A hurt Soto Karass retreated to the ropes, and absorbed a power punching output that this reporter has only seen when fighters are in the gym hitting their trainer's mitts. Soto Karass survived the flurry on his feet, and landed punches at the end of the round despite suffering cuts on both eyes.

The minute between rounds was not enough time for the arm weary Jones to catch his breath. Soto Karass took advantage and began to land body shots to the suddenly retreating Jones. What was alarming was that Jones still had not fully recovered until round six, and found himself in an even fight.
Jones jab returned in round seven, and combinations soon followed. Both fighters fought on even terms in round eight, and there was high drama as they entered the final two rounds.

Jones was being put to the test, and was forced to answer the question that every young prospect must ace on their journey from contender to champion. Mike Jones' first response was a double jab, and a big combination to Soto Karass' head. He was again landing over the top, and the blood again began to flow from his opponent's cuts.

With the fight on the line, Jones dominated the final stanza. Jones was the busier fighter and landed shots that even the Texas judges could not miss. He finished the round with a flurry, and raised his hand with relief. Jones passed gut-check time, and earned a 96-94 win on my unofficial card.
Two of the judges agreed with me. The official scores read: 94-94, 95-94, and 97-93 for the still undefeated, Mike Jones.

If you too are wondering how an even 10 round fight could be scored 94-94, you are not alone. While round two could have easily been scored a 10-8 round for Jones, there was no point during the fight that Jones could have lost a point. However, once I realized that Gale Van Hoy entered the card, I was relieved he was at least in the same zip code this time. Van Hoy made headlines when he scored the first Juan Diaz – Paulie Malignaggi fight 118-110 for Diaz.

For Jones, he keeps round two in a time capsule. His arrival was explosive, and the fact he was in with a guy that withstood the flurry may be the best thing that could happen in the development of Jones. Had he scored a TKO2, we wouldn't have learned too much about Jones, and he may have been moved along too swiftly. Instead, he got valuable rounds, dug deep, and proved he could win under HBO's hot lights.


No one was happier to get the televised PPV underway than Brandon Rios. Rios put a whirlwind eight days behind him as soon as the opening bell sounded.

Rios was originally scheduled to perform on an independent Top Rank PPV headlined by Julio Cesar Chavez Jr. on December 4. When Kelly Pavlik withdrew from his scheduled fight against Brian Vera, Rios jumped at the chance to perform on a much bigger stage. His profile was raised when he appeared on HBO's 24/7, but when fight week arrived it turned into a nightmare. On Wednesday, he was at the center of the controversial video in which he was seen mocking trainer Freddie Roach's Parkinson's disease. Karma caught up with him at Friday's weigh-in when he failed on three attempts to make the contracted weight of 140 lbs. The two ounces he came in overweight cost him $5,000.

Once in the ring, Rios was able to put adversity behind him as he walked through Omri Lowther (14-3, 10 KO) en route to a fifth round stoppage. Rios is a notorious slow starter, and he looked sluggish in the opening frame. In round two he settled in and started to dig body shots into the over-matched Lowther's mid-section.

Any hope Lowther may have had at changing the momentum was erased when he landed a perfect combination to Rios' chin, which brought a big smile to the Oxnard, California native's face.

Rios threw a series of left hands with bad intentions that did enough damage to Lowther in Round Four, that his corner contemplated stopping the fight. They should have gone with their instincts, as Lowther took unnecessary punishment for another 2:17 until referee Raul Caiz Sr. stepped in to mercifully stop the fight.

With the victory improved to (26-0-1, 19 KO). The highpoint of his career came when he defeated Anthony Peterson in September. Following that fight in Vegas, Rios enjoyed his honeymoon. Following tonight's victory, I'm sure he'll celebrate the fact that he will not have to cut weight over Thanksgiving.

Jason Pribila could be reached for questions or comments at pribs2000@yahoo.com