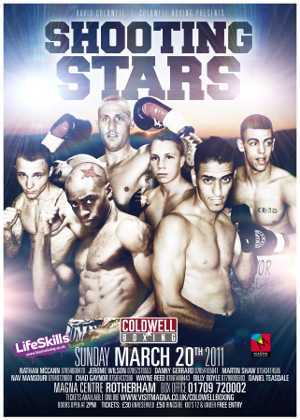 Coldwell boxing mar11

The Magna in Rotherham is set to host a bumper night of professional boxing as a feast of young local prospects will take to the ring hoping to impress their loyal fight fans.

'Shooting Stars' will showcase some of the best talent in Yorkshire and all the boxer's on the show will be looking to put their own stamp on an action packed night of great small hall boxing.

Dave Coldwell trained Nav Mansouri, will be facing a step up in both rounds and competition as he takes part in his first six three's and goes up against Leeds' Tommy Broadbent who has let it known that he intends to come into Nav's backyard and bring an end to the Rotherham man's seven fight unbeaten start to the pro's.

Broadbent is 6-2 now and will be a good test for Mansouri who has been impressing everyone, including the eight thousand or so that saw him drop Darryl Setterfield twice in the last round on the undercard of Haye v Harrison.

Mansouri v Broadbent is what small hall boxing should be about, kids with good records fighting each other to see who progresses to the next level.

Jerome Wilson could just be a star in the making. He's another prospect out of the Coldwell Gym in Rotherham, unbeaten in four fights and possesses lightning quick hands and reflexes… the boy can punch too! He's coming off a stunning KO win that was featured on SKY TV's KO's of the year for 2010.

Wilson has also been getting rave reviews for his performance on BBC TV's Total Wipeout gameshow, narrowly missing out on the winning prize of £10,000. The show's 2.8million viewers and the 9000 YOU TUBE views of his KO win on the Haye v Harrison undercard have ensured that he's a man that knows how to get people watching him.

Now the chiselled Sheffield man is gunning for glory and is
determined to prove he's the best light-welterweight prospect in the area, and in the UK.

Maltby has a new youngster to get behind in the shape of 18 yr old Nathan McCann. The baby of Coldwell Boxing's stable made an impressive debut in September and will be looking to gather more rave reviews this time.

Unbeaten Chad Gaynor will be relishing boxing in his home town again, Gaynor has impressed in his five pro starts so far and will be looking to bring his talked about power into play come fight night.

Two of Glyn Rhodes Sheffield men make an appearance on the bill, Wayne Reed has a stiff test as he takes on Nathan King, this could be a small hall classic! Reed fancies himself to make big waves in the sport and King is as tough as they come, he's given some of the best domestic fighters tough nights all through his career.

If he impresses against King, Reed will have announced himself as a genuine prospect in the domestic set up.

The ever exciting Billy Boyle goes up against Shon Davies who always comes prepared for a tough night. Boyle is one of those fighters that just go in there throwing bombs, as such you can never hear yourself think when he fights as the crowd is deafening.

Former amateur star Daniel Teasdale continues with his comeback as he takes on the value for money Michael Monaghan. This could be a great fight as Michael fancies his chances.

Locals Danny Gerrard and Martin Shaw look to make a name for themselves in their hometown and Dale Hutchinson against Phil Boyle will be a real tear up as two of the unsung boxers in the game go in search of a much needed win.

Coldwell Boxing is Rotherham's most successful professional boxing set up. Follow the next generation of their local boxer's on the road to championship glory.

TICKETS: £30 & £50
INFO: www.visitmagna.co.uk/coldwellboxing
TEL: 01709720002