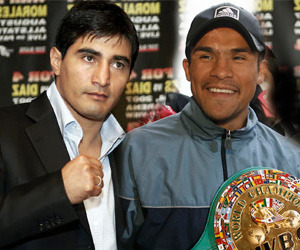 Morales and Marquez look destined to fight

The World Boxing Council has clarified the situation regarding the proposed fight between Mexican warriors Erik Morales and Juan Manuel Marquez.


The following statement was released by the Mexican WBC governing body.


"The WBC received a personal request from Golden Boy Promotions regarding the authorization for the bout between Erik Morales and Juan Manuel Marquez for the WBC Lightweight Diamond World Championship, but we were never told, nor did we announce that such fight was a fact, but it was authorized in the understanding that it is the promotional company´s decision to hold it or not, when and where they decide.



"The WBC simply approves such decision with great pleasure, by virtue of the fact that the bout would be between two Mexican boxers who are considered to be some of the greatest in the history of our country, Regardless of Erik Morales having been world champion three times in different divisions and Juan Manuel Marquez also having been world champion in three different weight divisions.

"That the bout is held is not the WBC´s decision or responsibility, but Golden Boy´s as well as a decision to be made by both fighters."


January 31,2011