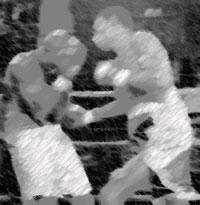 Double world champion Odanier Solis Fonte out-pointed Russian southpaw Alexander Alekseev by 24-21 in what was a disappointment performance by both men who were capable of much much more.

Fonte went back to his corner after the first session just 3-2 in front and was not much more dominant in the second where he ended the session 10-8. Having said that he was always one step ahead of the current European champion who did not, at times look as though he wanted to be there.

Fonte will now meet Wilmer Jose Torres Vasquez from Venezuela who reached the last 16 on a walkover when opponent Ertugrul Ergezen failed to show.

In what was a very low standard bout, Syrian Nasar Al Shami booked his place in the last 16 with a 30-17 win over Nigerian Emmanuel Izonritei. Shami, all too often was technically poor but Izonritei in turn was equally guilty of a low workrate.


Vugar Alakbarov AZE w pts 18-14 Spyridon Kladouchas GRE
Alakbarov from Azerbaijan opened up a two point lead after the first session by virtue of a stiff southpaw jab in another untidy scrap. Kladouchas, who won a bronze medal at the 2000 Games in Sydney as a middleweight stretched his lead in the second session by 11-7 but tired badly in the third as the Greek connected with a series of right hands to wobble the 23 year-old Alakbarov.

Alakbarov lunged in desperately in the fourth session and tried everything he knew to get through the bout which he did, by 18-14 to hang on to victory.

Devin Vargas from the USA looked comfortable in stopping Rachid El HaddAk from Morocco.

The upright 23 year-old American quickly stamped his authority on the contest by roaring to an 8-2 lead. Vargas boxed cautiously behind his left jab, and throwing a timely right hand in the second session to increase his lead to 17-6. It took Vargas just over a minute to rack up six more points to force a stoppage on the mercy rule, reaching 27-7.

Other heavyweight results
Viktor Zuev BLR w rsf 1 Daniel Betti ITA
Mohamed El-Sayed EGY w +18:18 Igor Alborov UZB
Adam Forsyth AUS w pts 32:22 Vedran Djipalo CRO

Evening session super-heavyweight results 91kgs+

Alexander Povetkin RUS w rsf 3 Sergey Rozhnov BUL
Mukhtarkhan Dildabekov KAZ w pts 28-18 Sebastian Kober GER
Roberto Cammarelle ITA w pts 29-13 Oluokun Gbenga NGR
Olexey Mazikin UKR w pts 23-5 Alexander Apanasionok BLR
Mohamed Reda Ali EGY pts 32:19 Armand Netsing Takam CMR
Jaroslav Jaksto LTU w pts 26:17 Victor Bisbal PUR
Michel Lopez CUB w pts 18:13 Rustam Saidov UZB
Jason Estrada USA w pts 30 11Douglas Hawke TGA



August 18, 2004.