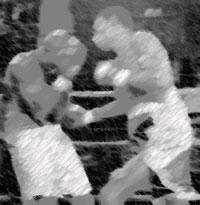 By Anthony Evans: Teen tornado Amir Kahn boxed the most majestic and mature fight of his embryonic career to storm his way into Sunday's Olympic Lightweight Final .

After finishing both the first and second rounds two points down, the 17-year-old from Bolton came from behind to blitz Kazakhstan's Serik Yeleuov 40-26.

"I was a little nervous," he admitted to BBC Sport after becoming the youngest Olympic finalist for four decades. "It was hard - I didn't expect it to be that hard. I was a bit nervous in the changing room but I was just excited to get in there. Terry (Edwards, coach) told me I was down on points (after two rounds) so I knew I had to pick it up. But at that point I knew my opponent was getting tired and my punched were flowing better and better."

Looking on edge, the kid was caught a little too much early on but Kahn's cause was not aided early on by several dodgy judgements on punches landed, at least four times, I thought, Yeleuov was awarded a point for taking a shot. He finished the first round down 5-7 and, after a similarly uneven second, 16-14.

But Kahn settled down in the third and, after five and a half minutes of boxing, took the lead for the first time. He never surrendered it and, as Yeleuov tired, Kahn moved through the gears and began to rip his man apart with his speedy combinations.

Lead right hands, double jabs, uppercuts, arching hooks - Kahn because the hit the Kazak with everything. After scoring the first knockout of the Athens Games in the quarters, the Briton blasted away to score another one. But Yeleuov managed to stay on his feet, just,

The kid's win comes at a time when the BBC is creeping away from boxing, having blown their sport's (£105million of it) budget on football highlights.