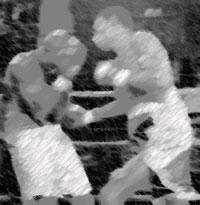 By Clive Bernath: Britain's sole boxing representative Amir Khan cruised into the quarterfinal of the lightweight competition at the 2004 Athens Olympics with a superb display of boxing and maturity beyond his years to clearly out-point Bulgarian European champion Dimitar Stilianov

Khan took the fight to Stilianov from the off, catching the current European champion with accurate right hands, to clinch the session 8-7. Stilianov came out in the second session, trying to rough up the talented 17 year-old but Khan was not fazed at all and continued to rack up the points with well timed right hands to end the session 16-13 in front.

Khan raised his game in the third session, to pressure the Bulgarian southpaw and beat him at his own game, to end the session an impressive 25-17 up. If the Briton looked impressive in session three the young 17 year-old was nothing short of magnificent in the fourth and final session as he crushed Stillianov with every attack to make the bout safe by 37-21.

A delighted Khan, speaking to BBC Sport immediately afterwards, said: "I was very relaxed and totally focused. Myself and Terry (Edwards, England coach) went through all the tactics and they worked. It was a great achievement for me to beat the European champion. I have had great support here and that makes all the difference. I like to thank everyone both here and at home for supporting me."

Khan, from Bolton, will now meet 24 year-old Korean Sub Jong Baik in the quarterfinal. Sub Baik comfortably out-pointed Mongolian representative Erdene U.Munkh.

August 20, 2004.