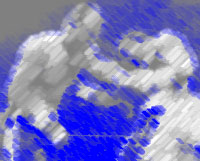 By Patrick Kehoe: Canadian light-heavyweight Trevor Stewardson easily out-pointed Flavio Furtado of Cape Verde with a final total points margin of 36 to 20. The Thunder Bay, Ontario native looked comfortable and in command from the opening moments of the bout. As Furtado attempted to take the fight to Stewardson, the Canadian champion found effective counter shots with his short left hook. Boxing in and out, Stewardson took an early 3-0 lead with a succession of combination punches with Furtado replying with winging hooks with both hands.

When Stewardson committed to his jab it was a scoring blow, as was the straight right hand in behind it. By the end of the first of the four rounds, Stewardson lead 9-5, allowing Furtado to score late in the round for two quick points with hard hooks.

Both fighters opened up in the second round, their respective discipline almost giving way to over eagerness. With both fighters exchanging scoring head shots, Stewardson switched to the body, though as is typical of amateur boxing, those clean blows to the midsection were not counted on the round tallies. Nevertheless, Stewardson controlled the middle of the ring and stretched his overall point lead to 20-12 after the second round was completed.

The 6'2" Furtado failed to utilize his height advantage with the 5'11" Stewardson surging into action in the third and fourth rounds. Though Furtado did try to amp up his jab, the Canadian was able to score on the counter with a targeted left hook to the head. Then a four punch combination by Stewardson, a left-right-left-right flurry, effectively settled the contest at the end of the third. At the sound of the buzzer, both fighters tapped each other in a show of mutual respect at the effort they had put out.

Showing he could hit as well as box, Stewardson scored a monster right hand and a ripping left hook behind it with on a couple dozen seconds left in the fight. Stewardson's 27-17 third round advantage was stretched by good retaliatory hitting and some effective jabs for the final advantage of sixteen points the close of the bout.

August 14, 2004.