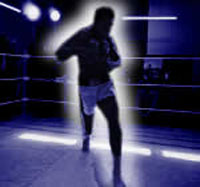 By Margaret Goodman, MD

Richie Sandoval, a constant on the boxing scene, was at the top of his game when he suffered a career ending injury in 1986. Richie, a trainer at the Top Rank Gym, in Las Vegas, Nevada, and professional artist talks about his experiences and how he was able to walk away from being inside the ring.

WEIGHT

When I started in the amateurs at 16, I weighed 104. I had 190 (178/12) amateur fights. But I was skinny. Imagine 5'4" and 104 pounds. When I was fighting pro, I would always watch my weight. You talk about keeping your mind focused on counting calories; I would eat like a vegetarian. I don't understand the guys nowadays. They eat pizza after pizza and junk food between fights; like they never have to weigh-in again. I would always stay within ten pounds of my weight class. This is crucial, especially for the lower weight classes. You hear of too many guys ballooning up between fights. This is no way to take care of your body and respect your job.

I would always stay in shape. I would play golf. I use to live next to a golf course. In fact, my first job was retrieving golf balls. Then I would resell them to the customers!

I did a number of things to stay in shape like running cross-country. The more you lay around you become a "couch potato", and then you are going to gain weight. Even if you don't have a fight for some time, never get more than 15 pounds over otherwise it will be impossible to shed.

TRAINING

In between fights I would spar about eight rounds max per session. You have to remember as a champion I fought 15 rounds. But I never did that in camp. You don't have to because then you are over-working.

I would go to training camp about five weeks before. For the first few weeks I would have someone I could "toy" with, then three weeks before I would work with someone who could really get me going. Someone time I would do six rounds, six days a week.

The most important thing for a fighter to do is the roadwork. I would tell any fighter, "Roadwork is your homework." It is like being in school. Every day I would run three miles. When I started having to fight fifteen rounds, then I would run five miles a day.

When I trained they didn't have all these fancy techniques and machines. I did the old school. I would get an axe and chop a tree trunk. The tree would be then lying on the ground and I would still keep whacking on it. I would also hit old tires with a sledgehammer. Today fighters have become too prissy. Boxers want too many people around caring for too many things. A fighter should never forget how he got to where he is. His success came from hard work; so once you attain that success doesn't mean you forget all the hard work.

THE LAST FIGHT

I retired when I was just 25! I told myself that if I ever got knocked out, I would walk away.

I had to defend my title at 118 against Jose Canizales. I won the WBA Bantamweight title in 1984 against Jeff Chandler. I defended it two more times in '84. Then, I wanted to fight and stay busy, but I couldn't get a fight. So, we took others. I fought three times in 1985 and once in February 1986 each at 122. Before I went to camp I said, "I can't maintain 118." For my last professional fight, I trained hard. I put all my confidence and trust in my trainer. But the thing was, for the last fight I was uncertain about making the weight. He said, "Sure you can. Just don't be lazy." I don't remember much of what happened. I don't even remember much of training camp.

I don't even recall getting dressed. Before I got knocked out, I wasn't winning. I was giving a go of it. I got dropped in the first round, then again in the fifth. The guy could punch, but he wasn't a devastating puncher. It was just that I was underweight. The weigh-in was that morning. We were outside at Caesar's under all those lights. If the weigh-in had been the day before, the way it is now, I wouldn't have gained all that much, but I would have been much more healthy. I truly believe that if they ever moved the weigh-ins back to the same day of the fight, you would see a lot more tragedies.

In the hospital after I got knocked-out, the doctor told me I could never go back to boxing. In the hospital, Mr. Arum came to visit me. One thing I remember he says, "From today on, I don't want you to go back in the ring. Don't say anything yet. Go home and think about it. It is going to take time for you to get back to normal. Then I want you to come work for me. As long as you stay out of the ring, you will have a job with Top Rank."

I was told that my recovery was so great because I had always kept myself in such good shape. I don't remember much except they sent me home with medications. I watched the fight once in ten years. I didn't want to watch it.

For me, it wasn't hard to stop boxing. Like I said before, I had always put it in my mind that if I ever got really hurt in the ring, I would walk away. My parents encouraged me to let go because they said I had had a great career. It made sense. I could stay around in the same career and help others.

Every once and a while I have the itch. Every now and then when I am on a treadmill in the gym, I look around. Why would I? Give up this great job? I am in my mid-thirties. You can't help but feel maturity setting in. That means you are not able to conform to the expectations you would like. That is the difference in an older fighter. Their body will not function. Their mind might. The mind might be able to think smart and click fast, but the body does not. It is so many beats slower than your brain.

Fighters don't retire because they are comfortable in fighting. They are use to that. Sometimes all they live for is to fight. They sacrifice so much to get where they are. How they can they just leave it alone and walk away? That is their life. Boxing is a part of them.

It doesn't matter how much you can hurt someone else if you can't take a punch. If you can't take a punch then why step in there again? Needing money isn't a good excuse. You are talking about someone's life. The people that surround you are going to live off of everything. Let's face it; the kid in there is sometimes the sacrificial lamb.

There is a saying that once you get hit on the chin, your chin is tapped so that the next time you get hit, your legs are going to go. Once you get knocked out, you can't take punches anymore. Your body will no longer withstand it. The day you get KO'd and taken out on a stretcher, that is a sign! Find another job. It is time to walk away otherwise you are going to become that sacrificial lamb.

LIFE AFTER BOXING

If somebody gets into the ring to get that payday or whatever, you have to know there is a day you have to walk out. If you don't recognize that, don't walk in. I was going to school up until I got my championship opportunity. I was taking academic classes and pursuing my arts. I wanted to do advertising design. I thought, "What am I going to do when I am not fighting? Go golfing everyday? There has to be a life after boxing for every fighter. Perhaps boxers need some spiritual guidance to help them realize that truth.

***

Richard Sandoval, now 41 years old, has so far accomplished many great things. During his excellent amateur career, he captured the 1979 Golden Gloves and US Junior Flyweight titles, No.2 at the PanAmerican Games, and the World Cup New York Junior Flyweight title. He earned the right to represent the US at the Olympics in the Flyweight division. Unfortunately for Richie, the US did not participate in the Moscow Olympics. Richie had an exceptional professional record of 29 wins, 1 loss. His career-ending fight against Jose Canizales resulted in him being rendered unconscious for almost 15 minutes. Luckily he recovered from a severe concussion. He is considered a valued member of the Las Vegas boxing community and has assisted many fighters in reaching their goals of success. In addition to training others, he is becoming a very accomplished artist with expertise in sports art. Boxing is very fortunate to have such a gracious, caring, and talented individual among its prior champions.