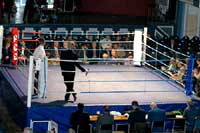 By Flip Homansky MD

As you may have guessed, the modern age began tomorrow. OK, enough comedy. If the sport is not guided by certain ethical standards, the boxers will suffer. It is not enough to just admit that we have obvious problems. We must begin the process of correcting these issues and not simply allow the abuses to continue.

Chuck Minker was the first person to lecture me about ethical standards in boxing. He attempted to simply do the right thing in all situations. You will not always be correct, but you will be able to face yourself in the mirror. Duane Ford works with officials around the country on ethical standards and I continue to learn from him. Thomas Hauser just published an excellent piece on "Conflicts of Interest". The issues raised go to the heart of the problems this industry faces. Yet we cannot simply shake our heads, agree that there are obvious problems, and then do nothing about them.

1) The established World Bodies do have an integral place in the sport. They have spearheaded some significant safety issues, their belts are treasured by the fighters, and they should be the best at determining truly world rankings. Unfortunately, the rankings are a farce! The organization's bylaws only come into play when it is to their advantage or when they lose in court. No one can understand the arcane methods used to justify these corrupt rankings. It is obvious that the quality of the fighter matters less than who their promoters are. It is obvious that politics are more important than records and opponents. Does the IBF think that by removing the respected Joe Dwyer from their Board, that the decisions they reach will now be more in favor of the boxer? The WBA rankings received such condemnation recently that they held a press conference to explain that there was nothing wrong with them, but they were changing them anyway. Please tell me how the mandatory for Bernard Hopkins, Mr. Hakkar, was the best opponent to represent the WBC and the sport.

What do we do about this? The State Commissions are not powerless. California threatened to prevent WBA sanctioning fees because of their rankings. The networks can stop belly-aching about the opponents that are mandated, and simply say NO, this is unacceptable. If their goal is to protect the fighters they have under contract, then just say that. The ABC can be used as for arbitration when conflicts arise. The sanctioning fees are the lifeblood of the world bodies. To collect these fees in America, certain standards must be upheld. If they are not, the match may go on – but allow no sanctioning fees to be collected. Mismatches are not only bad for the ticket buying public, but are dangerous for the poor guy running around the ring trying not to get beaten to a pulp.

2) Officials should be picked on the basis of their qualifications…what a novel concept. Not on basis of rotation (stupid idea), what conventions they attend, or who is OK with the promoters or managers.

Conventions in which the officials are able to interact with their peers and review tapes and decisions are invaluable. This is how we get better at what we do. Seminars put on by the states and organizations like the ABC and IPRO serve just as useful a function. Education is a must – attending a convention just to get an assignment is not.

A good official never asks for an assignment. He never asks the promoter for extra meals, tickets, or extras. He doesn't talk about his fight before it happens. He doesn't hang around the camps. He can't be a buddy to the fighters. He is in that ring representing the State in which he is licensed, not a world body (hence I don't believe he should be wearing a patch on his shirt or jacket representing a world body). His quotes after a fight represent the not only himself but the Commission. Nothing in boxing is said in a vacuum, so be careful how you are quoted. Never try to become bigger than the athletes in the ring. No one pays to see a referee or a judge.

No official should be so closely tied to only one sanctioning organization that his fairness is questioned. If you are seen simply as say a WBO official, then why would you expect the other camp to want you in their fight? This is a two way street, and a good official should be able to work a championship fight if he doesn't attend a convention that year.

An official who hangs around a certain promoter or World Body will be perceived as favoring them. This perception may not be reality, but will reduce your ability to be seen as neutral and ethical.

3) Promoters who do their job ethically are invaluable to the fighters who employ their services. By building interest in a fight and obtaining the best site fees, they add to the bottom line of the boxers. They should be compensated appropriately. It just seems to me that the boxers on a card should know what finances are available for their particular fight. If HBO puts up $150,000 for the semi-main, the fighters in that fight should know that figure. If a kid gets $800 for a 6-rounder, he should know whether a broker took $300 before his purse was even determined. The fighters should have as much financial information as possible, and then they can make their own decision. Just seems fair to me. The right thing to do.

4) Fighters need to have advisors they can trust to look out for their needs first and foremost. Whether they turn to their manager, lawyer, or mom…they should be able to receive the information they need, to make the best decisions for their career. How in the hell can this happen if the advisor is representing more than one principle in an agreement. A fighter thinks the person advising him is looking out only for his best interest. Yet that advisor may be double-dipping by also representing the promoter, or even the rival camp. This goes beyond unethical into the realm of illegal. If a licensee attempts to do something like this, he should lose his license and be barred from the sport. If it is not right in a divorce case to represent both sides, why do we allow in our sport? It is our responsibility! No one else will do for the fighters we oversee.

5) Ring Doctors are as ethical the next guy. Why shouldn't they be allowed to work for the local Commission, receive a check from the promoter, do the yearly sports physical and be reimbursed by the fighter or his manager, see fighters before the fight and charge for their services, order blood work and x-rays from their labs, and then take care of the kids after the fight and bill insurance companies. The one stop approach to ring medicine. Efficient, but in my opinion, not right.

Hey, I did a lot of this for over 10 years. While I never charged a fighter, I also frequently saw them before matches, took care of their injuries, and tried to help them prepare for the fight. I always let the Commission know what was going on (they frequently directed my action), and I never knowingly did anything ethically wrong. But the conflicts I got myself into were legion. Was my legal and moral duty to the fighter, the Commission or the promoter? Trust me; they are frequently not one and the same. I will only give one example…Heavyweight in the week prior to a major championship fight gets short of breath. I am told that this is typical for this fighter (by people who have a financial interest in him), and he will respond to breathing treatments, etc. I bring in a pulmunologist and we treat appropriately. He feels much better the week before the fight and thanks me. There is no financial arrangement for us, but the fight is worth millions to everyone else. Was my primary duty to the fighter, the Commission I represent, or to the promoter and casino where the fight is being held? I truly felt I had done as good a job as possible for all concerned - until the press conference after the contest. The fighter I had treated stated for the world to hear that he lost because he wasn't at his best. His asthma was horrible and he had never wanted to fight. He went on to say that he was told by the doc and the Commission that he had to fight. OOPS!

The examples are numerous, and real…hand injuries, rib injections, known head injuries prior to matches, managers telling doctors that they legally can't disclose to the Commission injuries they have taken care of because of the privileged physician-patient relationship (not all mine, thank goodness).

The Ring Doctor is a representative of his State Commission. He sees fighters as an extension of that role. His primary duty is what happens in the ring. He assists the Executive Director in evaluating the medicals done on the fighters by other independent physicians. How could you do this if the medical exam you were evaluating was your very own? The line should not be crossed.

The State of Nevada put in regulation that this line would not be crossed over 8 years ago. I feel just as firmly about this now. I also believe that the Ring Doctor should only be paid by the Commission, not the promoter directly. The check should be from the State.

Just a few words about the compensation of the Ring Doc. Across this country they do an incredible job under immense pressure. They are integral to our sport, and to the fighters they protect. They should be paid appropriately. I started at $50.00 a show. This was for both the weigh-in and the long day of the fight. After many years our doctors were making $125.00 for a major televised show. I spoke to one of the best Commissioners I worked with about raising the remuneration. He told me that there were plenty of doctors out there who would do it for less. Not the best attitude about quality of care.

The last point concerns liability issues. The states should work to financially limit the exposure of Ring Physicians, and ideally malpractice coverage should be provided to them. This is only fair.

Flip Homansky MD

***

Dr. Flip Homansky is currently Commissioner of the Nevada State Athletic Commission (NSAC). For over twenty years, he served as Chairman of the Medical Advisory Board and Chief Ringside Physician for the NSAC.

Dr. Flip Homansky practices in Las Vegas, Nevada, where he had been a licensed ringside physician and Chairman of the Medical Advisory Board for the Nevada State Athletic Commission for over twenty years. His medical specialty is in the field of Emergency Medicine. Dr. Homansky was appointed by Nevada's Governor, Kenny C. Guinn, in 2000, to serve as a Commissioner of the Nevada State Athletic Commission. Although he is currently a Commissioner of the Nevada State Athletic Commission, all of the views, opinions, and/or recommendations contained herein are solely his own and do not necessary reflect those of Nevada's Commission. All readers are strongly cautioned that the information contained herein is not intended to, and never should, substitute for the necessity of seeking the advice of a qualified medical professional whenever a boxer or his/her representatives have specific questions regarding the best course of action that a boxer should take. Furthermore, since it is possible that general information herein may pertain only to a law, regulation, rule or acceptable standard of practice for a particular jurisdiction, a boxer or his/her representatives must always inquire with the appropriate licensing jurisdiction to determine the applicable laws, regulations, rules, and acceptable standards of practice for each jurisdiction.

All readers are advised that the information herein is intended solely as a general reference source, and to the fullest extent permitted by law, the information is provided "AS IS" without any warranties of any kind, whether express or implied, including without limitation, warranties of merchantability, fitness for a particular purpose and non-infringement. No one may rely on the accuracy, integrity, quality or completeness of the general information herein. Accordingly, neither the authors, editors nor anyone else affiliated with this website may be held liable for damages of any kind whatsoever allegedly caused or resulting from any such claimed reliance.