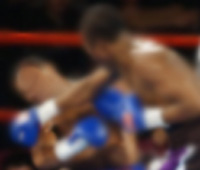 By Margaret Goodman, MD
In Part I, we heard from trainers, physicians, referees, analysts, etc. on the criteria and circumstances as to when a fighter should receive one more round. There is no one right answer, and in any given bout a variety of opinions becomes the right one. As a promoter recently said, 'When a fight stops, all those involved have to live with that decision forever.' You have to do what is in the best interest of the fighter and your expertise will guide you to act appropriately.

Who's In Charge?

The referee is the necessary arbiter. Have you ever seen a "code blue?" When someone is having a cardiac arrest, there is a microcosm of individuals surrounding the patient. This may include doctors, nurses, and perhaps even a family member standing by. Time is of the essence, but one person and only one person can be in charge of barking out orders. The old saying of "too many cooks spoil the pot" rings true here as well. The referee is the person to take control. It doesn't mean the referees always knows best. It does not mean he does not take counsel from the corner or the doctor, but someone has to have ultimate control.

Surrounding the ring is an entire army of individuals directly/indirectly participating in the decision making process. Although the jobs are different, the goals are typically the same, but with widely differing experience. Included are trainers, cutmen, managers, promoters, the commission, the doctors, the TV analysts, the press, the sanctioning organization representatives, the fans, and yes, now often times the boxer's legal representation. Each enters the arena with a different set of values and preparation regarding the event at hand.

Blood Sport

According to HBO analyst Larry Merchant, "Fight fans have changed in that they rarely want blood anymore." There certainly was a time and it was even a rule that a fight would not end until one fighter could no longer continue. This goes back to Mr. Merchant's point that when a fighter is outclassed or has no chance of winning, why allow the bout to continue? Sitting ringside, there are countless considerations passing through the minds of many. The corner and the fighters are focused on one goal. However, if you sit ringside and try to be unbiased, you will see a silence overcomes the crowd when one combatant is clearly beaten. The crowd has had enough; yet, often times those of us working the fight overlook the obvious under the guise of being fair. It is a telling quiet that should not be ignored, but is another factor helping us see the truth of what is happening in the ring.

Experience

Nothing can outweigh experience, but preparation is the key. As a ring doctor, you have to listen to your "patient" (in this case the fighter) and study his or her history. In other words, know who you are dealing with. Ring physicians must know the fighters' history, including whom they have fought and when, the outcome of those matches, who they train with, who is their cutman, how they handle adversity (be it from a cut or knockdowns), and who is your referee. The same holds true for the referee who has to look at the entire situation as it plays out before his eyes. He is closest to the action and perhaps the only person who can really see how punishment is affecting each combatant. Tim Dahlberg, from the Associated Press, spoke to the issue in frequently seeing cornermen who have never worked with that fighter before.

Family in the Corner

But what happens when you have a family member in the corner? Is that a help or a hindrance in making the right decision in whether or not a boxer should continue? After all, who could know that fighter better as to when enough is enough.

According to Teddy Atlas, "A family member can be influenced either way. A family member may let the fighter take more punishment because the attack is now on you. Your son, your brother becomes you. They may not want to give up on something that close. The other side is you could stop it too quickly as you are influenced by emotions that shouldn't be a part of the equation. A more controlled approach is needed. An airline pilot goes by procedures and checks all the gages. As a professional, you use that checklist in deciding what condition your fighter is in; where he really is. You have to stay with the things you have trained yourself to believe in. This may be more difficult when it is your family."

How Do We Learn?

I have had several mentors imparting all kinds of experience that shaped my approach. One such individual is former Nevada Athletic Commission Chairman and world class boxing judge, Duane Ford. He taught me that a ring official has to gather knowledge from everyone. Just as physicians can learn from referees and trainers, the contrary is true. Will you always be right? Of course not, but if you use your experience the information you know to be true, you will never be wrong. You will have done what is in the best interest of the boxer.

Many complain that fighters/trainers are ill-prepared. Well, the same can be true for officials. It is up to commissions to insure officials are primed to swiftly and calmly handle all situations through mandatory attendance at training sessions/meetings.

Who Should Make the Decision?

We all let out a sigh of relief when a trainer steps in and does the right thing by calling a halt to a bout when their fighter can longer win. Why? It shows courage in doing the right thing. It also eliminates the referee (with or without the doctor) having to pull the plug! Nothing plays out as well. If the corner does it, it must be correct. After all, who knows the fighter more? Boxing, for good or for bad, has always been a sport where no one quits, or if that occurs, it raises difficult to answer questions regarding a fighter's heart or skill. However, that is inherently wrong and an unfair assessment.

Former world champion Wayne McCullough believes, "If the fighter in question is not responding to the referee, then I believe the referee should stop the fight. If the fighter is not responding to his corner, then his corner should stop the fight - after all, the trainer sees this fighter every day and would know what was normal and what was not. However, if the fighter is fighting back and is sill able to defend himself, then I think he should be allowed to continue. After all, one punch can change the whole fight. No one wants to see the fighter get hurt, but boxing is a combat sport."

Dr. Flip Homansky is correct in his thinking that the ring doctor should never give one more round. If a fighter is hurt, then assuming one more round is in order can be extremely dangerous.

Communication

Communication is always the key. Trainers need to communicate with their fighters between and during the round. I am amazed to see how often a fighter returns to his corner following a tough round and the trainer neglects to ask his man how he is feeling. Just as a referee lets the fighter in the dressing room know what he will expect during the bout, the doctor must let the fighter and referee know what they are looking for in rending a recommendation to the referee. Duane Ford believes communication between the referee and doctor is imperative for safety even if it is just a "nod" at ringside. Boxing, like all sports, is fan driven. As mentioned by Larry Merchant, the fans and the fighters are owed an explanation.

Our Purpose

We must all try to be on the same page. In deciding if a fighter should receive one more round it entails understanding: 1) a fight should proceed to its natural conclusion with as little outside interference as possible; 2) understand that each and every person present at a fight whether it be a referee, trainer, fighter, analyst, or fan, is there for a reason; and 3) act appropriately to insure no fighter is at undue risk from either a life-threatening or career-ending injury/deformity.

***

Dr. Margaret Goodman is a Ringside Physician and Chairman of the Medical Advisory Board of the Nevada State Athletic Commission.

Dr. Margaret Goodman practices in Las Vegas, Nevada, where she is a licensed ringside physician since 1994. Her medical specialty is in the field of Neurology. Dr. Goodman was appointed by Nevada's Governor, Kenny C. Guinn, in September of 2001, to serve as Chairman of the Medical Advisory Board to the Nevada State Athletic Commission. Although she is Chairman of the Commission's Medical Advisory Board, all of the views, opinions, and/or recommendations contained herein are solely her own and do not necessarily reflect those of Nevada's Commission. All readers are strongly cautioned that the information contained herein is not intended to, and never should, substitute for the necessity of seeking the advice of a qualified medical professional whenever a boxer or his/her representatives have specific questions regarding the best course of action that a boxer should take. Furthermore, since it is possible that general information herein may pertain only to a law, regulation, rule or acceptable standard of practice for a particular jurisdiction, a boxer or his/her representatives must always inquire with the appropriate licensing jurisdiction to determine the applicable laws, regulations, rules, and acceptable standards of practice for each jurisdiction.

All readers are advised that the information herein is intended solely as a general reference source, and to the fullest extent permitted by law, the information is provided "AS IS" without any warranties of any kind, whether express or implied, including without limitation, warranties of merchantability, fitness for a particular purpose and non-infringement. No one may rely on the accuracy, integrity, quality or completeness of the general information herein. Accordingly, neither the authors, editors nor anyone else affiliated with this website may be held liable for damages of any kind whatsoever allegedly caused or resulting from any such claimed reliance.