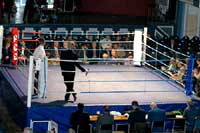 By Tom Kaczmarek

The respected judge recaps his popular series of articles explaining the art of judging professional boxing to the TV boxing fan.

RECAP

Concentration

1) Fundamental to credible judging.

2) Full three minutes of every round.

3) Eliminate all distractions.

4) No trips to refrigerator.

5) No talking to those watching the fight with you.

6) Don't be swayed by ringside commentators.

7) Train yourself to get into a concentration mode.

Impartiality

1) Be objective.

2) Be fair.

3) Do not score on the basis of race, color, or creed.

4) Do not be influenced by the location of the bout.

Basic factors used to score a round, and ultimately, the fight.

1. Clean Punching/Effective Aggressiveness.

Boxing is a combative sport.

Key to winning---clean effective punches, legal punches with accuracy, and power in any direction of movement.

Simply moving forward without effective punching is not enough.

Good, effective counter-punching while moving backwards or laterally scores points. Getting off first, scoring clean punches in quantity and with quality, regardless of the direction the fighter is moving, should win the round.

More on Clean Punching: Two Factors

a. To be effective, punches must land on target cleanly and inflict damage. Clean shots to the chin or head.

Don't overlook good body punching.

Stiff jabs are an effective weapon.

Clean left hooks or straight right hands (reverse for lefties) are punches that do damage and wear a fighter down.

The ultimate clean punch is the "knockdown" punch.

b. Clean Punching also means obeying the rules of boxing.

Punches to authorized areas of the body -the head, jaw, solar plexus or heart area are scoring punches.

Low blows, hitting with the open glove, punches behind the head or back and holding while hitting, do not score points, and are, indeed, fouls.

2. Ring Generalship

Fighter uses skills beyond punching power to control the action in the ring. Thinking and strategizing, the fighter utilizes agility, feinting, footwork, and movement to force his opponent out of his fight plan.

Using subtle tactics, he sets up his opponent for effective combinations.

He minimizes his opponent's strengths by controlling the action to suit his own skills.

3. Defense

Good defense is averting punches by blocking, bobbing and weaving, good footwork, and lateral movement.

Good defense is not holding, clinching, or running. In fact, holding and clinching are subject to penalty by the referee if abused.

Good defense allows the fighter to avoid unnecessary punishment, allowing him to stick to his fight plan while extending his physical endurance.

Punching: Quality/Power and Quantity.

Primary scoring factor in a fight is the punch delivered by the fighter.

Punches must be evaluated on the basis of quality and quantity.

Power punches are solid punches landing on the chin, head, or body, inflicting damage.

Power punches are hooks, and straight rights, which are sometimes called a "right cross" (or straight lefts by a lefty).

Uppercuts and good, stiff jabs.

Light punches are delivered with less power, sometimes in rapid succession (called pity-pat punches).

The judge must determine whether a lesser number of power punches offsets a greater number of light punches and score accordingly.

This takes total concentration and much practice to establish a ratio of power punches to offset light punches.

A good clean knockdown offsets a series of many light punches with major emphasis.

………….TO BE CONTINUED

COMING NEXT --------- PART SEVEN

MORE RECAP & the "FINAL ROUND"

All Rights Reserved

Book Copyright 1996 by Tom Kaczmarek

Electronic Copyright 2002 Murphy/Rector Communications, Inc.

WWW.TVBOXINGJUDGE.COM

or call (201) 986-0902.

For more information contact Tom Kaczmarek at: tkaczmarek@aol.com

***

ABOUT THE AUTHOR

Tom Kaczmarek, an ex-boxer and current international professional boxing judge, is Chairman of the World Boxing Council Ring Officials Board and a member of the Ring Officials Committee of the North American Boxing Federation. He was inducted into the New Jersey Boxing Hall of Fame in 1994, and the Elizabeth Athletic Hall of Fame in 2002. Kaczmarek has judged over 1500 professional bouts, including major world championship fights in the United States, Mexico, Europe, Asia, and Australia. He has conducted training seminars for judges for the World Boxing Council (WBC); the New York State Athletic Commission; the International Boxing Federation (IBF); the State of Connecticut Boxing Commission; the Mashantucket Pequot Tribal Nation Boxing Commission; the North American Boxing Federation (NABF); the Washington, D.C. Boxing Commission; the New Jersey State Athletic Commission; the Mohegan Tribal Gaming Commission Athletic Unit; the Edmonton, Alberta Boxing Commission; and the International Professional Ring Officials Association (IPRO).

***

DISCLAIMER

Tommy Kaczmarek has been a resident of Brick, New Jersey for the last sixteen years. He retired from the State of New Jersey Violent Crimes Compensation Board in 1991 where he was Commissioner for 18 years and Chairman for 5 years. He is a licensed professional boxing judge in New York, Pennsylvania, Connecticut, Michigan, Mashantucket Pequot Tribal Nation Boxing Commission, and the Mohegan Tribal Gaming Commission Athletic Unit. Although Mr. Kaczmarek is a boxing official for each of the above Commissions, all of the views, opinions, and/or recommendations contained herein are solely his own and do not necessarily reflect those of the New York, Pennsylvania, Connecticut, Michigan, Mashantucket, and Mohegan Commissions.

All readers are strongly cautioned that the information contained herein is not intended to, and never should, substitute for the necessity of seeking the advice of a qualified medical, legal, or financial professional whenever a boxer or his/her representatives have specific questions regarding the best course of action that a boxer should take. Furthermore, since it is possible that general information herein may pertain only to a law, regulation, rule or acceptable standard of practice for a particular jurisdiction, a boxer or his/her representatives must always inquire with the appropriate licensing jurisdiction to determine the applicable laws, regulations, rules, and acceptable standards of practice for each jurisdiction.

All readers are advised that the information herein is intended solely as a general reference source, and to the fullest extent permitted by law, the information is provided "AS IS" without any warranties of any kind, whether express or implied, including without limitation, warranties of merchantability, fitness for a particular purpose and non-infringement. No one may rely on the accuracy, integrity, quality or completeness of the general information herein. Accordingly, neither the authors, editors nor anyone else affiliated with this website may be held liable for damages of any kind whatsoever allegedly caused or resulting from any such claimed reliance.