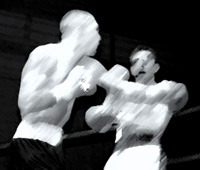 By Tom Kaczmarek

RING GENERALSHIP: Ring generalship applies to the fighter who uses skills beyond his punching power to control the action in the ring. He is thinking. He is strategizing while he is fighting, utilizing cleverness, agility, and feinting to keep his opponent off guard. By using footwork and movement, he forces his opponent out of his fight plan. Using subtle tactics, he sets up his opponent for effective combinations. He causes an aggressive fighter to look awkward. He may even cause a boxer to get into a slugfest. He minimizes his opponent's strengths by controlling the action to suit his own skills.

A fighter using a good left jab (or a right jab for a left-handed fighter) often does it as a part of this tactics to utilize ring generalship. A good jab allows a fighter to set up combinations and follow-up shots. If you watch fighters, you can pick out the one who is thinking, lying out a plan, and in complete control of what is happening. When you hear the term "the fighter won the round because he was controlling the action," it means the fighter is in mental control in developing his fight plan, allowing him to score effective punches. Ultimately the boxer employing skilful ring generalship will be on his way to winning the round. A smart fighter usually gains an edge.

DEFENSE

Because of the combative nature of boxing, it would be difficult to award a round to a fighter who has not displayed a more effective offense than his opponent. A good defense simply can't overcome an effective offense. However, the importance of defense cannot be minimized. Good defense is an element of ring generalship. Good defense allows the fighter to avoid unnecessary punishment, thus giving him a better opportunity to stick to his fight plan while extending his physical endurance. The fighter who takes a lot of punches often runs out of steam as the fight progresses. Most good fighters deploy good defense naturally. They do not sacrifice good offensive action. Good defense usually means that a fighter will enjoy a longer career, as opposed to the fighter who takes a lot of punches. Wear and tear on the body shortens the fighter's career.

In analyzing the impact of defense in scoring the round, it is very important to remember that good defense is not holding, clinching, or running. Holding is usually a last resort employed to avert aggressive tactics of an opponent. Remember that holding and clinching are subject to penalty by the referee if abused. What is good defense? Good defense is averting punches by blocking, bobbing and weaving, good footwork, and lateral movement. These are assets possessed by the skilled fighter. In close rounds, when neither fighter has an edge offensively, good defense could well be the deciding factor.

SUMMARY

Of the three basic fundamentals in scoring a fight, a combination of clean punching and effective aggressiveness is the key factor. Whatever else is happening in the round, the fighter who is scoring clean solid punches, forcing the action, and getting off first is going to win the round. Skilful ring generalship, which enables the fighter to control his opponent, is also significant. Good fighters usually possess a combination of both clean punching/effective aggressiveness and ring generalship. They score points, and ultimately win rounds. If there is still not a clear winner, considering these factors, then good defense may well become the deciding factor.

PUNCHING: QUALITY/POWER and QUANTITY

The primary scoring factor in a fight is the punch delivered by the boxer. Therefore a judge must be evaluate the punches thrown in a fight on the basis of quality or power and quantity while making his final determination with the criteria discussed earlier. An evaluation must be made of solid "power" punches vs. light, less powerful punches. Power punches are generally solid punches landing on the chin, head, or body, inflicting damage. The damage may be immediate or may wear the fighter down as the fight progresses. Power punches are usually hooks, straight rights or lefts, uppercuts or good stiff jabs. The very light punches, often delivered in rapid succession, are sometimes called "pity-pat" punches. A good judge must be able to evaluate the quality of the punches and the quantity thrown and score accordingly. For example, a fighter may land three solid power punches while his opponent lands five or six light punches during the same exchange. If, in the judge's discretion, the three solid blows did more damage than the five or six light blows, he would give the edge to the power puncher. A good, clean knockdown offsets a series of many light punches, with major emphasis.

Establishing a ratio of power punches needed to offset light punches, and vice versa, cannot realistically be set down in table or graph format. No series or combinations of punches will ever be the same. During a heated exchange of punches, it would be very difficult for a judge to count the number of punches thrown by each fighter and document how many landed or missed, while evaluating the effect of the punches. Dozens of punches may be thrown in a matter of seconds, and the effectiveness, not only the number thrown, must be evaluated. It would be difficult, if not impossible, to actually count the number of hits and misses, evaluate the effect (on both fighters), and still give your undivided attention to the continuing action. Many times, in action-packed fights, a good judge must call on his experience to make an instinctive, spontaneous evaluation of the number and types of punches and their off-setting values against each other and score accordingly.

Something worth reviewing at this point is the value of the punch-statistics information provided after each round on some of the television boxing shows, and used by television analysts and commentators in making their round-by-round evaluations. A fighter who throws and lands more punches during a round usually, but not always, wins the round. An experienced judge will measure the quality as well as quantity of punches and score accordingly. Also, the grand total of punches landed in a fight may not accurately identify the winner, since it is conceivable that most of the punches may have been scored in one or two lopsided rounds while the other fighter had an edge in the remaining rounds. Although punch statistics constitute one element of scoring a round, the remaining elements are subjective and require human judgment coupled with boxing experience to effectively complete the scoring process. In conclusion, with regard to punch-statistics, I'm not aware of any effort to check the accuracy of these statistics.

TO BE CONTINUED

COMING NEXT-----PART FOUR

SCORING SYSTEM

"The 10 Point Must System"

SCORING A FIGHT

All Rights Reserved

Book Copyright 1996 by Tom Kaczmarek

Electronic Copyright 2002 Murphy/Rector Communications, Inc.

WWW.TVBOXINGJUDGE.COM or call (201) 986-0902.

For more information contact Tom Kaczmarek at: tkaczmarek@aol.com

***

ABOUT THE AUTHOR

Tom Kaczmarek, an ex-boxer and current international professional boxing judge, is Chairman of the World Boxing Council Ring Officials Board and a member of the Ring Officials Committee of the North American Boxing Federation. He was inducted into the New Jersey Boxing Hall of Fame in 1994, and the Elizabeth Athletic Hall of Fame in 2002. Kaczmarek has judged over 1500 professional bouts, including major world championship fights in the United States, Mexico, Europe, Asia, and Australia. He has conducted training seminars for judges for the World Boxing Council (WBC); the New York State Athletic Commission; the International Boxing Federation (IBF); the State of Connecticut Boxing Commission; the Mashantucket Pequot Tribal Nation Boxing Commission; the North American Boxing Federation (NABF); the Washington, D.C. Boxing Commission; the New Jersey State Athletic Commission; the Mohegan Tribal Gaming Commission Athletic Unit; the Edmonton, Alberta Boxing Commission; and the International Professional Ring Officials Association (IPRO).

***

DISCLAIMER

Tommy Kaczmarek has been a resident of Brick, New Jersey for the last sixteen years. He retired from the State of New Jersey Violent Crimes Compensation Board in 1991 where he was Commissioner for 18 years and Chairman for 5 years. He is a licensed professional boxing judge in New York, Pennsylvania, Connecticut, Michigan, Mashantucket Pequot Tribal Nation Boxing Commission, and the Mohegan Tribal Gaming Commission Athletic Unit. Although Mr. Kaczmarek is a boxing official for each of the above Commissions, all of the views, opinions, and/or recommendations contained herein are solely his own and do not necessarily reflect those of the New York, Pennsylvania, Connecticut, Michigan, Mashantucket, and Mohegan Commissions.

All readers are strongly cautioned that the information contained herein is not intended to, and never should, substitute for the necessity of seeking the advice of a qualified medical, legal, or financial professional whenever a boxer or his/her representatives have specific questions regarding the best course of action that a boxer should take. Furthermore, since it is possible that general information herein may pertain only to a law, regulation, rule or acceptable standard of practice for a particular jurisdiction, a boxer or his/her representatives must always inquire with the appropriate licensing jurisdiction to determine the applicable laws, regulations, rules, and acceptable standards of practice for each jurisdiction.

All readers are advised that the information herein is intended solely as a general reference source, and to the fullest extent permitted by law, the information is provided "AS IS" without any warranties of any kind, whether express or implied, including without limitation, warranties of merchantability, fitness for a particular purpose and non-infringement. No one may rely on the accuracy, integrity, quality or completeness of the general information herein. Accordingly, neither the authors, editors nor anyone else affiliated with this website may be held liable for damages of any kind whatsoever allegedly caused or resulting from any such claimed reliance.