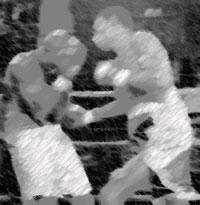 By Flip Homansky MD FACEP: Stethoscope, gloves, ophthalmoscope...nope - none of those. The most important thing a doctor must bring to the ring is his sense of ETHICS, and the understanding that they are there as an advocate for the fighter.

What is your role at ringside? Do you answer to the Commission, the referee, the cut man, the manager, the promoter, the Sanctioning Body, or to the Network?

I believe that you are there to work with all of these entities, BUT you are primarily there as an advocate of the fighter. This advocacy does not start or end with what goes on between the bells.

The milieu we work in is like no simple office or Emergency Room. The right decision about a laceration or concussion is pretty straightforward in the real world. In the glare of the Professional Boxing Ring your clinical skills are just one aspect of what will be expected of you. Decisions you make will not only affect won-lost records. Millions of dollars hang in the balance. A lifetime of training for this moment may ultimately be derailed by the doctor's call.

The boxer is expected to fight through pain and injury. He is expected to do this not because he is a "superman", but because his career demands it. You know who else demands this of the person in the ring? All of the handlers who make their living off of this individual look to him to win. Their raison d'etre is the fighter. If his career is derailed, then their financial career is also slowed. I am not saying that everyone concerned with a fight doesn't do what they think is best. I am just making the simple point that only the men or women in the ring are taking the punches that may have permanent sequela. Ultimately, the ring doctor has to act solely as the fighter's advocate.

Of course, that decision will be made in the flow of the moment taking into consideration all of the variables involved at that time.

Some doctors feel that their job starts at the weigh-in and ends with the final bell. I disagree. A good ring doctor should be aware of the records of the combatants. When they fought last and how they did. Have they had recent KOs, lacerations, or other injuries? Are there potential mismatches? What was their training like? Are they dehydrated? Have they lost or gained a significant amount of weight recently. After the fight all participants must be examined and checked before they leave the arena. Instructions must be given for what they should do if they develop a problem after they leave that night.

I have talked to numerous ring docs around the country who have told me that if they ask too many questions they will not be assigned to work again. Doctors have told me that no one listens to them when they ask about drug testing, specific medical tests, and fighters who have taken too much punishment. Doctors have been accused by matchmakers and promoters of trying to kill the sport. Trust me...what will kill this amazing athletic endeavor is a lack of oversight, and more serious injuries in the ring.

The physician is an asset that must be used by commissions and executive directors to work with them as an integral part of the team. That team can then function as a true regulatory body.

Flip Homansky MD FACEP


***

Dr. Flip Homansky is currently Commissioner of the Nevada State Athletic Commission (NSAC). For over twenty years, he served as Chairman of the Medical Advisory Board and Chief Ringside Physician for the NSAC.

Dr. Flip Homansky practices in Las Vegas, Nevada, where he had been a licensed ringside physician and Chairman of the Medical Advisory Board for the Nevada State Athletic Commission for over twenty years. His medical specialty is in the field of Emergency Medicine. Dr. Homansky was appointed by Nevada's Governor, Kenny C. Guinn, in 2000, to serve as a Commissioner of the Nevada State Athletic Commission. Although he is currently a Commissioner of the Nevada State Athletic Commission, all of the views, opinions, and/or recommendations contained herein are solely his own and do not necessary reflect those of Nevada's Commission. All readers are strongly cautioned that the information contained herein is not intended to, and never should, substitute for the necessity of seeking the advice of a qualified medical professional whenever a boxer or his/her representatives have specific questions regarding the best course of action that a boxer should take. Furthermore, since it is possible that general information herein may pertain only to a law, regulation, rule or acceptable standard of practice for a particular jurisdiction, a boxer or his/her representatives must always inquire with the appropriate licensing jurisdiction to determine the applicable laws, regulations, rules, and acceptable standards of practice for each jurisdiction.

All readers are advised that the information herein is intended solely as a general reference source, and to the fullest extent permitted by law, the information is provided "AS IS" without any warranties of any kind, whether express or implied, including without limitation, warranties of merchantability, fitness for a particular purpose and non-infringement. No one may rely on the accuracy, integrity, quality or completeness of the general information herein. Accordingly, neither the authors, editors nor anyone else affiliated with this website may be held liable for damages of any kind whatsoever allegedly caused or resulting from any such claimed reliance.