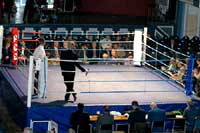 By Margaret Goodman, MD

With the horrible announcement of yet another Toughman death, elimination contests, mixed martial arts (MMA), and professional/amateur boxing came under critical review. Among the many articles dealing with these topics and how they intersect, there were the typical uninformed comparisons and cries to ban all forms of unarmed combat. Consequently, although I never had intended to write about Toughman and its problems, I just do not think it fair to let the fallacies go uncorrected.

In January 2003, the Nevada State Athletic Commission refused to re-license the Toughman organization after regulating it once again for over a year. Why did we reach this decision? Perhaps a better and more important question is: Why did Nevada license Toughman in the first place? Maybe we gave ourselves too much credit. We were under the impression that regulating it as stringently as boxing would make it safe.

I have read several articles attempting to find a solution to enable elimination contests such as Toughman to continue. A recent suggestion seems to be "regulate it by state commissions." In fact, just the other day the American College of Sports Medicine has offered to help Toughman in suggesting that the bouts be handled the same as professional boxing matches with ringside physicians, ambulances, etc. Well, we tried that. The contestants underwent extensive exams including laboratories, EKG, chest x-rays, physicals, and dilated eye exams by ophthalmologists. In other words, we put these guys through the same things we put our high-risk boxers through. We relied on Toughman to follow its rules of fighters having no professional experience, having less than 6 amateur bouts, and not being allowed to travel from state to state. By taking the above actions, we prevented the high-risk applicants from competing. You would think that this would be enough to sufficiently protect the actual contestants so they could safely make it through three one-minute rounds? Putting it directly, it just did not work.

What we found was that no matter what we did, it wasn't enough. We were still faced with predominantly out-of-shape contestants with often hidden or poorly disclosed medical conditions such as untreated hypertension, asthma and prior injuries. We saw competitors using Ephedra, inhalers and pain medications, refusing to be seen at a hospital on our recommendation, and even refusing to be examined after a bout. Attempts were even made by the promoter to use guys who had lost the night before. Nevertheless, one would hope that two contestants with little or no training facing one another in a ring for three one-minute rounds with paramedics, an ambulance, and the best trained ring officials in the country present, it would be enough. Sure they wore headgear, but everyone should know by now that headgear will just protect against cuts and not head blows. Getting hit in the head with 16-ounce gloves when you don't know how to take a punch, and are in poor physical condition to begin with, is more than a little unsafe.

Of course, there were other things like what kinds of trainers these guys worked with, or if they worked with trainers at all. Who would watch them after they left the arena? Who would make certain they sought medical attention if they developed a headache? Who would tell them that alcohol increases one's bleeding time? AND how would we be able to drum into their heads that irrespective of winning the night before they were at increased risk of brain injury fighting on consecutive nights?

So how does this compare to MMA, amateur boxing and professional boxing? Sorry, but it does not even belong in the same paragraph. Okay, sure there are inherent dangers in boxing, or high school soccer for that matter. There are serious injuries in all these sports, but boxers have something these Toughman guys cannot have without extensive training: good chin tucks, strong neck muscles, preparedness, and a good well-fitted mouthpiece among other things. Without a modicum of these things the combatant is going to be at increased risk of getting seriously injured. So when these writers say that boxing people are trying to dissociate themselves from the problems occurring with Toughman, of course they are! The two activities have nothing to do with one another except that many commissions still regulate and are choosing to continue to regulate Toughman as a sport.

Therefore, the next time some writer compares Toughman to Ultimate Fighting, or says Toughman is safer than boxing because the competitors wear headgear, I suggest that individual try to learn about the expertise, physical aptitude, preparedness, years of training, and skill it takes to get in the ring or cage. Better yet, go to a gym and see what a real boxer/MMA fighter goes through to tackle such an endeavor. Then they will realize the truth that the reason why there are so few career ending injuries in boxing and MMA is not an accident. It comes from skill and expertise.

Recently it was mentioned that Toughman could change its current form to "MMA Toughman." Bad idea! Now we will start seeing untrained out-of-shape competitors predisposed to more than just blood clots. We can add paralysis from spinal cord injuries! Or is this just adding insult to injury?

What could improve Toughman competition safety in addition to regulation by state commissions?

1. Documentation to commissions of a suspension list so competitors cannot travel from state to state.

2. Documentation of who the competitors are so they cannot fight under more than one name.

3. Documentation of a fighter's prior fights and outcomes.

4. Mandatory pre-fight education courses so competitors understand the risks, have knowledge of harmful medications, and are held to binding documents that they have disclosed all medical conditions and will not use illegal substances.

5. Stopping all two-night elimination competitions.

6. Stopping fighters fighting more than once on a specific night.

7. Commission executive directors to have a chance to oversee the match-ups rather than receive them right before a fight.

8. Fighters must wear personally fitted headgear.

9. Fighters must have trained cornermen.

10. Bouts must have licensed commission doctors, referees, and judges.

11. Paramedics and ambulances ringside.

12. Drug screens on all competitors.

13. Fighters documenting they have been forthright about ALL medical conditions.

14. Fighters providing documentation that they have been training at least one month with a licensed boxing trainer.

15. Before being allowing to compete, fighters must have general physical with an Internist/family doctor MD/DO, appropriate lab work, EKG, chest x-ray, HIV, hepatitis screen, MRI/MRA and an ophthalmologist exam.

If this sounds like overkill to you then perhaps you underestimate all that professional boxers and MMA fighters undergo in some form or another.

***

Dr. Margaret Goodman is a Ringside Physician and Chairman of the Medical Advisory Board of the Nevada State Athletic Commission.

Dr. Margaret Goodman practices in Las Vegas, Nevada, where she is a licensed ringside physician since 1994. Her medical specialty is in the field of Neurology. Dr. Goodman was appointed by Nevada's Governor, Kenny C. Guinn, in September of 2001, to serve as Chairman of the Medical Advisory Board to the Nevada State Athletic Commission. Although she is Chairman of the Commission's Medical Advisory Board, all of the views, opinions, and/or recommendations contained herein are solely her own and do not necessarily reflect those of Nevada's Commission. All readers are strongly cautioned that the information contained herein is not intended to, and never should, substitute for the necessity of seeking the advice of a qualified medical professional whenever a boxer or his/her representatives have specific questions regarding the best course of action that a boxer should take. Furthermore, since it is possible that general information herein may pertain only to a law, regulation, rule or acceptable standard of practice for a particular jurisdiction, a boxer or his/her representatives must always inquire with the appropriate licensing jurisdiction to determine the applicable laws, regulations, rules, and acceptable standards of practice for each jurisdiction.

All readers are advised that the information herein is intended solely as a general reference source, and to the fullest extent permitted by law, the information is provided "AS IS" without any warranties of any kind, whether express or implied, including without limitation, warranties of merchantability, fitness for a particular purpose and non-infringement. No one may rely on the accuracy, integrity, quality or completeness of the general information herein. Accordingly, neither the authors, editors nor anyone else affiliated with this website may be held liable for damages of any kind whatsoever allegedly caused or resulting from any such claimed reliance.