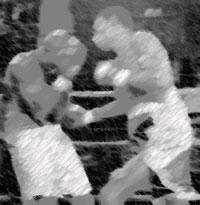 By Flip Homansky MD: Written with the express intent of bringing this down to the most basic level of all ... the TV announcer. The contents represent only my views. This is important, since my views have limited relevance at best.

1] You score only what you see.
This is kinda why they have judges on 3 sides of the ring. Television and the omnipotent viewer can see from many angles and in slow motion. There should be some consensus between officials, but they don't necessarily see the same action.

2] You score offensive punches that land in legal locations, nothing more.
How much weight one punch has over another, how to evaluate what a right hand did as opposed to a jab, and the effect of that punch on the opponent are the "art" of judging.

3] You should give more weight to what happens in the final 30 seconds of any round. KIDDING!

In Sugar vs. Marvelous, they bring this up ad nauseum. In watching the fight I noticed;
a) Ray throws a lot of punches in last 30 seconds of each round
b) Marvin does very little in last 30 seconds of each round
c) The first 150 seconds were very close
A good judge pays as much attention to the last 30 seconds as they do to the advice of the World Body Supervisor.

4] A World Class announcer (how do you spell HBO), told me that a judge should take into account how exciting a fighter is, how much he makes the action. He said that this is entertainment, and we better understand that. I looked at him like he was fluckin' crazy. He would score 10/8 for every round Hulk Hogan was in.
This really happened.

5] Defense doesn't score points - period.
Defense sets up offense, it protects you from scoring blows, and it makes your momma happy. I have heard the story of Willie Pep winning a round without throwing a punch. HUH?? You can dance, run, move your head, and juke till the sun comes up....but you can't win a round if you land no punches. If no fighter connects with a punch in 3 minutes, the fans should all receive a free beer. (Hey, maybe Willie showed more defense in the last 30 seconds, and that is why judges gave him the round).

6] Ring Generalship counts in war. If it counted in the boxing ring, then Patton would still have the belt.

7] Judges should only eat between rounds.
I once watched an announcer actually devour a hotdog while he talked and scored.

8] Judging is a physically demanding object lesson in concentration. IPRO and the ABC are attempting to bring some standardization to the process and they are to be commended. Our good judges are to be commended for the excellent job they do in incredibly stressful situations. Inexperienced judges should be given the chance to learn and develop. Weak and incoherent judges must leave the sport and find happiness in the Olympics.

Flip Homansky MD


***

All readers are advised that the information herein is intended solely as a general reference source, and to the fullest extent permitted by law, the information is provided "AS IS" without any warranties of any kind, whether express or implied, including without limitation, warranties of merchantability, fitness for a particular purpose and non-infringement. No one may rely on the accuracy, integrity, quality or completeness of the general information herein. Accordingly, neither the authors, editors nor anyone else affiliated with this website may be held liable for damages of any kind whatsoever allegedly caused or resulting from any such claimed reliance.