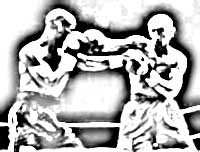 By Roy Silbert: As most of us re aware, it's not only difficult to save money as a young fighter, but just as tough to earn. This column is not intended to offer tips on stocks, bonds or mutual funds, but a method of financial planning that may ultimately get you there. There are seven basic steps to achieve financial success.

In future articles, I will concentrate more on specific goals such as retirement plans for fighters, corners and others in and around the sport of boxing and MMA. The following information is conceptual in content, and should be considered as the building blocks for your financial goals.

Key 1: Know how money works. It is not how much money you have, it is how you make it work for you. Gathering assets for whatever reason has two components. First, how much time do you have and second, try to be in an ownership position. It is not a matter of timing the market: but the amount of time your money is in the market.

The Rule of 72 states that the interest rate you are earning divided by 72 will be equal to the number of years it will take to double your money. For example, at 3% interest a $1000 investment will take 24 years to double, whereas a mutual fund or stock investment growing at 12% will double in only six years.

The same formula is also applied to debt. If you bought a DVD for $1,000 today on a credit card earning 18% interest, in four years you will have paid $4,000 for the player.

Here are a few issues you should consider first when there is a sufficient "Time Horizon" to work with (When will you need your investments?).

A/ Build Reserves: The very first step is to put aside a little each fight and/or your day job for emergencies. I realize this is tough, but correlates with the PAY YOURSELF FIRST CONCEPT. (Pay Yourself First means that every payday a specific amount is automatically deducted from your checking or savings account and contributed toward your goal.) Make sure that this money is liquid and you can redeem it without penalty. Be careful that your savings interest outperforms the inflation rate.

B/ Risk Management: Or in everyday terms ... insurance. All of your goals could be moot if you are not adequately insured. I realize that this is not always easy in this profession, but a good financial planner can be of great assistance. Life and Health insurance (disability if possible in some states) are top priorities, especially if you have a family to protect.

Ownership of Money: The issue of ownership of your money is worth reviewing.

I would venture that most young athletes save whatever money they can in a bank savings account.

HOW MONEY WORKS:

1) You deposit your money in the bank and they may pay you as much 3% "rent".

2) The bank then takes your money and invests it in the economy receiving anywhere from 9-12% return on your dollar.

3) The bank also loans you back your money through home mortgages 5-8%, Credit Cards 12-18%, etc.

NOW, IF YOU INVESTED THAT MONEY in mutual funds, stocks, bonds or other growth vehicles, you would have three ways of earning a return on your money.

1) Dividends to cash or reinvest.

2) Capital gains or profits.

3) Appreciation. The value of the investment in the future.

HOW WOULD YOU LIKE TO GET PAID?

A) One Way?

B) Three Ways?

WOULD YOU RATHER EARN?

A) 3% RETURN

B) 8-12% RETURN

The most important factor to always keep in mind, as a beginning investor is that TIME, or the number of years to accumulate, is of utmost importance, and the temperament to not get distracted and stay on course is critical.

If you have any questions or would like advice, please consult a professional. Any suggestions or questions should be e mailed to roysilbert@worldnet.att.net

The next article will discuss a basic understanding of the Tax Laws (KEY #2) and defining your specific goals (KEY #3)

Roy Silbert

Financial Advisor

***

Roy is currently a licensed Financial Advisor in the State of Washington. He also is a licensed Professional Boxing and MMA Judge and MMA Inspector. Roy is also the President of the United Full Contact Federation and has developed retirement plans for young fighters. He has been involved in boxing in some form for 40 years. He has chaired and sat as a trustee on numerous International Pension Funds. Roy has a BS in Labor Studies, a Masters Degree in Business/Labor Studies and a Law Degree.

All readers are advised that the information herein is intended solely as a general reference source, and to the fullest extent permitted by law, the information is provided "AS IS" without any warranties of any kind, whether express or implied, including without limitation, warranties of merchantability, fitness for a particular purpose and non-infringement. No one may rely on the accuracy, integrity, quality, or completeness of the general information herein. Accordingly, neither the authors, editors, nor anyone else affiliated with this website may be liable for damages of any kind whatsoever allegedly caused or resulting from any such claimed reliance.