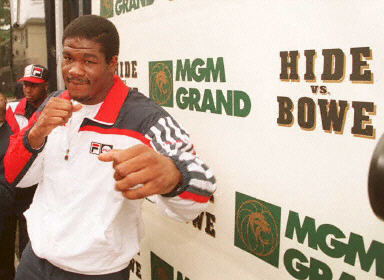 By Margaret Goodman, MD

Part 1: RECOGNITION AND DIAGNOSIS: It seems like we hear of more and more well-known professional boxers and other athletes being arrested for impulsive acts, suffering from depression or showing other signs of mental disorders. Riddick Bowe recently alleged boxing-related brain damage as the source for his behavior in order to avoid additional legal punishment. Johnny Tapia, a former world champion we all know and admire, admitted he suffers from depression and drug use, and recently entered rehabilitation. Outbursts can occur immediately following a KO or TKO as in the case of Zab Judah, and we all remember Oliver McCall crying in the ring during his fight with Lennox Lewis. Press conference and weigh-in outbursts are no longer the exception. Instances likes those involving Mike Tyson and Lennox Lewis, and Fernando Vargas and Oscar De La Hoya are responsible for virtually eliminating face-off meetings.

So, is violence outside the ring or after the bell related to genetics/heredity/family history, or to environmental factors such as lower socio-economic income, lack of education, child abuse and drug/alcohol use? Or, as some would have us believe, is all of this just being used to sell tickets, hype the fight, and/or comes with the pressure of success?

To answer these questions, we must investigate whether boxing itself plays a part in the development of these serious conditions. This is a complicated topic. According to a recent article in the Archives of General Psychiatry, Dr. Tracy Holsinger from Duke University Medical Center said, "People with a history of head injury have an increased risk of depression for decades after the injury occurred. Those with more severe injuries appear to be at the highest risk." Whether the depression results from damage to isolated brain regions or from a response to the damage itself remains unclear. However, mental health disorders are just as important as any other health issue facing our boxers, but are frequently overlooked. Why? There is still a stigma attached to insinuating a weakness. This could not be further from the truth. Excuses come to mind like, "Oh, what do you expect. Of course he's depressed, he just lost."

It is crucial to protect a fighter's privacy while ensuring access to treatment. In other words, a "don't ask, don't tell policy" is unacceptable. Safety must come first, even when it relates to someone's emotional well-being. The correct diagnosis is 50% of the battle; the rest is appropriate treatment. Furthermore, commissions must determine if that particular treatment is conducive to the boxer continuing in the sport.

Most people who have been fortunate to hang around boxers from time to time are awestruck by the genuine gentle nature that most fighters demonstrate. In fact, their personalities almost seem to be incongruous with someone who gets in a ring with the deliberate intent to knock out their opponent. Like anything, it is a job and should be treated as such.

Unfortunately, boxing, like many other sports, especially those involving great sacrifice including the difficulty in maintaining weight, coincides with substance abuse. Not too long ago on this site, Dr. Flip Homansky discussed the side effects of anabolic steroids ("roid rage"). But steroids, along with many other drugs such as cocaine, methamphetamines and alcohol are sadly a fact of life in boxing. All of these substances can greatly increase the incidence of violent, irrational and impulsive behavior. When you combine this with head injury, the incidence rate can jump ten-fold.

Brain damage before one is born and in childhood has also been correlated with the tendency towards youth and adult violence. Deficiencies of naturally occurring chemicals in the brain such as Serotonin have been linked to aggressive behavior. It is of interest that drugs like Prozac and Zoloft increase the availability of Serotonin in the brain and, as a result, treat depression and may help one's mood. Certain parts of the brain have control over certain behaviors. The brain itself is extremely delicate, and the effects of injury to isolated areas are not completely understood. For example, the hypothalamus harbors the brain centers for sexual response and aggression, and the limbic system contains structures needed for memory, emotion and appropriate social instincts. Therefore, severe interference/injury to these areas of the brain could result in violence against others.

POST-CONCUSSIVE SYNDROME refers to symptoms following a concussion (or in this case, a TKO/KO from head blows). In addition to the typical scenario of headache, dizziness and blurred vision, boxers often have personality changes such as apathy (loss of desire), mood swings, fatigue, sleeplessness, anxiety, and memory/attention problems. It is easy to chock these things up to a loss or let down following a match, BUT IT IS MORE THAN THAT. As has been said several times before, the brain is just like every other part of your body when injured. It takes time to heal and rest is crucial. Omitting this part of the recovery sets up a boxer for chronic problems and long-term disabilities, including psychiatric disorders that might need medical treatment or even interfere with someone continuing his or her career.

Even minor head blows from a four-rounder can leave a fighter with a concussion or confusion. Furthermore, we are all too familiar with fighters with long careers developing "dementia pugilistica" or a "punch drunk syndrome" -- a definite result of too many years in the ring. So, when a boxer endures a tough fight, there is certainly a great deal more to be expected than perhaps a headache.

MULTIPLE FACTORS INFLUENCE THE RISK FOR PSYCHIATRIC ILLNESS AFTER HEAD INJURY. Many of these have been mentioned such as alcohol/drug abuse, location of the head trauma, personal history of psychiatric illness, and the severity of the blows reflected in amnesia/loss of consciousness.

PSYCHIATRIC DISORDERS OCCURING AFTER HEAD INJURY (and perhaps boxing). Some examples (which may unfortunately make you think of some boxers and individuals you have known!):

a) Psychosis. Luckily this is rare, but when it occurs, individuals tend to be paranoid. An example would be suspiciousness of marital infidelity, or feeling persecuted (everyone is against you). Usually this resolves over time, but in extreme cases could result in verbal/physical behavior requiring physical or chemical restraint.

b) Mood disorders. Depression complicates recovery in at least 25% of the cases. Frontal lobe damage is often associated with depression, while temporal lobe injury can produce periods of mania or hyper-activity. How do you differentiate sadness from depression? Depression is distinguished by the extent of fatigue/sleep disturbance, guilt, personal blame and suicidal thoughts. Drugs and alcohol can accentuate these symptoms.

c) Anxiety is characterized as excessive worry/preoccupation with the event, frightening dreams, and phobic avoidance of the event, restlessness, fatigue and irritability -- perhaps a boxer who cannot get back into the ring to resume his career. Someone may also become obsessive-compulsive.

d) Sexual disorders. This can be categorized into changes in sexual interest/performance, or the development of inappropriate/unusual sexual behaviors. Frontal lobe damage is often believed to be associated with inappropriate sexual behavior.

e) Personality Disorders. Personality changes due to head trauma include symptoms of belligerence, anger, episodic violent behavior, impulsivity, loss of drive, loss of spontaneity, childishness, helplessness, lack of awareness, or need for active supervision.

In summary, boxers are human. Punishment in the gym and in a bout can take quite a toll that is hidden from view. It is crucial for a fighter to have co-workers, trainers, family and friends who know him well. It is tough, if not often impossible, to recognize these things in us. However, ignorance is not bliss, and frequently, time will not make these conditions go away. As a result, a boxer may end up with an undiagnosed, untreated psychiatric condition preventing further success in and out of the ring.

PART II: Treatment and can treatment co-exist with a career in boxing


***

Dr. Margaret Goodman is a Ringside Physician and Chairman of the Medical Advisory Board of the Nevada State Athletic Commission.

Dr. Margaret Goodman practices in Las Vegas, Nevada, where she is a licensed ringside physician since 1994. Her medical specialty is in the field of Neurology. Dr. Goodman was appointed by Nevada's Governor, Kenny C. Guinn, in September of 2001, to serve as Chairman of the Medical Advisory Board to the Nevada State Athletic Commission. Although she is Chairman of the Commission's Medical Advisory Board, all of the views, opinions, and/or recommendations contained herein are solely her own and do not necessarily reflect those of Nevada's Commission. All readers are strongly cautioned that the information contained herein is not intended to, and never should, substitute for the necessity of seeking the advice of a qualified medical professional whenever a boxer or his/her representatives have specific questions regarding the best course of action that a boxer should take. Furthermore, since it is possible that general information herein may pertain only to a law, regulation, rule or acceptable standard of practice for a particular jurisdiction, a boxer or his/her representatives must always inquire with the appropriate licensing jurisdiction to determine the applicable laws, regulations, rules, and acceptable standards of practice for each jurisdiction.

All readers are advised that the information herein is intended solely as a general reference source, and to the fullest extent permitted by law, the information is provided "AS IS" without any warranties of any kind, whether express or implied, including without limitation, warranties of merchantability, fitness for a particular purpose and non-infringement. No one may rely on the accuracy, integrity, quality or completeness of the general information herein. Accordingly, neither the authors, editors nor anyone else affiliated with this website may be held liable for damages of any kind whatsoever allegedly caused or resulting from any such claimed reliance.