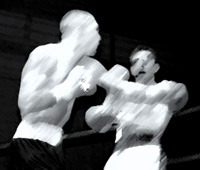 By Beth A. Adams M.Ed LRC: Concussion is the most common form of head injury for athletes. A concussion is an external blow or jolt to the head. The outcome (difficulties) varies from person to person. Concussions are associated with disorientation, and sometimes with loss of consciousness followed by amnesia (forgetting) of what happened both immediately before and after the injury.

It is very important to note that it is not necessary to lose consciousness when sustaining a concussion, but it is possible to have ongoing difficulties after receiving one.

The following information is important for every boxer to read in the event they feel they have sustained a concussion.

During the course of their careers, both in sparring and actual fighting, boxers receive countless blows to the head. These blows can result in repeated concussions and can have long lasting and damaging effects to a fighter. Many people recognize that symptoms like slurred speech and an overall "punch drunk" persona are common amongst fighters, but few are aware of the more serious and hidden dangers that these injuries produce.

Cognitive problems that your brain might receive after concussions can be described as the following: headaches, irritability, depression, anxiety, sleep difficulties, fatigue, distractibility, inattention, memory problems and disorganization, to name a few. If you have identified yourself or someone you know with any of the above areas as being problematic then you are probably experiencing the results of a concussion.

Returning back to the ring without proper rest and treatment is extremely dangerous. Multiple and ongoing concussions are damaging and dangerous and can also have a major impact on your future cognitive functioning. They can also prove to be fatal.

The neurotrauma rehabilitation specialist plays an important role in your functional outcome and can put together a cognitive rehabilitation plan to fit your specific needs. Once diagnosed by your Physician, the neurotrauma rehabilitation specialist can implement simple strategies to work with depending on what you are experiencing. These strategies can vary from using a pocket notebook or audio recorder for memory and/or organization to simply taking frequent breaks during your daily routine to deal with cognitive fatigue. The critical component towards improved cognitive functioning is identifying what the problem is and implementing strategies to assist you in getting back to your life as you knew it before the concussion. Once the strategies are put in place it is critical to work with them consistently so that you not only know how to use them effectively but so that they may become a part of your everyday repertoire. Consistency and repetition are critical to a successful outcome. Equally important is the expertise of the specialist you choose to assist you in this area. They must have a background in treating people with brain injuries in addition to a cognitive rehabilitation background.

In the event you are a boxer or a boxers loved one and feel you are in need of assistance please do not hesitate to contact this specialist for a confidential discussion regarding your symptoms and possible plan of action.

***

Beth A. Adams M.Ed LRC is a practicing Neurotrauma Rehabilitation Specialist in Boston, MA who has been working in the field of brain injury since 1987. She is currently in private practice treating people with brain injuries and also specializes in working with athletes who have sustained concussions. She is the neurocognitive specialist at the Brigham and Women Neurological Sports Injury Center in Boston, MA. She is on the Board of Directors at the Massachusetts Brain Injury Association. She can be reached at (978)741-0100.

***

All readers are strongly cautioned that the information contained herein is not intended to, and never should, substitute for the necessity of seeking the advice of a qualified medical, legal, or financial professional whenever a boxer/martial artist or athlete should take. All readers are advised that the information herein is intended solely as a general reference source, and to the fullest extent permitted by law, the information is provided "AS IS" without any warranties of any kind, whether express or implied, including without limitation, warranties merchantability, fitness for a particular purpose and non-infringement. No one may rely on the accuracy, integrity, quality or completeness of the general information herein. Accordingly, neither the author, editor nor anyone else affiliated with this website may be held liable for damages of any kind whatsoever allegedly caused or resulting from any such claimed reliance.