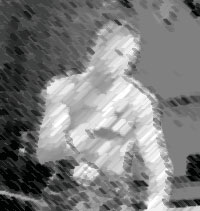 Expert personal trainer Thomas L. Cramer gives his informed exercise tips for using resistance equipment safely.

*Get a doctor's approval before starting any exercise/fitness program.

*Heavier weight and low repetition days will work mainly the fast twitch muscle fibers. Lighter weight and higher repetition days will work mainly the slow twitch muscle fibers.

*Keep the heavier weight day repetitions between 6 - 12 repetitions to start, dependent upon how you feel that day. Lower weight and high repetition days should consist of 15 - 25 repetitions. Again, dependent upon how you feel that day. Plus, incorporate Massage Therapy into your workout regimen.

*Always stretch the muscle group(s) that you are about to work. Use the Static type of stretching. Never use a bouncing motion when you are stretching. That could lead to muscle tears.

*Always warm up before you start your workout.

*Always start with a light warm up set of an exercise to lessen the chance of injury.

*On low repetition heavy weight days, the final 1-2 repetitions of each exercise should challenge you. Try to keep proper form during each repetition of each exercise.

*Only increase the weight used by 2_ - 5 percent at a time. Do not get into weight tripping.

*If your goal is to tone and shape your muscles, use lower weights and higher repetitions.

*To build muscle mass, use heavier weights and lower repetitions.

*Muscle tissue is denser than an equal amount of fatty tissue. Try not to worry too much about what your scale says. Go by how you would like your clothes to fit.

*Try to eat properly from all food groups and always feed your muscles after working out.

*Always be aware of proper body alignment when doing each repetition of each exercise.

*Try to keep lower back strain to the least amount possible.

*Blood pressure of 120/80 is in the normal range for most people. 140/90 or higher is a warning sign for you to see your physician.

*Normal heart rates are between 60 - 100 beats per minute. If your resting heart rate is greater than 100 or less than 60 beats per minute, seek assistance from your physician.

*An average heart rate for men is around 70 BPM. An average heart rate for women is around 75 BPM. These are only averages for resting heart rate yours may vary.

*Your maximum heart rate is simply calculated by the following procedure. Take 220 minus your age. That will equal your maximum heart rate.

*Good diets are made up of approx. 58% carbs, 12% protein, and 30% fat.

*1 gram of fat = 9 calories. 1 gram of protein = 4 calories. 1 gram of carbs. = 4 calories.

*The Karvonen formula for calculating a training heart rate is as follows. Take the maximum heart rate minus the resting heart rate, multiply by the desired intensity %, and then add the resting heart rate.

*8 - 12 repetitions of an exercise using 70 - 80 percent of your maximum resistance is beneficial.

*Exercising and resistance training with weights usually damages muscle fibers by creating microscopic tears in those fibers. That is the cause of muscle soreness. Allow 48 hours of rest to each muscle group after working them out. Muscles grow outside the gym, not in the gym.

*A normal increase for adding more resistance to a weight bearing exercise is 5% or less at a time.

SOME OFTEN ASKED QUESTIONS ABOUT RESISTANCE TRAINING, AND THE ANSWERS TO THE QUESTIONS.

Question: What are some benefits from starting and participating in a physical conditioning program?

Answer: Improving one's strength, flexibility, and body tone. In addition to being a method of weight control.

Question: How long should my workout last?

Answer: Times spent exercising will vary dependant on one's intensity and fitness level and time constraints. But a general rule of thumb could be 35 minutes to one hour.

Question: Will working out with resistance equipment build large muscles?

Answer: That depends on several factors, mostly important, the presence of the hormone Testosterone which is much higher in men than in women. Women do get stronger, fitter and firmer by working out with resistance equipment. Women simply enjoy the benefits WITHOUT experiencing the increase in muscle size that men do. In addition, I strongly suggest going to http://www.secondsout.com/Ringside/sopranos.cfm?ccs=354&cs=15606 and read the great article written by Todd Chapman, M.D. on Steroids and their usage.

Question: How often should I work out with resistance equipment?

Answer: One should start slowly and safely. Not more than working out the total body once a week to begin. One needs to be sure to properly warm up and stretch the body parts before, during and after working out. Eventually coming to a point of working the total body twice a week. Be sure to leave 48 hours for recovery in the body areas just worked.

Question: How long will it take before I will see results?

Answer: Most people will see results in 2 - 3 weeks on a consistent program. Remember that getting yourself in a habit of working out is they key. Do not think, "I have to work out today.....THINK...I want to work out today!" GOOD HEALTH CANNOT BE STORED!!

** Mr. Cramer has a background that includes being a diplomaed Massage Therapist from the Academy of Medical Arts and business of Harrisburg, Pa. Worked his internship with the Harrisburg Heat Indoor Soccer team and was their team Massage Therapist from 1996-1999. This team is no longer in existence.

** Mr. Cramer has been a certified Personal Fitness Trainer through the American Council on Exercise since 1992. Mr. Cramer has experience as an Inspector for the Pa. State Athletic Commission from June 1993 to May 2000. Mr. Cramer also worked as an Administrative Officer for the Pa. State Athletic Commission. And Mr. Cramer has acted in past years as a Clerk and Judge for the Mid-Atlantic region of USA Boxing. Mr. Cramer also has taken Karate instruction in past years. Chinese Kenpo was the main style of Karate that was learned.

** All readers are strongly cautioned that the information contained herein is not intended to, and never should, substitute for the necessity of seeking the advice of a qualified medical, legal, or financial professional whenever a boxer/martial artist or athlete should take. All readers are advised that the information herein is intended solely as a general reference source, and to the fullest extent permitted by law, the information is provided "AS IS" without any warranties of any kind, whether express or implied, including without limitation, warranties merchantability, fitness for a particular purpose and non-infringement. No one may rely on the accuracy, integrity, quality or completeness of the general information herein. Accordingly, neither the author, editor nor anyone else affiliated with this website may be held liable for damages of any kind whatsoever allegedly caused or resulting from any such claimed reliance.