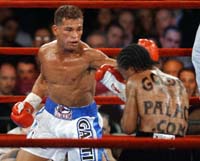 By Todd Chapman, MD, FACS: In 1968, the Olympics were held in Mexico City, 7,349 feet above sea level. In addition to popularizing the "Fosbury Flop," (Dick Fosbury's gold medal winning backwards high jump) the games were all about high altitude competition and training.

It was clear that Olympic athletes from countries at low altitude (near sea level) had to acclimatize to Mexico City's thinner air if they were to have a chance. The issue naturally came up at events a few weeks later: do the altitude-trained athletes have an advantage when they return to sea level?

The most well known adaptation to high altitude is an increase in the hemoglobin concentration of the blood. This raises oxygen carrying capacity, so that even with less oxygen available in the air you breathe, the total oxygen content of the blood remains normal. Then when you return to sea level, the oxygen content is abnormally high. The question is, does this give you an advantage?

This has been studied in animals and humans. There are two fundamentally different types of investigations. In physiologic studies, the response to altitude training is measured by blood tests, such as hemoglobin level, red cell mass, erythropoeitin (EPO) levels, lactic acid production, and other chemical changes that are presumed to be of some benefit to athletic performance. The second type of study measures the effect on athletic performance directly.

The findings of physiologic studies can be summarized as follows:
1. Living at high altitude induces all of those presumably beneficial changes.
2. It takes time. No change was seen in a group studied after 12 days, the results were spotty at 2 weeks, and consistent at 6 weeks.
3. While groups as a whole show results, there is considerable variation between individuals.
4. The beneficial changes were the result of living at high altitude, not training there.

Actual athletic performance at sea level, however, is another matter. According to the Institute for Exercise and Environmental Medicine in Dallas (1), "Controlled studies of typical altitude training, involving both altitude acclimatization and hypoxic exercise have never been shown to improve sea level performance. This failure has been attributed to reduced training loads at altitude. One approach developed by Levine and Stray-Gunderson, called "living high-training low" has been shown to improve sea level performance over events lasting 8-20 minutes. This strategy combines altitude acclimatization (2,500 m) with low altitude training to get the optimal effect."

The original study by Levine and Stray-Gunderson (2) randomized runners to three groups: Live High, Train High; Live High, Train Low; and Live Low, Train Low. A 5,000 meter time trial was the primary measurement of performance. A variety of blood tests were also measured. The blood changes occurred in both Live High groups, but not in the Live Low group. A significant improvement in running times was only seen in the Live High, Train Low group who were able to shave an average of 13.4 seconds off their 5,000 meter times.

This bears emphasis. Those who lived at high altitude and trained at high altitude developed the beneficial changes in their blood tests, but did not show any improvement in performance. Only those who lived high and trained low showed performance improvement.

These findings turned the exercise physiology community on its ear. Numerous follow up studies confirmed the results, and the proponents of high altitude training had to completely rethink their programs. Virtually all subsequent studies have addressed how best to Live High and Train Low.

The technology to achieve this end has evolved over the intervening years. The "hypoxic apartment" is a sealed environment that keeps the oxygen level low enough to simulate altitude, while allowing the athletes to go outside for training. The US Olympic Training Facility in Colorado Springs has developed something called "The Colorado Altitude Training Hatch." Then there is "The Hypoxico Tent System."

Using these arrangements, studies have shown a significant improvement in performance of highly aerobic tasks such as running or bicycling.

The question for us is whether or not a boxer's performance or endurance can be similarly enhanced. No studies have yet been published that have specifically addressed altitude training for boxing.

Part of this may be methodological. How do you measure improvements in a boxer's stamina or performance? It's one thing to shave 13.4 seconds off your 5,000 meter run time, but how do you quantify improved aerobic capacity in the ring?

Subjective evaluations are not scientific, but cannot be completely ignored. Big Bear Lake, 100 miles north of Los Angeles at an elevation of 6,750 feet, is a well-known training camp. Virginia City, Nevada, at 6,400 feet, is home to Bobby Lee, conditioning coach for Julio Cesar Chavez, Arturo Gatti (pictured), David Tua, Kelvin Davis, and many other professional boxers. Most of these were acclimating for fights at Lake Tahoe (at the same elevation), but Bobby also believes that benefit is seen at sea level. He is currently training Vanes Martirosyan, the 152 pound US Olympic team boxer, for his upcoming fights in Athens.

"I don't train them 100% up here," Bobby said, "they have to already be at about 75%, then I take them up to about 85%. The other 15% is done wherever they do their sparring." This may be Bobby's version of the high-low combination.

Jose Celaya, NABO welterweight champion, is also living and training with Bobby Lee.

"I think a lot of it is mental. It's one thing to do 12 miles at sea level, but if I can run 12 miles up here, I'm good for extra rounds. The body works extra hard. It's harder to breathe. The first time I came up here, it took 2 and a half weeks to get used to it. Now it takes 3 to 7 days."

In conclusion, boxers and trainers will always have their favorite training regimens. In the absence of controlled trials, which may not be possible for a complex sport like boxing, their subjective assessment may be all we have to go by. The scientific data we do have would suggest that some form of "Live High-Train Low" program is the best way to get maximum performance enhancement from high altitude exposure.

References:

1. Levine, BD, and Stray-Gunderson, J., The effects of altitude training are mediated primarily by acclimatization, rather than by hypoxic exercise. Adv Exp Med Biol. 2001; 502:75-88.

2. Levine, BD, and Stray-Gunderson, J., "Living high-training low": effect of moderate-altitude acclimatization with low altitude training on performance. J Appl Physiol. 1997 Jul; 83 (1): 102-12.


***

Dr. Chapman is a cardiac surgeon in Reno, Nevada. He did his residency at the Mayo Clinic in Rochester, Minnesota, and was on the Mayo faculty in Scottsdale, Arizona. In 1989, he moved to Nevada as a founding partner of Reno Heart Surgeons. He began as a ringside physician with collegiate and Golden Gloves amateur boxing, then started working professional bouts for the Nevada Athletic Commission in 2001.

***

Dr. Todd Chapman is a Cardiac Surgeon and has been a resident of Reno, Nevada since 1989. He initially began as Ringside Physician with collegiate and Golden Gloves boxing. He became a Professional Ringside Physician with the Nevada State Athletic Commission in 2001. Although he is a boxing official for the Nevada State Athletic Commission, all of the views, opinions, and/or recommendations contained herein are solely his own and do not necessarily reflect those of the Nevada State Athletic Commission. All readers are strongly cautioned that the information contained herein is not intended to, and never should, substitute for the necessity of seeking the advice of a qualified medical, legal, or financial professional whenever a boxer or his/her representatives have specific questions regarding the best course of action that a boxer should take. Furthermore, since it is possible that general information herein may pertain only to a law, regulation, rule or acceptable standard of practice for a particular jurisdiction, a boxer or his/her representatives must always inquire with the appropriate licensing jurisdiction to determine the applicable laws, regulations, rules, and acceptable standards of practice for each jurisdiction.

All readers are advised that the information herein is intended solely as a general reference source, and to the fullest extent permitted by law, the information is provided "AS IS" without any warranties of any kind, whether express or implied, including without limitation, warranties of merchantability, fitness for a particular purpose and non-infringement. No one may rely on the accuracy, integrity, quality or completeness of the general information herein. Accordingly, neither the authors, editors nor anyone else affiliated with this website may be held liable for damages of any kind whatsoever allegedly caused or resulting from any such claimed reliance.