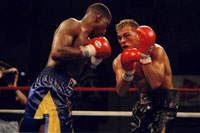 By Todd Chapman, MD, FACS

Ah, the neglected body shot. While every good knock on the chin elicits cheers, the body shot just can't get any respect from fans, and sometimes from judges. How often do you hear the crowd emit a collective groan after a good, hard punch to the gut? Yes, there are some who appreciate its effectiveness. George Foreman can't get through a broadcast without lamenting the lack of attention paid to the bread basket. Just ask Arturo Gatti (pictured) what a left hook to the ribs is worth. But by and large, far more weight is given to the head punch.

Submitted for your approval: working the head in exclusion to the body is like fighting one-handed. You deprive yourself of a huge advantage. If the goal of a boxer is to render his opponent unable to fight, blows to the body are as likely to succeed as those to the head.

Why? In a word: air. The biggest, strongest man in the world can't do a thing without air. You don't have to break his ribs or damage his organs; you just need to make him suck wind.

Most of the air volume brought into the lungs is drawn in by movement of the diaphragm, that dome-shaped muscle that separates the chest cavity from the abdominal cavity. Imagine a basketball cut in half. That's about the size and shape of the diaphragm. Now imagine it inserted under your ribs, orange side up toward the heart and lungs, with the cut rim attached to the lowest ribs. To draw in a breath, you contract your diaphragm so that it pushes down toward the abdomen while expanding the lungs.

This pulls on the lower ribs and abdominal muscles. If they are beat up and sore, it is painful to move the diaphragm. If it is painful to move the diaphragm, it's hard to breathe, and the fighter takes smaller, less effective breaths.

Short, shallow breathing will give you enough oxygen, but you can't blow off enough CO2. Acids build up in the muscles, they get weak and fatigued, and you can't punch. It is a gradual, subtle decline, but none the less effective.

The next time a fighter looks out of breath, watch him closely. You may notice him using neck and shoulder muscles to try and gasp in more air. Between rounds he'll sit with his arms up on the ropes, subconsciously trying to expand his chest. Why? Because he's having a hard time moving his diaphragm. He is succumbing to body shots.

So the next time you see a fighter's offense crumble as he gasps for air in the corner, pay attention to those Dangerfield punches. Give them a little respect.

***

Dr. Chapman is a cardiac surgeon in Reno, Nevada. He did his residency at the Mayo Clinic in Rochester, Minnesota, and was on the Mayo faculty in Scottsdale, Arizona. In 1989, he moved to Nevada as a founding partner of Reno Heart Surgeons. He began as a ringside physician with collegiate and Golden Gloves amateur boxing, then started working professional bouts for the Nevada Athletic Commission in 2001.

***

Dr. Todd Chapman is a Cardiac Surgeon and has been a resident of Reno, Nevada since 1989. He initially began as Ringside Physician with collegiate and Golden Gloves boxing. He became a Professional Ringside Physician with the Nevada State Athletic Commission in 2001. Although he is a boxing official for the Nevada State Athletic Commission, all of the views, opinions, and/or recommendations contained herein are solely his own and do not necessarily reflect those of the Nevada State Athletic Commission. All readers are strongly cautioned that the information contained herein is not intended to, and never should, substitute for the necessity of seeking the advice of a qualified medical, legal, or financial professional whenever a boxer or his/her representatives have specific questions regarding the best course of action that a boxer should take. Furthermore, since it is possible that general information herein may pertain only to a law, regulation, rule or acceptable standard of practice for a particular jurisdiction, a boxer or his/her representatives must always inquire with the appropriate licensing jurisdiction to determine the applicable laws, regulations, rules, and acceptable standards of practice for each jurisdiction.

All readers are advised that the information herein is intended solely as a general reference source, and to the fullest extent permitted by law, the information is provided "AS IS" without any warranties of any kind, whether express or implied, including without limitation, warranties of merchantability, fitness for a particular purpose and non-infringement. No one may rely on the accuracy, integrity, quality or completeness of the general information herein. Accordingly, neither the authors, editors nor anyone else affiliated with this website may be held liable for damages of any kind whatsoever allegedly caused or resulting from any such claimed reliance.