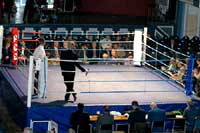 By Dave "Scooter" Honig: A properly created and explained strength program is an asset in any athletic endeavor. It is based on deciding which muscles are utilized and how much they can be strengthened for that particular sport.

In boxing, a lot of power comes from a quick rotation of the abdominals, shoulders, and wrists with a pivot over a straight leg. Power is brought up from the base (legs) passing through the hips then the waist. A quick twist over the leg is followed by an extension of the arms. Useful exercises for developing power can include the bench press, clean and jerk, squat, calve raise, and bent leg dead lift. The muscles trained during the session should be the ones used for punching and moving around the ring. Don't forget the main idea is to not get hit, so good footwork is crucial. This is another reason for leg training. Your legs need to have the endurance to last the complete fight in addition to generating power. These exercises should include squats, plyometric jumps, lunges, and calve raises.

The deltoids and triceps enable extension of the arms. They should be thoroughly trained with dips, the dumbbell shoulder press, and military press. These exercises are not only extremely effective, but are also excellent builders of upper body strength. Many fighters use clenching to protect themselves from getting hit. If you are the offensive fighter, and your opponent is trying to hold your arms, you need to extricate your arms to continue the attack. An excellent exercise to perform this specific purpose is one-arm rows with weight stack using a cable handle or dumbbells. We can also use explosive pulling movement with different strength rubber tubing pulls. The strength coach can have his fighters do wrist curls to strengthen the fighter's forearms. Perform in a palms up and palms down position. This will also strengthen the wrists.

Strong abdominal muscles are one of the most important things in a fighter's arsenal. It is the target area of repeated punches. The waist, or the pivot point from where a punch is thrown, is used along with the legs to move your upper body while slipping and ducking punches. The abdomen can be strengthened by various exercises such as sit-ups, Russian twists, crunches, and medicine ball drops. Russian twists are when you lock your legs into a sit-up board, grab a weight, hold it out in front of you shoulder height, lean back at a 90 degree angle, and rotate your waist in a twisting motion from left to right. Also, you can lock your legs, grab a weight, and hold on your chest or behind your head. Then in a seated position, throw punches with a twisting motion.

The strength coach must be in constant communication with the boxer's trainer. He must make sure that the fighter does not develop so much muscle that it is not beneficial for boxing. Sometimes fighters with their newfound strength, start throwing arm punches. A good strength and conditioning program can be divided into three phases. Each phase is based on the last. This program is beneficial to any fighter as long as they work hand in hand with the boxing trainer. Don't forget a stretching program before and after you train. Flexibility is invaluable.

NEXT UP: Phases of Conditioning

***

Dave "SCOOTER" Honig has been a conditioning expert in the sport of boxing for over 15 years. He has worked with fighters including: Jameel McCline, Vivian Harris, Zab Judah, Kathy Collins, Oleg Maskev, Robert Allen, and Dimitri Salita. He is also now the exclusive strength and conditioning coach for LL Cool J.