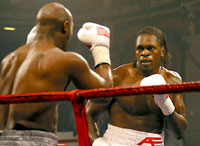 Harrison in action against Wade Lewis (pic Mr Will)

By Clive Bernath: After 17 fights and four years as a professional former Olympic super-heavyweight champion Audley Harrison is finally prepared to get serious about his career.

Until now, the 33 year-old undefeated fighter from west London has fought a series of no hopers and never weres in a slow burning career that he has repeatedly threatened to ignite. But today at a press conference in the centre of London, Harrison, who faces journeyman Billy Zumbrun in Temecula, California on June 9, announced plans for his career and promised that 2005 will be the year he 'finally steps up to the plate'

"I feel after such a long layoff Billy Zumbrun is the ideal fighter for me to return against," insisted Harrison. "I have been unlucky with three serious injuries that has sidelined me for six to eight months at a time but I have not given up and have overcome those injuries each time.

"If all goes well against Zumbrun, which is just a warm up fight, I'm gonna be put in the mix in the second and third fights with the other up and coming contenders and that's what we want."

Business manager Hazel Bruno Gilbert elaborated more by saying: "We can let you guys know that Audley's second fight should be on HBO in the summer and as you know anyone that fights on HBO do have tough fights. We are moving in the right direction."

"As Hazel said we are ninety percent down the road to closing off a HBO deal, in terms of appearances with myself and Samuel Peter" said Harrison. "And it could well be that by the end of the year myself and Samuel are boxing (each other). It's the kind of level I'm coming back to and I'm looking forward to it, whether it's against Samuel Peter or Calvin Brock. You know whoever the man is that comes through then that's the guy HBO will back. I'm still on track and it's a great opportunity for me."

Despite fighting on a Goossen Tutor promotion card against Zumbrun Harrison insists that he has not signed a deal with the American promoter.

"No, no," said Harrison. "We have worked with Dan (Goossen) before and have a good relationship with him. This fight is just getting me back into the frame you know? This in the main event on the Best Damn Sports Show Period, one of the highest rating shows on Fox. So this is good for me, especially after being away for a year. Bowe (Riddick) boxed the guy on that channel last time and Fox like the guy (Zumbrun). I'm happy to come back to that kind of opponent.

Talking of Zumbrun, the 33 year-old may well have taken a completely washed up Riddick Bowe to the wire only last month but should not give the Londoner any problems whatsoever. At just six foot and 16st the American will be giving away nearly two stone in weight and six inches in height. Oh, and as far as common opponent are concerned do you remember Wade Lewis, whom Harrison smashed inside two rounds in his seventh fight nearly three years ago? Well Zumbrun took 10 rounds to get rid of his fellow countryman just a year ago. Need we say more.

May 3, 2005.