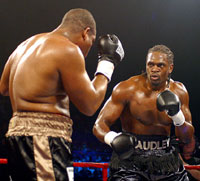 Harrison in fight action (Pic Will)

By Clive Bernath: Not surprisingly undefeated 2000 Olympic super-heavyweight champion Audley Harrison has targeted European titleholder Paolo Vidoz in his latest quest to climb the heavyweight ladder and an eventual world title shot.

Harrison, who has unceremoniously called out pretty much all the top contenders recently including Jameel McCline,Calvin Brock and Samuel Peter, has now turned his attention to Vidoz-the man he out-pointed in the semi final on his way to Olympic Gold.

In a press release issued today by his promotional company A Force Harrison, 19-0-(14), said: "I have heard that following his victory over Sprott (Michael), Vidoz will be fighting against Cengiz Koc next. I am ranked at number seven by the EBU and Koc is at number 11-below Tomasz Bonin, a fighter that I beat in June 2004. I would like to box against Vidoz as my ranking deserves this chance."

Harrison continued: "My win against Vidoz in the Olympics was a great contest. We threw punches in high volume and it was an exciting contest that had 10,000 fans on their feet. I would love to give Vidoz the chance to avenge that defeat."

Harrison argues that many of the top contenders for the Italian champion's crown are not available but the fact is he sees Vidoz as a much easier way of gate crashing the world top 10 ranking than having to face much tougher opposition in the US to achieve his goal. Harrison also knows that time (He will be 34 on Oct 26), is running out if he wants to make good his promise of becoming a genuine world heavyweight champion and emulate the likes of Ali, Foreman, Frazier and Lewis as Olympic and pro world champions.

The fact is if Audley is to become world heavyweight champion he needs to sign with a major promoter or at least sign away options, something he has been reluctant to do until now. He has always maintained that he will do things his way under his own promotional banner. I remember having a conversation with him to this effect in 2001 when he first turn pro but he of course did not agree. Well, were four years down the line and he still has not as much managed to face a top 10 fighter after 19 fights doing things his way whilst Samuel Peter and Paolo Vidoz, two men that he beat for the Gold medal, have managed to either win a major title or figure in a world title eliminator.

For the record I genuinely believe Audley is the best of the up and coming heavyweights and can prove his critics wrong and become heavyweight champ but the time has come to stop calling people out in the press and start hard and meaningful negotiations with the major players. His last fight against Robert Wiggins was promoted by Goossen Tutor, I'm sure if a reasonable term deal was reached with Dan Gooseen the big fights would start to happen pretty quickly and then we can find out just how good our Audley is.