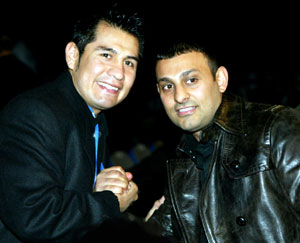 They meet again (pic Mr Will/Hogan Photos)

By Ant Evans: Such has been the depth of Naseem Hamed's incognita over the last three years that the very appearance of the elusive 'Prince' at ringside in Sheffield on Saturday night has been received as a proof that the former featherweight champion may yet box again. Ever since his uneven performance against Manuel Calvo in May of 2002, Hamed's only contact with the public was the occasion vague promise - invariably be issued through a third of fourth party - of a ring return.

But now the Prince is back among his public again and after receiving the biggest cheer of the night from the 12,000 plus fans at the Sheffield Arena Hamed came face-to-face with the one man to ever defeat him as a professional, Mexican modern great Marco Antonio Barrera, and said it was 'wicked' to see the Baby-Faced Assassin agree for the first time since their April 2001 brawl.

And Barrera enthusiastically endorses Hamed's plans to return to action.

"He was very exciting when he was around," Barrera told SecondsOut. "He has only one defeat - that's no big deal. One defeat doesn't change the fact he's a great fighter. Naz has a lot more to give to boxing and I hope he does return in 2006. I would love to fight him again (after he re-establishes himself). He is still young and can get himself in shape easily."

Barrera added: "I was very surprised that Hamed stopped fighting when he did. I never thought I would end his career because he was still a great fighter at that time. Everyone loses in their career but unfortunately it was very hard for him to have a loss and deal with it. But Naseem still has a lot to give and there are a lot of fans who want to see him fight."

Reigning super-featherweight king Barrera, who will fight again on March 25, added that it was strange meeting his old rival for the first time in front of so many on-lookers.

He said: "After so many years of not seeing him it was very strange meeting him in front of so many people," Barrera said. "I hadn't seen him since the fight, and it felt a little strange meeting him again with all these cameras and attention. I wished I could have met him for a good talk first but it was great seeing him again.

"Naz said to me 'look at the attention we're getting just for a handshake and a photo' and I agreed that we had to fight again. I think the sport of boxing has missed Naseem and we need him back."

Hamed's brother and business manager Murad told SecondsOut that Naz and Barrera had a good chat later on in the evening and that both we keen to get the rematch on.