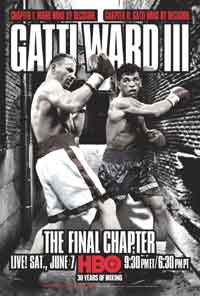 Gatti and Ward are truly brave, not soccer players

By Ant Evans: Despite the modern media's hilarious attempts to convince us of the 'heroism' of tennis players who successfully defend set points and the, ahem, 'courage' of football teams who escape with a draw after falling two goals behind, boxing and combat sports are unique in modern sport in that they demand true bravery of the practitioner as he strives to overcome his own fear in addition to the obstacles provided by his opponent.

The squared circle requires what fight fan Ernest Hemingway - the best-selling author who would insist on sparring with often horrified dinner guests - called masculine courage.

Hemingway isn't the only deep thinker to grow fascinated by men capable of overcoming great fear.

Since a psychologist named P. Lang published a paper in 1970 differentiating between fearlessness and courage/bravery (the former, he illustrated, is the absence of fear and the latter is the conquest of it) there has been a steady number of psychological studies into how and why human beings perceive fear and, more interestingly, how that fear can be overthrown.

As you would imagine, given the British (and American) Medical Association's stated opinion of pugilism, none of these studies used boxers as subjects. But I was interested in investigating whether the type of guts exhibited by the champions of the ring was consistent with the type of hardiness psychologists had been finding under more controlled conditions.

Former British Army officer Dr Patrick Tissington of the Aston Business School, Birmingham, is penning his PhD on the combat effectiveness of military personnel and is a lecturer and advisor to both the UK Defence Academy and Fire Service College.

Moreover, he's a boxing fan. So who better to draw parallels between the sport and the science?

"About 1% of the general population is genuinely fearless," he begins. "They simply do not experience what we call fear and that can be measured physiologically in terms of their heart rates remaining constant despite exposure to situations which would frighten most other people. But that percentage will be higher amongst boxers. There would also be a higher percentage of boxers capable of controlling their fear to a greater extent because boxers learn to master their fear of the ring and getting hit, just as an army recruit is trained to be effective despite the stresses of the battlefield."

When boxing fans think of fighters willing to endure what others would not, there is often an association with what is called, in boxing parlance, hunger. A young, unbeaten, "hungry" fighter will perhaps keep trying to win despite getting knocked down twice whereas maybe he would not if he were an ageing millionaire boxer.

However, Dr Tissington continues: "It is not about personality, economics or upbringing, but rather a belief in one's own ability that is the crucial factor. If you look at the men who have won the Victoria Cross [Britain's highest medal for gallantry, awarded only 1,355 times since its 1856 inception], you have introverts and egotists, working class and gentry - all kinds of personalities and backgrounds.

"The only thing these men have in common is unusually high self-belief and faith in their own ability to complete a task."

Reigning WBC lightweight champion Diego Corrales has earned his reputation as one of the great warriors of the sport, having blazed his way back from what looked like certain defeat time and again in his career, most spectacularly in his first fight with Jose Luis Castillo. And he, too, credited a sense of unshakeable self-belief in engendering his remarkable bravery and commitment to victory.

"Knock me down, great, but I'm still gonna come at you just as hard - if not even harder - when I get back up. Cut, bloody, broken nose, broken leg, whatever. If I'm still in the fight I've got every chance of winning it and there's nothing anyone can do about that."

That sort of self-belief has to be entrenched very deeply into the psyche, though. The furnace heat of the boxing ring burns through bullshit and bravado very quickly. Fighters who have stepped though the ropes bloated with confidence have been reduced by their opponent's efforts or, sometimes, their own fatigue.

"You do feel less sure of yourself as you tire," Corrales admitted. "When you feel fresh and strong physically, it is easier to feel strong and confident mentally."

And perhaps it is that retention of confidence despite continuous adversity that separates not only the courageous from the less courageous, but also good fighters from great ones.

Most of us can make a single brave decision to put ourselves in harm's way as a one-off: thrill-seeking endeavours such as bungee jumping, for example. However, in bungee jumping you are committed for the duration - you can't change your mind and quit once you've leapt off the platform. But the boxer is asked to renew that commitment with every passing second, after taking every punch.

Heavyweight Peter McNeeley's farcical effort against Mike Tyson in 1995 is an instructive example of the difference between bungee-jumper bravery and the kind of robust, unflinching and continuous courage demanded by boxing.

At the opening bell, the Irish-American club fighter recklessly hurled himself into Iron Mike's fists, taking few punches before manager Vinnie Vecchione, looking like he planned on doing so all along, climbed into the ring causing an instant disqualification.

McNeeley celebrated his 93-second loss with the euphoria of a teenager congratulating himself for riding his first rollercoaster. "I came to fight! I came to fight," he bellowed into the Showtime TV cameras. Only, he didn't. He'd managed to psyche himself up enough to go through with the bungee jump, yes, but he was overcome by fear of Tyson's punches and took the quickest way out.

Legendary trainer Cus D'Amato once likened fear to a flame that had to be controlled lest it consumed a fighter. Years after his death, his philosophy based on gym observations is supported by the latest scientific studies.

Says Dr Tissington: "Fear is actually helpful in the boxing ring. Being afraid actually does enormously helpful things both psychologically and physiologically as long as it doesn't overrun your thought processes. Fear sharpens our attention on what we need to be doing.

"Everyone knows about adrenaline and your body will shut down organs it doesn't need to deal with the fearful situation, in this case the boxing match. For example, the stomach will stop digesting food, which is why we get butterflies when we are afraid.

"But, more than that, when in the ring, a fighter will experience what is called perceptual tunnelling. His sense of vision will alter so he isn't distracted by the crowd. His hearing, which isn't needed in the fight, will almost shut down, which is why sometimes fighters genuinely do not hear the bell."

Studies in the 1980s involving Falklands War veterans suggested perceptual tunnelling could become so focused that individuals may even be unaware of great pain or injury until their specific task is accomplished.

For a boxing example of this phenomenon, look no further than Danny Williams's one-armed win over Mark Potter. In an astonishing October 2000 British and Commonwealth heavyweight title bout, Williams prevailed via knockout despite fighting for four of the six rounds with a dislocated right shoulder. The Londoner slammed Potter to defeat with a series of left hooks - and then immediately collapsed in agony. It was an astonishing act of stoicism that should have made Williams a national hero four years before his gallant come-from-behind win over Tyson.

But, at the time, Williams thought the win was no big deal. He said: "Actually, I was worried it was a poor performance because I struggled before landing the KO punch. It was only when people were saying things like 'that was amazing' and 'you're so brave' as I was getting helped back to the dressing room to go to hospital that I realised I must have done something a bit different."

There's a parallel here with Williams's attitude and with examples from military service, says Dr Tissington.

"These men don't believe they are especially courageous. And it's not because they are trying to be modest; they just don't understand what they have done is actually remarkable. They just say something like: "Well, what else could I have done?'"

But, even if Williams wasn't feeling the full amount of pain from his injured shoulder, a great many fighters would have quit without any sense of shame. There is another dimension, beyond the physical, which allowed Williams to continue fighting.

Dr Tissington explains that is it common for the bravest of the brave to actually perceive dangerous situations differently.

"If your thought processes were telling you that, if you go over this hill, you are 90% likely to get shot or, in [Williams's] case, you've got no chance of winning this fight with your arm like this, they just wouldn't do it. It's as simple as that."

It has been said, half jokingly, that courageous or fearless people have a lack of imagination. And, in one sense, that is true. They don't think ahead to what may happen after they complete whatever task is in front of them, be that task taking a beachhead in World War II or winning a British title fight with one arm."

Interestingly, Williams concurs with this opinion.

"That's it, absolutely," he says. "All great fighters have to be a little stupid. Ali, Frazier, Marciano - all of them have that one bit of stupidity where they'd think they still have a chance where, really, all the facts [point to] them not having a chance. If Ali sat down and analysed George Foreman, he'd have probably thought: 'He is bigger, stronger, younger etc, etc,' and wouldn't have gone in there with such a crazy plan [the famous rope-a-dope strategy]. Look at Roy Jones: he should retire but, even though no one else does, he still believes in himself 100%. That's what a true fighter is.

"If you think about it, boxing is a crazy thing to do in the first place. So we don't think about it. I just go on my instincts, my instinct to win. I've had some really hard fights, not just with Potter, but Tyson, Vitali Klitschko and Matt Skelton. But, even at the worst parts of any of those fights, never did it cross my mind to pull out. There's no quit in Danny Williams."

Williams, along with Corrales and others, has proven himself capable of repeated acts of huge valour and force of will. But other fighters are more contradictory.

In February 1995, a dazed-but-defiant Nigel Benn crawled back through the ropes to re-engage and ultimately defeat the fearsome Gerald McClellan. A little over a year later, he twice quit against the relatively light-punching Steve Collins.

And former, then future, WBC heavyweight champion Vitali Klitschko was absolutely savaged when he quit against Chris Byrd in April 2000. Klitschko had dominated the WBO title fight - it was mathematically impossible for him to lose on points - but he nevertheless withdrew with a shoulder injury in the ninth round.

Speaking from Germany, the retired champ told me: "I tore my ligaments in maybe the third, fourth round and the pain was very bad. It was a huge pain, something I've never felt before. Even though I tried not to use that arm and was winning the fight, the pain was getting more and more worse."

Klitschko underwent surgery the next day and was told that he could have lost the full use of his arm. However, in America, the same sportswriters who deem men heroic who strap on 40lbs of protective gear merely to play American football characterised Klitschko's actions as pure yellow-bellied cowardice.

Klitschko admits: "That was more painful than even the injury. I was called a coward but it wasn't true. I always gave my very best in every fight."

The label Quitschko stuck until he lost the gruelling 2003 fight against Lennox Lewis, where Klitschko absorbed some huge bombs and angrily refused to accept the doctor's decision to halt the fight, even though he had horrific cuts to his eyes.

"People could see my injuries to my eyes because obviously the cuts were on the outside [of my body]. But people couldn't see the damage to my shoulder in the Byrd fight, which was much worse than the injury to my eyes against Lewis. Against Lewis, I was ready to continue. It hurt but I could see. Against Byrd, it also hurt but I could not fight with one arm."

That may have been very revealing. The cuts sustained against Lewis, no matter how horrifically raw they appeared, did not impair Klitschko's ability to compete, whereas in the Byrd fight his ability to both attack and defend had been substantially compromised.

A PhD himself, Klitschko may have weighed up the situation in the manner a chess player or war general - in a careful, logical fashion before reaching the conclusion that he wasn't going to risk losing the use of his arm in order to keep a WBO title.

Klitschko, be certain, has courage beyond normal men. But I believe men like Williams, Corrales, Ali (fighting with a broken jaw against Ken Norton), Archie Moore (demanding the referee give him his right to get knocked out by Marciano rather than suffer the indignity of getting stopped on his stool) and the others are brave beyond the telling of it.

As unfathomable as it may be for us on the safe side of the ropes, what these fighters seem to fear more than the possibility of serious injury is the prospect of losing, of being called something less than true fighters.

That's the true magic of boxing. A magic no other sport can touch.

What is equally fascinating and frustrating is that even these men themselves can't explain where this magic comes from.

Someone should do a study.

This article originally appeared in the July 2006 issue of Boxing Monthly magazine.