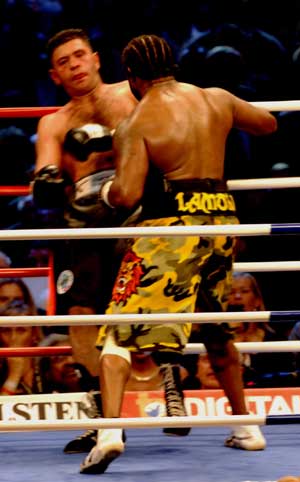 Brewster traps tired Laun on ropes (Hogan Photos)

Interview by Ant Evans: There are currently four heavyweight title-holders, but only two of them are capable of scoring knockouts and entertaining the fans. WBO champion Lamon Brewster is one of them.

The other is WBC champion and the man widely regarded as the best of the bunch, Vitali Klitschko and Brewster believes his 2005 sojourns deep into hostile territory to knockout first Andrew Golota and, two weeks ago, Luan Krasniqi in Germany make should set up a WBC/WBO unification match in 2006.

Things been fair, they will. But, as Brewster's trip to Germany should have taught him, things aren't always fair.

After a weird stoppage win over Wladimir Klitschko to win the vacant title in April 2004, the personable Indianapolis born banger then unfortunately seemed to confirm what his brace of 2000 losses suggested when he struggled to beat the average Kali Meehan.

However, a 52-second shelling of Andrew Golota in May of this year sent shockwaves through the division. Given that Golota could well have got the decision over both IBF champ Chris Byrd and WBA title-holder John Ruiz in his previous two fights, Brewster's demolition job was very exciting indeed.

"I felt that after the Meehan fight, which was difficult for me for a number of reasons, I had to make a statement with Golota," Brewster told SecondsOut. "And I did that."

And how. But, instead parlaying Brewster's exciting success into a big fight, promoter Don King agreed a deal with German promotional powerhouse Universum for Brewster to go to Hamburg to fight the talented but largely unknown (in America at least) Luan Krasniqi.

Sure, Krasniqi was the No.1 contender courtesy of his sixth KO of Lance Whitaker, but King should have fought tooth and nail (and took a financial bath, if need be) to keep the fight out of Germany. Instead, Brewster winds up defending his title in Germany on the significant date of September 28.

Brewster spoke earnestly about trying to be a 'world champion' in the truest sense of the word by defending his belt against the best available challengers no matter where they were available but - the truth is - no fighter wants to go to Germany to face a German. Especially on what would have been the 100th birthday of German icon and former world heavyweight champion Max Schmeling's birthday.

Brewster said: "I'm not bragging on myself but I think I can go to anywhere in the world and that my talent and with god with me, I can overcome anything."

Things didn't start well for the defending champion, though. He was out manoeuvred and out-jabbed for much of the first third of the fight and Krasniqi seemed to stun him several times with quick right hands. At the half way mark, Brewster was significantly down on the three official cards.

"But I wasn't thinking about winning rounds," Brewster insisted. "I was thinking about chopping him down. I knew even before I got there that I could not allow this to go to points. So we never developed no strategy to win this on points because we knew that would be impossible. I knew if he threw one punch a round and I threw a million I knew I would still lose the fight so we developed strategies to knock him out."

A risky strategy, yes, but perhaps the best one considering the circumstances. But Krasniqi, a fine fighter with skills and a good punch, boxed superbly for the first half of the fight and kept Brewster on the sharp end of a penetrating left jab and solid right hand.

For long stretches of the fight Brewster, 33-2 (29), had only sporadic successes with his planned body attack. As the rounds went by, Krasniqi edged further and further ahead on anyone's scorecard but Brewster kept calm and continued to stalk forward no matter what was thrown his way.

The 32-year-old said: "It was chopping a tree down. I didn't expect to chop him down with one shot but I knew if I kept hacking away at him he'd fall eventually. Also, I knew he was intimidated by my punching power. He's a smart fighter and he knew I could take him out with one punch so he kept backing away, moving around and that took a lot out of him, especially as I was hitting him to the body, also.

"I knew that I would get my chance as he was slowing and slowing. He had to start trading with me and he and I know knew that I was more comfortable with that.

"My power does not fade that much at all. I can hit just as hard in the last round as the first round. Maybe it's because my ancestors were field Negroes (laughs) I don't know. Genetics, baby. They worked the slaves all day and I guess I got them slaves genes in me because I can work all day and night! God gave me a talent to punch and provided me with a way of winning fights at any time."

One thing the good lord didn't provide, however, was a competent or impartial referee. Official mr Jose H. Rivera's point blank refused to complete the 10 count after Brewster had flattened Krasniqi in the eight round was just appalling to witness.

"It nearly cost me my title," Brewster admitted. "I was exhausted from throwing the punches that (should have) knocked him out. I gave my best effort to knock him out and I did that. Then, when the fight should be over, I've got to find the effort to do that all over again after he gets 70, 80 seconds rest! That wasn't right and I was very concerned for my title at that point."

From the neutral corner, Brewster watched in horror as the revolting Rivera counted "6... 7... 8... 9... ... ... ... ... ... ... ... ... ..." and then allowed Krasniqi back to his corner as the bell sounded. Many fighters (James Toney springs to mind) would have gone ballistic in the face of such blatant bastardising of the rules.

But, somehow, Brewster kept his cool. "I just thought of my kids. I promised Lamon Junior that I'd be coming back champ and that I knocked him out. Actually, little Lamon told me I had to knock him out."

Out of the mouth of babes...

Brewster continued: "I am a fair fighter, and I want to fight fair. If you can beat me, hey, I'll be the first to shake your hand but don't cheat me. Don't take what I worked so hard for if you don't deserve it. It really hurt me that they tried to do that to me. I hope every boxing fan in the world sees what that referee tried to do to me and if they do I think he'll never be allowed near a boxing ring again. He has no place in the boxing game."

(The WBO haven't returned calls inquiring if they are investigating Mr Rivera's conduct but, hey, I'll keep y'all posted on that front.)

After overcoming the worst away day fixture of any fighter in 2005, Brewster rightly feels that the win ranks as perhaps his finest ever.

He said: "Having to deal with all I had to deal with, I think I've proved myself to be at the top of the division. If I'd beaten Krasniqi over here in American it wouldn't have meant nothing because no-one over here knows he's a very good fighter but I think people have to respect the fact I went out there and knocked him out and overcame what I did to do it. In a way, I think this is the biggest win of my career even though no-one (in the USA) saw it.

"I think I deserve the next fight with Vitali Klitschko, if he gets by Hasim Rahman in November. I don't want to say anything bad about anyone, but I think the world can see that there are two heavyweights (with belts) who are scoring knockouts and that it will be a very exciting fight which should happen in 2006.

"And I don't care where it is. I fought Andrew Golota in Chicago (which has a big Polish population) in front of 20,000 people who wanted me to lose and now I've been to Germany in a similar situation and I feel that unless I go to another planet and fight an alien I won't ever have to deal with anything that bad again."