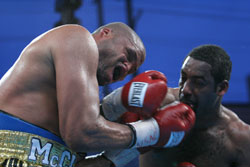 Brock stood and traded with bigger man (pic by Tom Hogan)

By Anthony Evans: While the last big US hope, Dominic Guinn, continues to meander through his once-promising career like a stoned hippie, undefeated Calvin Brock is all about ambition and seizing his opportunities. Now 25-0 with 20 knockouts, the 30-year-old Brock made the leap from prospect to fully fledged contender with an impressive 10 round points win over Jameel McCline at Caesars Palace, Las Vegas, Saturday night.

The likable box-banger is younger by some years than virtually all his heavyweight rivals bar the inconstant Wladimir Klitschko (29) and the untested African Samuel Peter (24). Brock believes he'll win a title in his next fight, given the opportunity, and go on to unify; and the McCline win went some way to convincing the boxing public that scenario isn't wishful thinking.

"I'm happy with the victory but I'm not so happy I didn't knock him out like I said I did," a triumphant Brock told SecondsOut. "Man, I really wanted to knock him out and I went for it but all credit to him, Jameel McCline's tough. He made his mind up that he wasn't getting knocked out; he told me in the third round 'I'm not going nowhere baby!' and he took some shots."

While the strike of the first bell was still reverberating around the open air venue, Brock was across the ring taking the fight to the 6ft 6inch, 265lbs two-time title challenger. McCline had his moments but was backed up by the smaller, but more determined fighter throughout. He just wanted it more, whatever the physical disadvantages or gulf in world class experience.

Brock said: "I wanted it bad. I was definitely prepared for his height and weight and I didn't feel like I was taking any step up (in class) either. I feel I'm the best heavyweight champion out there, the real world champion and that I'll beat everyone and anyone in the division. I felt very comfortable in there, it felt like just another fight for me."

Well, apart from the knockdown in round seven...

"Man, y'know what? I wasn't hurt that bad but it was a great shot, I know I was the left hook he get me with and it knocked me off my feet. It did daze me but as soon as I got back up I knew that I was alright. It was the first knockdown of my pro career but because of my amateur experience I knew to take the (mandatory eight) count before getting up.

"I haven't been knocked down since 1997 but I remembered not to get up too quickly because blood rushes to your head and you get more dizzy. I knew what to do but once I got up I knew I had to take it to him. Man, my pride was hurt and I was a little embarrassed."

And did Brock take it to the bigger man; so ferocious was the North Carolina heavyweight's fight back two of the three judges scored the round 10-9 instead of 10-8, which is the traditional score for a knockdown round.

"I made up for the knockdown because of my ego. I made up my mind to go and try to take him out. "

Eventually, Brock took the best win of his career by a unanimous decision 96-94, 96-93 and 97-93.

He says there are more improvements to come but feels he's more than ready to beat any of the four major title-holders in his very next fight.

"I talked to Main Events (promoter) and they said they'll see how these next title matches go and who's available. But I told them that I want to be world heavyweight champion by the end of the year."